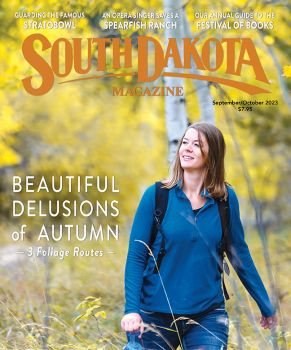 Subscriptions to South Dakota Magazine make great gifts!
Subscribe today — 1 year (6 issues) is just $29!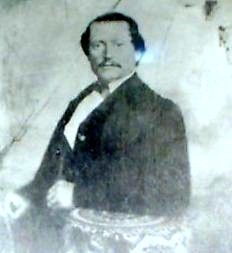 Is This Jack McCall?
Mar 1, 2013
When you hear the name Jack McCall, there's probably one image that comes to mind: a black and white photo of a man with black hair, black mustache, black jacket and seated, facing the camera with his bent left arm resting on a table. We've come to accept that this is a photograph of McCall, but historians in Yankton, where was McCall was executed on this day in 1877 for the murder of Wild Bill Hickok, are skeptical.
I never gave the photo a second thought until our book, South Dakota Outlaws and Scofflaws, was released in August. I wrote a chapter on McCall, which features the image in question at the bottom of page 41. Not long after we finished the book, Yankton historian Bob Hanson visited our office and listed five or six reasons why he believes the man in the photo is not Jack McCall. The assassin's age and various descriptions of his physical appearance don't match, he said. McCall was called "Crooked Nose," or "Broken Nose" Jack, and the nose on the photographed man doesn't seem that crooked. Plus, McCall was no more than 25 years old when he died. The photographed man appears to be older.
A few months later I mentioned the controversy to Jim Lane, another Yankton historian who is married to our circulation director, Jana. He deepened the mystery by pointing out that no other image of McCall or his hanging has ever surfaced.
McCall's trial and execution in Yankton were pivotal moments in Dakota history. His trial helped established the territorial court's jurisdiction over Deadwood, and his execution — which was well reported attended by as many as 1,000 people — was Dakota Territory's first. It seems astounding that no verified image (a photograph, sketch or woodcutting) has ever been seen, especially since Yankton was home to expertly trained photographer Stanley J. Morrow.
Morrow was an Ohio native who learned his trade as an apprentice to famed Civil War photographer Mathew Brady. Around 1868 he moved to Yankton and started a photography studio. His passion was as a traveling photographer, and his summers were spent traveling to forts, towns and reservations along the Missouri River making portraits and landscape scenes.
In the summer of 1876, around the same time McCall shot Hickok at Saloon No. 10 in Deadwood, Morrow left for the Black Hills to photograph the gold rush. He also spent time with Gen. George Crook's troops, who had battled Indian tribes in the Slim Buttes of far northwestern South Dakota.
He arrived at the Red Cloud Agency in Nebraska in October 1876 and spent a month there photographing Indian leaders like Red Cloud. It is believed that Morrow returned to Yankton in mid-December, just a week or two after McCall's trial had concluded. McCall spent January and February of 1877 in jail downtown, but either Morrow never attempted to photograph him or McCall never granted permission.
Even if Morrow wasn't in Yankton, his wife Isa had the expertise and opportunity to capture an image of McCall. After the Morrows moved to Yankton, Stanley taught Isa how to make photographs, and she ran the studio while her husband was gone on photographic tours of Dakota.
Morrow left Yankton in 1883. Many of his images were lost in a fire, but about 500 that we know of have survived. And maybe an image of his, or another traveling photographer, depicting McCall has survived tucked away in someone's attic or basement. Pay attention the next time you're rifling through old boxes. You might be holding a never-before-seen piece of Dakota history.