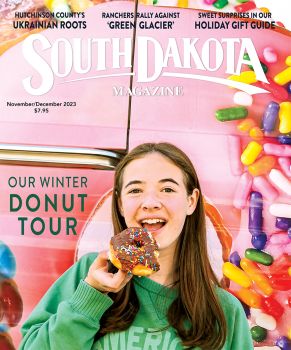 Subscriptions to South Dakota Magazine make great gifts!
Subscribe today — 1 year (6 issues) is just $29!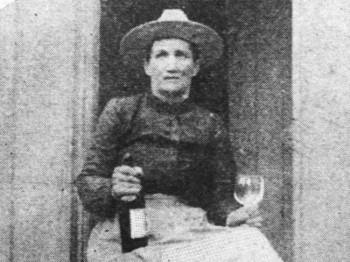 Wild Bill and Calamity Jane: A Love Story?
Jan 25, 2012
We've all heard the stories about Wild Bill Hickok and Calamity Jane being more than just friends. But of course we know better. James McLaird, a longtime history professor at Dakota Wesleyan University in Mitchell, debunked the myth pretty forcefully in his book Wild Bill and Calamity Jane: Deadwood Legends. He proved the two knew each other for only a brief period in Deadwood, and were certainly nothing more than casual acquaintances.
But that's not what The Days of '75-'76 would have you believe. The 1915 silent film was the first movie to link the two romantically. Audiences haven't seen the film in decades, but it reappears this weekend, the opening of the Historical Film Series at the Black Hills Roundhouse in Lead.
Scholars at the University of Nebraska discovered the film in their archives over a decade ago. They were unable to identify the locations or characters portrayed, so they contacted Wayne Paananen in Lead. Paananen owns the largest private collection of historical films in the state, and was able to piece the story together.
The Hart brothers, filmmakers from Omaha, shot the picture in the Black Hills, Badlands and Fort Robinson in Nebraska. Its run time is about 70 minutes, much longer than other films produced 100 years ago. And it's clear the directors did not strive for historical accuracy. "It takes tremendous liberties," Paananen says. "For example, Jack McCall vies with Wild Bill for the affection of Calamity Jane early in the film."
It includes typical Western scenes depicting Indian uprisings and stagecoach robberies. One of the final scenes shows Jack McCall on trial in Yankton for the murder of Wild Bill. "It is truly a real piece of Americana, not only portraying the true Western format of filming, but it was done at a time when movies were the rage," he says. "It was a totally new form of entertainment."
Paananen says the film is exciting for two reasons. First, you get a feel for the filming techniques of the day. "When they had an indoor shot, they only built a three sided set with no roof, and they used all natural light and shot from the open side," he says. "That was really a great technique, except in this film when they are supposed to be indoors the tablecloth and papers on table are blowing around because of the wind."
Audiences also get to see the Deadwood of a century ago. A scene at Mount Moriah Cemetery shows the second of two statues that once stood over Wild Bill's gravesite. Souvenir hunters regularly chipped pieces from the monuments. "You can see it's already been attacked by tourists and starting to look ugly," he says. It was eventually removed and is now displayed at the Adams Museum in Deadwood.
The Days of '75-'76 screens at 7 p.m., tonight through Saturday. Future films include Homestake: The Legend and Legacy (Feb. 15-18), World War II films (March 14-17, and a film festival and competition open to amateur filmmakers in April and May. Information on each film and the upcoming festival can be found at www.bhroundhouse.com.