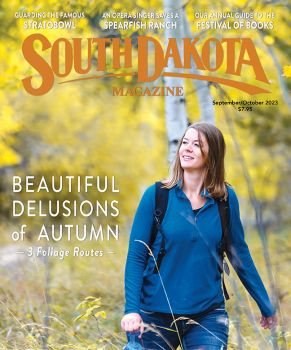 Subscriptions to South Dakota Magazine make great gifts!
Subscribe today — 1 year (6 issues) is just $29!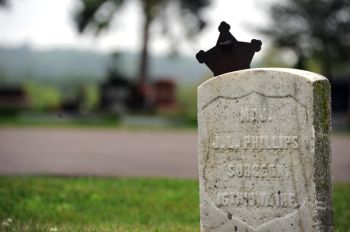 The Parents of Sioux Falls
Sep 9, 2014
I spent a day working on a story in Sioux Falls last week and my travels took me through some of our biggest city's most historic spots: the McKennan Park Historic District, the Pioneer Memorial that overlooks the town near John Morrell's and Mount Pleasant Cemetery.
As I walked through the rows of gravestones at Mount Pleasant (the oldest active cemetery in Sioux Falls) I quite accidentally stumbled upon the gravesite of Josiah Phillips. I say accidentally because his small, white military stone caught my eye before the 8-foot concrete marker immediately to its right.
The name Phillips is easily recognizable; Phillips Avenue is a main thoroughfare through downtown Sioux Falls. But I never understood the extent of Phillips' involvement in creating Sioux Falls, and his wife's devotion to the city long after her husband's untimely death.
You could say that Sioux Falls was actually created twice. Its original founders were speculators from eastern land companies who organized to establish a city on the falls of the Big Sioux River in 1856. Josiah Phillips was among them, becoming the area's first doctor and justice of the peace. Settlers trickled in, but outbreaks of violence between fellow homesteaders and Indians led to the total evacuation of Sioux Falls in 1862.
The federal government responded by setting up Fort Dakota. The military presence was meant to alleviate fears of resettling the region, and families did slowly return. By 1869, with the threat of violence receding, citizens petitioned to have the fort removed.
Phillips returned in 1869, and his wife Hattie followed the next year. He bought the old Fort Dakota buildings at auction and the Phillips family used the officers' quarters as their first home. In 1871 he became the first man to survey and plat land, creating several downtown blocks. Businesses soon sprang up: Richard Pettigrew's law office, Harry Corson's Cataract Hotel and William Van Eps' general store.
When Sioux Falls incorporated in 1877, Phillips was elected as a trustee. Though he was trained as a physician, he rarely practiced in Sioux Falls. While serving as a surgeon during the Civil War, he suffered an injury to his eyes during General William Tecumseh Sherman's March to the Sea and never completely recovered. Instead he devoted himself to various business interests and helping govern the budding city.
Phillips grew ill and died unexpectedly in June of 1882 at just 47 years of age. He left six children and Hattie, who was pregnant with their seventh. While raising her family, Hattie became just as involved in Sioux Falls' growth as her husband had been. She helped create the Women's Christian Temperance Union, the Women's Benevolent Association, the YMCA, the Children's Home Society and the Women's History Club. Later in life, she wrote, "I call the city 'my child,' for I feel that I mothered it from the beginning. I am sure no one cared more for it than I did, nor prayed more earnestly that it might grow in all ways that were good."
Today Sioux Falls is a booming city of 160,000 people. New businesses sprout every day, including a quaint coffee shop downtown called Josiah's in honor of the city's patriarch. No doubt the Phillips family would be proud of their town along the Big Sioux River.