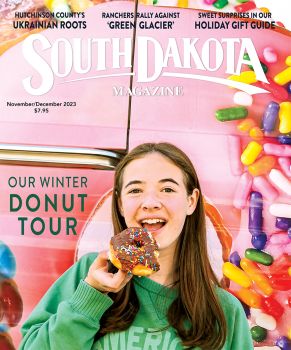 Subscriptions to South Dakota Magazine make great gifts!
Subscribe today — 1 year (6 issues) is just $29!

Kingsbury County Connections
Apr 5, 2016
By John Andrews
Having grown up in Hamlin County, I had plenty of chances to visit Kingsbury County, our neighbor to the southwest. We'd go to De Smet for basketball games or school tours of the Laura Ingalls Wilder sites. We went to the dentist in Arlington or visited Uncle James at his J&M Cafe in Lake Preston. My grandpa went to high school in Hetland, my grandma grew up near Badger and my aunt unwittingly became an entry in a Main Street parade while driving through Oldham one weekend.
It stands to reason that the closer you live to a certain place, the more connected you feel toward it. But it occurred to me that South Dakotans from Buffalo to Elk Point are probably connected to Kingsbury County to a certain degree. If you don't have a Harvey Dunn print hanging in your living room, one of your neighbors probably does. Laura Ingalls Wilder's "Little House" series sits on most of our shelves, but if you don't own a copy of Little House on the Prairie, you don't have to look far to find one. Many of us have even been the givers (or lucky recipients) of Beef Bucks, or cooked a rib eye on a grill made in Lake Preston.
These all trace back to Kingsbury County, 838 square miles in east central South Dakota that was created in 1873. The county is named after brothers George and Theodore Kingsbury, natives of New York who ventured to Dakota Territory in the early 1860s. Both served in the territorial legislature, and George published a newspaper in Yankton for 40 years. He also authored an incredibly detailed, multi-volume history of Dakota Territory that may be part of your library (if not, you probably know someone who owns a complete set).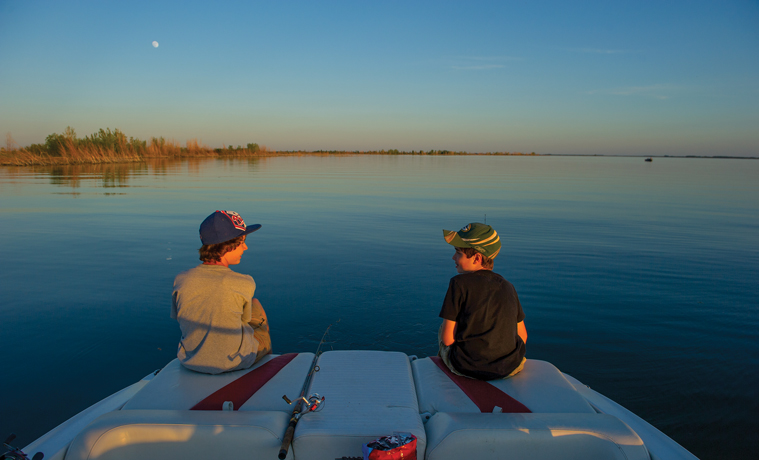 Luke Latza and Ryan Fucs wait for walleye at Lake Thompson. Photo by Greg Latza.
Seven years after its establishment, Tom and Bersha Dunn homesteaded on a piece of land near Fairview, soon to be renamed Manchester. The prairies along Redstone Creek are where Harvey Dunn toiled for the first 17 years of his life. He studied art at South Dakota State College in Brookings (despite his father's misgivings) and eventually set up a studio on the East Coast. He served as an artist with the Allied Expeditionary Force during World War I and was a successful commercial artist, but his greatest fame came from his prairie paintings. He was a regular summer visitor to Kingsbury County, sketching scenes against the steering wheel of his car. In all, he painted several hundred pictures of the grasslands around his home. Some can still be seen hanging in De Smet, but the lion's share — including his masterpiece The Prairie is My Garden — are housed at the South Dakota Art Museum in Brookings.
About the same time the Dunns settled near Manchester, Charles and Caroline Ingalls filed on a homestead near De Smet, and watched as the town sprang up in 1880. The family soon settled in De Smet, and daughter Laura — by then a teenager — accepted her first position teaching school. The experiences of her family in De Smet are well chronicled in her immensely popular "Little House" series.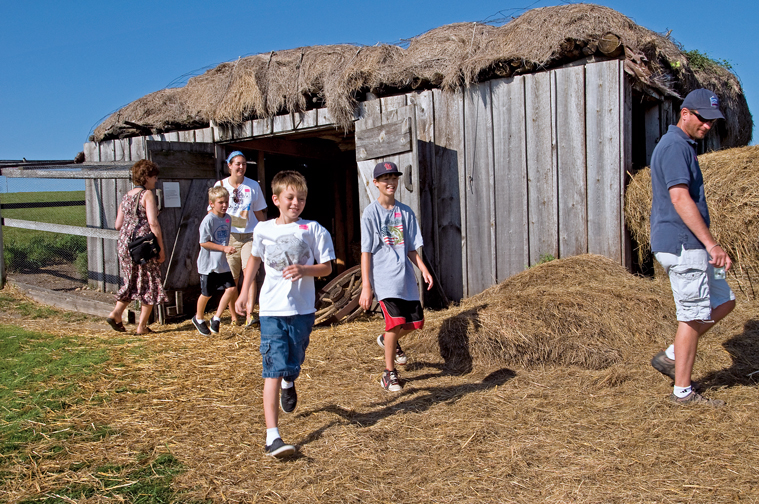 Families delight in tours at the Ingalls Homestead.
Another historical figure in South Dakota had roots in Kingsbury County. Emil Loriks grew up near Oldham. He served in the state legislature in the 1920s but made his mark as leader of the Depression-era Farm Holiday movement in South Dakota and later as president of the South Dakota Farmers Union.
The Farm Holiday's goals were to encourage farmers to hold on to crops until market conditions improved and try to prevent farm mortgage foreclosures. "Probably some of the things we did were illegal, like closing the stockyards, but it was the only way to bring the farmers' plight to people's attention," he told South Dakota Magazine in 1985.
Visit Kingsbury County today and you can see vestiges of their existence. Emil Loriks' home in Oldham is preserved as the Loriks-Peterson Heritage House. It includes a small museum and tours can be arranged.
The schoolhouse that Harvey Dunn attended has been moved into De Smet, but sadly nothing remains of his hometown of Manchester. In 2003, an F4 tornado destroyed the village. Former residents erected a monument that lists the names of families who lived in the township. It stands just off Highway 14.
In De Smet you can still see the stand of cottonwood trees that Pa Ingalls planted on their homestead, or visit the church and home he helped build in town. Local actors bring Laura Ingalls Wilder's words to life every summer through the Laura Ingalls Wilder Pageant.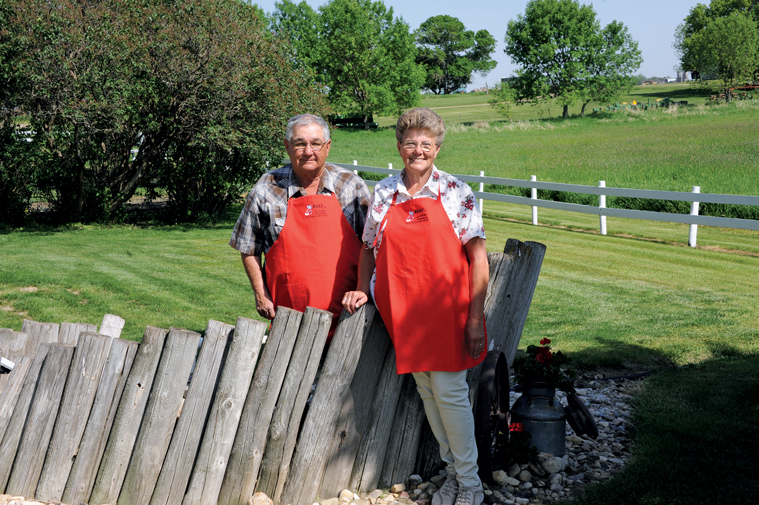 Bob and Nancy Montross raise cattle on their farm east of De Smet and helped develop the Beef Bucks program.
There are other people and places to see and things to do. A statue honoring Father Pierre Jean De Smet stands in Washington Park in De Smet. The Jesuit missionary spread Catholicism over the Northern Plains in the 19th century, and though he died in 1873, settlers decided to name their town after him in 1880. The statue is a replica of the one that stands in De Smet's hometown of Dendermonde, Belgium.
There's good fishing in Kingsbury County thanks to the wet years of the 1980s. Lake Thompson was nothing more than a marsh, but heavy rains in 1984 and 1985 left a lake 11 miles long and covering 7,500 acres. It prompted one farm couple to turn their machine shed into a marina, and lake life blossomed. Today it covers over 16,000 acres, measures 26 feet deep in spots and features 44 miles of shoreline. It has also been protected as a National Natural Landmark, one of 13 such spots in South Dakota.
You can pull good size walleye from Lake Thompson, but my aunt and uncle specialize in another fish at the J&M Cafe in Lake Preston. Aunt Marla is the designated lutefisk chef at all Andrews family gatherings, and several years ago we asked for the secret to making a perfectly flaky filet. "We bring a large pot of water to a roaring boil," Uncle James told us. "Put the pieces of fish in the water, and when it comes back to a good boil, the fish should be done." Stop in December and sample for yourselves at their annual lutefisk feed.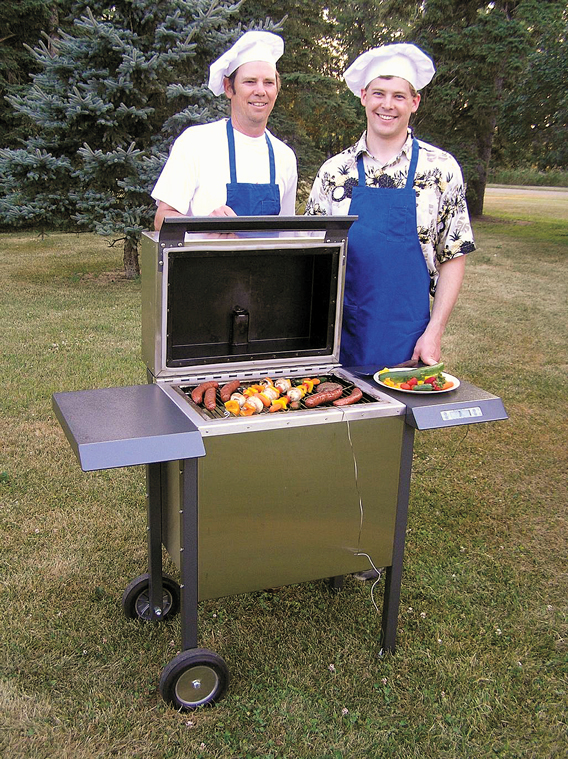 Wally and Adam Sorenson developed Dakota Grills on their farm near Lake Preston.
Can you grill lutefisk? We've never tried, but maybe the Sorensons have. Since 2004, Wally Sorenson and his son, Adam, have produced Dakota Grills from their farm near Lake Preston. The two tinkered with airflow and designed a computer program that keeps meat at a constant temperature. There's no smoke, no flare-ups and no blackened hot dogs.
There may be lutefisk in Hetland this May 17 when the tiny town with lots of Norwegian heritage celebrates the Syttende Mai. A potluck, featuring egg coffee and other traditional Norwegian foods, begins at 6 p.m., in the Legion Hall followed by entertainment from the Nordic Nimble Feet. The dance troupe, comprised of Brookings and Estelline residents, meets twice a week to practice Norwegian dancing and travels to festivals throughout the state sharing their culture. Syttende Mai celebrates the signing of the Norwegian constitution in 1814.
Arlington has a lake too, but it's a man-made creation. It sits at the busy intersection of U.S. Highways 81 and 14, along with a veterans' memorial. When I was a kid, we always passed by a sign that said Arlington was home to "999 happy people… and 1 grouch." I never did discover who the grouch was, though for a time I suspected it might be my dentist. Everyone there seemed so friendly and welcoming, and over time I came to see that Dr. Larry Green was, too. The citizens once even placed an ad inviting Californians to move there following an earthquake. As I recall, a family or two even accepted the offer. So it seems that Kingsbury County's connections extend beyond our borders, as well.
Editor's Note: This is the 21st installment in an ongoing series featuring South Dakota's 66 counties. Click here for previous articles.