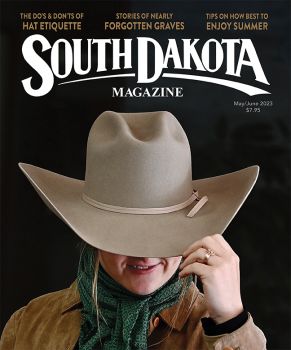 Subscriptions to South Dakota Magazine make great gifts!
Subscribe today — 1 year (6 issues) is just $29!

Ambassadors For Beef
Bob and Nancy Montross are among the best ambassadors for beef in American agriculture.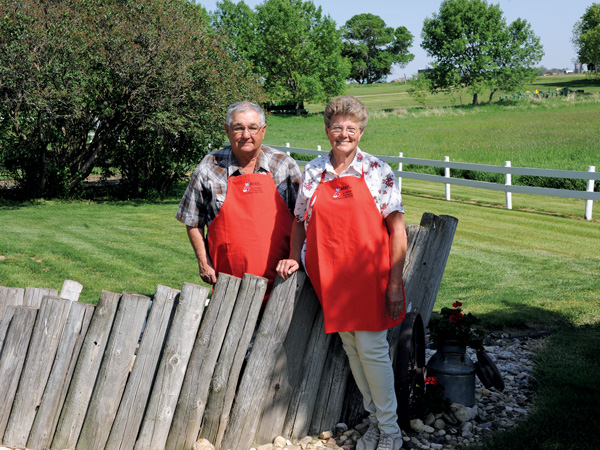 Ranchers Bob and Nancy Montross grill almost daily in their picturesque yard east of De Smet.
The couple, married over 40 years, raise cows and calves on a tidy farm east of De Smet, just a few miles from the historic Laura Ingalls Wilder homestead. Gleaming white fences, red barns and green grass surround the Montross farm.
Like all good ambassadors, they promote their special interest — the American cowboy and cattleman — by extolling the virtues of beef rather than by downplaying the competition, poultry and fish.
Bob and Nancy grill steaks and burgers on their front yard grill almost every night the schedule and weather permits, but Bob admits he doesn't eat beef three times a day. Remember, he's a diplomat in a John Deere cap. "When I go to a restaurant and want to order chicken, I have to wear dark sunglasses so people don't recognize me," he jokes.
The couple became involved in beef promotion through the South Dakota Beef Council. They helped erect giant billboards featuring a western hat on a juicy steak. They've served thousands of beef sandwiches at fairs and festivals, and helped to publish cookbooks.
They and some friends were brainstorming around the Montross kitchen table in 1997 when someone came up with the idea of Beef Bucks, a pre-paid check that could be given away for gifts or prizes and redeemed at grocery stores and cafes. The campaign began slowly, but last year over $1 million in Beef Bucks were sold, and they were redeemed in 42 states.
Cookbook sales and an annual golf tournament provide revenues so the Beef Bucks board can give away checks in splashy ways. They hit the jackpot in 2011 when the producers of "Wheel of Fortune" agreed to offer two $1,000 cards as prizes.
The Montrosses and fellow Beef Bucks promoters watched the show from a Brookings restaurant. You can imagine their pride, and the goodwill felt by cattleman across the country, as Pat Sajak and Vanna White offered Beef Bucks along with island vacations and fancy cars.
Able ambassadors excel at energizing their community, and for the Montrosses that would be the American cattleman. "It's the greatest industry in the world," Bob says. "It's the backbone to the state of South Dakota … and to the country." According to Ag United, more than 3.7 million cows and calves are raised on 15,000 South Dakota farms. The bovine provides 11,600 jobs and $83.8 million in tax revenues.
Beef Bucks is one reason why cattle remain the king of the state's economy. Farm country banks, livestock auction barns and other agricultural companies purchase the certificates for gifts. Denny Everson of First Dakota National Bank, who uses Beef Bucks as a rewards program for customers and also sells the certificates at branches statewide, has been a supporter of Beef Bucks since its inception. "This is just an extraordinary way to showcase the quality of beef in South Dakota, and Bob and Nancy are to be credited for that," Everson says.
Kevin Larson of Aberdeen Livestock Sales Company, who buys up to $30,000 a year, says, "We like to give something out to show appreciation. Why not give beef?"
And why not grill beef, especially if you are lucky enough to win or receive some Beef Bucks? Here's a recipe adapted by Nancy Montross from the cookbook, Beef Bucks Recipe Collection. They use it regularly on the farm grill.
---
Steak Sizzlers
2 lbs. top sirloin cut into 1-inch cubes
Marinade:
1 cup medium salsa picante
1 ½ tsp. lemon pepper
1 tsp. garlic powder
½ tsp. seasoned salt
¼ cup vegetable oil
Mix together in large heavy plastic bag. Place beef cubes in bag and marinate over night in refrigerator.
Place on skewers with peppers, onion, tomato and pineapple.
Grill over medium coals for 5-7 minutes, turning occasionally.
Editor's Note: This story is revised from the July/August 2012 issue of South Dakota Magazine. To order a copy or to subscribe, call (800) 456-5117.