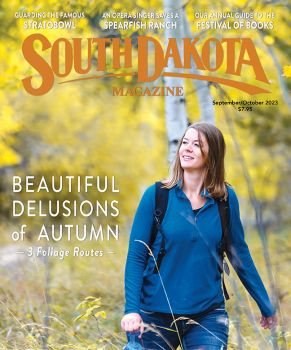 Subscriptions to South Dakota Magazine make great gifts!
Subscribe today — 1 year (6 issues) is just $29!

Tonight, Let the Kids Cook
Oct 25, 2012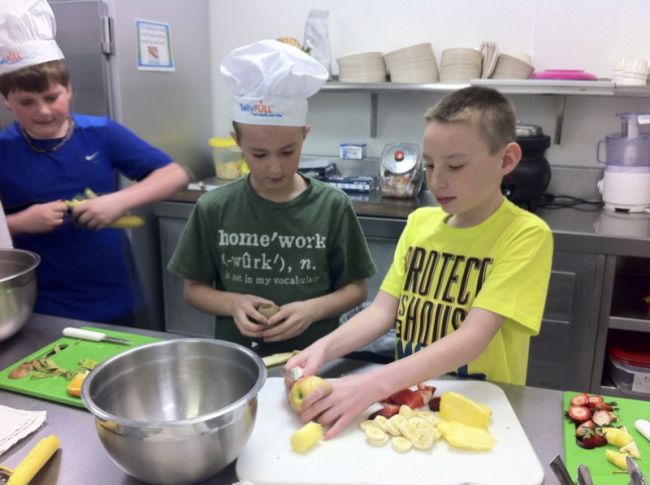 Students learn cooking skills and try new foods in Mitchell-based nonprofit Time at the Table's Kitchen Kids program. Photo by Billy Mawhiney.

In a world of harried schedules and grab-and-go food, the traditional cozy family supper around the dinner table is no longer the reality for many Americans. But would a return to family mealtimes be better for our health and overall well-being?
Billy Mawhiney of Time at the Table, a Mitchell-based nonprofit, thinks so. "I was fortunate as a child to grow up in a home where family dinner was a priority. Even during sports season my mother would sit with me while I ate dinner at the table, involving herself into my life. When I began researching family dinner and realizing that only 1 in 3 American families eat around the table, I knew we had to do something about it."
Time at the Table offers a variety of tools that support their slogan, "Reconnecting families, one table at a time." One of the most successful has been their Kitchen Kids program. Kitchen Kids is a series of classes for children in grades 3-8 designed to give them "cooking confidence" in a safe and entertaining environment.
When kids learn their way around the kitchen, it encourages them to take those skills home and show them to Mom and Dad, helping families connect in a fun, delicious way. The four-lesson series starts simply. Mawhiney says, "The first lesson is always attention getting — making pasta from scratch. It gets your hands dirty and focuses on simple, basic ingredients kids know."
The classes also encourage children to try new and healthier foods. A grant from the USDA has allowed Kitchen Kids organizers to track the program's success in nudging children into eating fruits and vegetables. It's working — 83% of students show an increase in fruit and vegetable consumption after attending Kitchen Kids.
Groups are kept small, so students have plenty of help as they learn. "We keep the class ratio to 1:5 with volunteers from the RSVP program in Mitchell. The James Valley Community Center not only allows us to use their space, but also supports us with great volunteers to have an extra set of eyes and hands to help guide the kids," says Mawhiney.
The program has been so successful in Mitchell that it's expanding into Sioux Falls. A two-part Kitchen Kids class will be held on November 3 and 17 at the Cross Pointe Baptist Church from 11 a.m. to 12:30 p.m. The $40 cost covers both sessions, with scholarships available upon request.
Mawhiney would like to see Kitchen Kids-style programs available in communities across the state. To that end, Time at the Table is developing a Kitchen Kids Resource Guide to help local groups start up a program of their own, with well-tested recipes, step-by-step guidance for instructors and more. Time at the Table also offers family classes for parents with smaller children.
For more information or to donate to their scholarship program, contact Billy Mawhiney at 605-550-0335 or bmawhiney@timeatthetable.org.
---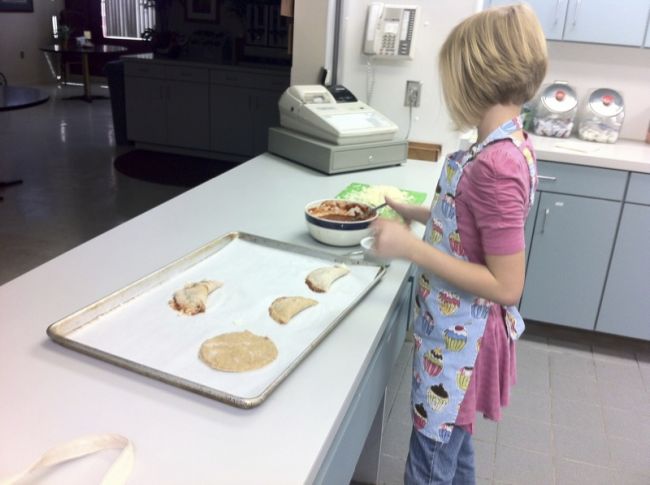 A Kitchen Kids student prepares pizza rolls. Photo by Billy Mawhiney.
Pizza Rolls
1/4 cup extra virgin olive oil, plus more for the pan
1 3/4 cups whole wheat flour, plus more for rolling
Kosher salt
Black pepper, freshly ground
1/2 cup plain yogurt
1 15-ounce can crushed tomatoes
1 teaspoon basil (dried or fresh)
2/3 cup shredded mozzarella
2 cloves garlic, minced
1 egg
In a mixing bowl or food processor, combine oil, flour and a generous pinch of salt. Mix together until mixture resembles small peas. Add yogurt and stir to combine a sticky dough. If dough is a little dry, add 1-2 tablespoons ice water. Cover dough and refrigerate until ready to use.
In another mixing bowl, combine crushed tomatoes, basil, mozzarella, garlic and salt and pepper to taste. Stir well.
Roll dough out on a lightly floured surface until it is about 1/8" thick. Use a floured 4" cookie cutter, cup or bowl (a plastic food container works well) to cut the dough into circles. Re-roll scraps and continue cutting until all dough has been used up. You should have 14-16 circles.

Place about 1 1/2 tablespoons of the tomato filling on one half of the dough circle. Fold the other half over and press gently but firmly along the edges of the circle to seal it, forming a half-moon. Use the back of a fork to create a scalloped edge along the seal. Transfer to the prepared baking sheet. Repeat with remaining dough circles.

Beat the egg with 1/8 cup water to make an egg wash. Brush the tops of the pizza rolls with the egg wash and bake for 12-15 minutes, or until golden brown.