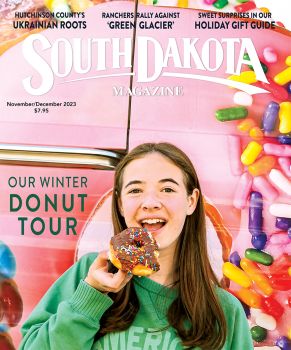 Subscriptions to South Dakota Magazine make great gifts!
Subscribe today — 1 year (6 issues) is just $29!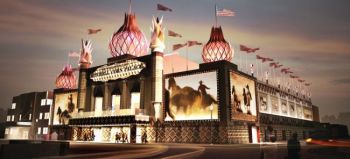 Cornstruction Nearly Complete
Jul 22, 2015
We stopped by Mitchell's Main Street this week to see the progress on major renovations to the Corn Palace. Though the project is running a few months late, the end — or the cornstruction as some call it — is nearly complete.
We got a quick tour from Katie Knutson and Cherie Ramsdell. Katie is the director of Mitchell's Convention and Visitors Bureau. Cherie is the artist who designs the murals — a task once done by the legendary Oscar Howe.
The changes are making the old palace seem warmer and more people-friendly. Old concrete pillars in the lobby have been redesigned as corn ears, and decorated with ceramic tile from Italy arranged in an abstract way like kernels on a cob. A second floor balcony now hangs above Main Street. Already, the community is using it for Thursday night concerts. A bright second floor area is now devoted to Howe, the Lakota artist. Huge windows have been reopened. The outdoor murals are larger than ever. And the new steel domes give an abstract look of corn husks, especially when lit at night. (They were still sitting on the street when we stopped.)
Congratulations to the Mitchell community. They've embraced our corn culture with the palace since 1892. John Philip Sousa performed there in 1904, and since then the big brick barn has been Mitchell's invite to the world. Today's Corn Palace leadership has done all of South Dakota a great favor by modernizing and reconfiguring the architectural treasure. Plan to stop and see the changes on your travels.