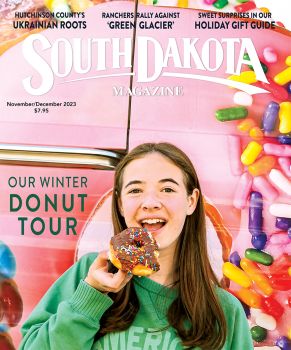 Subscriptions to South Dakota Magazine make great gifts!
Subscribe today — 1 year (6 issues) is just $29!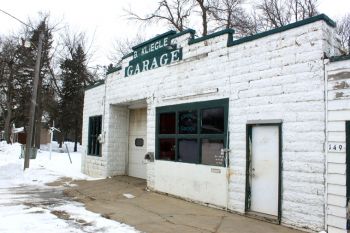 A Goodwin Institution
Mar 2, 2016
By Michael Zimny
Kliegle's Garage stands a few blocks south of US Highway 212 — a spartan, white cast stone building on Chicago Avenue, in Goodwin. For nearly 100 years, its open bay has been where tractors, cars and people from around Deuel County pull in for a tune-up, tire change, engine overhaul or the occasional moonshine-assisted attitude adjustment.
Founder Ben Kliegle bought an old blacksmith shop in 1916, tore it down and built a sturdy, concrete block garage. A three-step false front still reads "B. Kliegle Garage" in hand-painted letters.
Ben Kliegle was born in rural Deuel County to German immigrants in 1889. When he was 20, the Kliegles moved to Goodwin where they ran a draying operation. A couple years later, he moved to Racine, Wisconsin, where he learned how to work on heavy machinery and vehicles for the J.I. Case Threshing Machine Company.
He picked a fortuitous time to bring his acquired skills back to Goodwin, just as Henry Ford had streamlined the assembly process for the Model T. But in April of 1917, President Woodrow Wilson declared war against Germany. The draft was on, and Ben was sent to serve as a truck driver and mechanic in the Army. While he was stationed at Aberdeen Proving Ground, the "Spanish flu" pandemic raged through the Chesapeake Bay area of Maryland, infecting thousands of soldiers at Camp Meade, Fort McHenry and APG.
According to family history, he was one of only three soldiers in his barracks of 32 to beat the fever. Ben and the American war effort survived, and the former returned to Goodwin and the garage in 1919. He and Ottilia Raml, another Goodwin child of German immigrants, married that year.
In the early years, Kliegle's did a brisk business in sales of Model T's. At the time, T's were shipped to rural markets by rail — with some assembly required on site — and often modified by owners and mechanics who sometimes converted them with kits or through innovative genius into tractors or other work vehicles. Kliegle's catered (and still does) to agricultural machinery as well as automobiles. The shop also did some trade in Indian Motorcycles when its cruiser models, the Scout and Chief, were still competitive with the Harley.
Ben Kliegle became one of the first welders in eastern South Dakota, and his skills became well known throughout the region. Farmers came from many miles around to get a cracked engine block or implement repaired. A renowned innovator, Ben devised a method for outfitting old steel-wheel tractors with rubber tires, and once welded a truck cab onto a Case tractor to make what may have been the first enclosed tractor cab.
When Prohibition tried to force sobriety on Goodwin — according to Kliegle family lore — local moonshiners mixed bottles of their product among jars of sulfuric acid and distilled water Ben stored in his battery room. "When the Revenuers came," says Pete Kliegle, "Dad opened a jug of sulfuric acid and invited them to taste. They never came back."
The Garage lost everything during the Depression, but held on. For farmers who stayed, there was hardly an implement that Ben Kliegle couldn't fix, and you could pay him in milk or eggs. Meat was hard to find. Pete recalls his sister Helen was a crack shot at hunting gophers and pheasant. "We were so damn broke, we had company coming and we didn't have any meat, and my mother sent my sister out to get a pheasant. So she shot a pheasant. We had pheasant for dinner. When those people came for dinner, my poor sister knew it was a sin because she shot the pheasant out of season. She told the priest all about it at confession."
The rain finally came and fortunes changed, then rationing, then war again. Help was hard to find when the draft began. In the eighth grade, Bob Kliegle started helping out, missing two to three months of school per year. Aside from a stint in the Air Force — serving as an aircraft mechanic, then B-29 bombardier — he became the central Kliegle at the Garage until he died in 1999.
The 1950s were good times — good help and good business. Pete helped for a couple years while Bob was gone, then left for the Air Force and eventually the Merchant Marine. Bob came back and took over the business side while Ben continued to do the welding. By the 1970s, Ben was getting older and had to give up welding, but still came by in his wheelchair every day to visit with the gang. After Ben died in 1977, Bob shifted away from car sales and focused on tires, small repairs and services like oil changes and tune-ups. The Garage became known regionally as the go-to place for tires. Elois Shackelford wrote in the newsmagazine The Best of Times, published in Gary, that, "If you come across more tires on Main Street than the town's population ever had cars on the Fourth of July and you think you are in 'Tire City'… if you walk into Kliegle's Garage in the morning and you hear a customer say, 'Good morning, 'ole Buddy, got in those eight plies?'… you know you're in Goodwin, SD."
As agriculture changed and populations shifted away from the small towns of the Plains, Goodwin's business district downsized. Bob Kliegle, with his city of tires, suspenders and signature cigars, kept one of the oldest family-owned businesses in South Dakota going through the decades. It was said that he was married to the shop and that the only vacations he ever took were his travels with the Air Force.
Over the years, the stalwart Bob — and a crew of mechanical geniuses like Raymond Raybine, Leonard "Slivers" Hjermstad, Splinter, Speedy, Pat Heyn and Tim Mack — made Kliegle's a hub for social interaction. Every April, Bob held a party for the city. "That's when the school kids would come down on field trips — they'd have peanuts and candy," remembers Kliegle's shop foreman Gary Ehlebracht, "and then the adults — they'd have a keg of beer."
After Bob passed away in 1999, Father O'Dell at Holy Rosary Church in Kranzburg remembered him as a person who "understood the idea of the harvest being abundant, but the workers being few." Shop management was taken over by a succession of Kliegle's alumni. Ehlebracht runs the business now. Pete Kliegle is still the owner. Every year the Garage holds a customer appreciation day. Pete usually makes Raschke Burgers — a style of patty slow-simmered in onions that originated at the legendary Raschke's Saloon in Watertown. This year, the Kliegle's Garage 100 Year Celebration on July 2 will include a parade, a tire toss and street dance.
Ironically, the machines Ben Kliegle started his garage to assemble, modify and repair would help put towns like Goodwin (and their garages) in an increasingly urban America's rear view. Perhaps he was a prescient mechanic who sensed that — more than his welder's torch, work ethic and fix-anything attitude — the stories swapped over a jar of bootlegged hooch or peanuts and beer would be the alloy that kept the engine block of Chicago Avenue intact.
Michael Zimny is the social media engagement specialist for South Dakota Public Broadcasting in Vermillion. He blogs for SDPB and contributes arts columns to the South Dakota Magazine website.