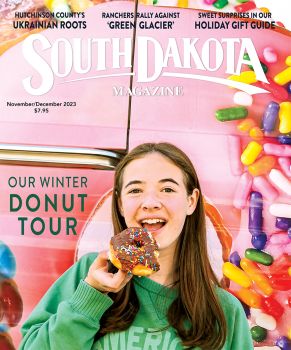 Subscriptions to South Dakota Magazine make great gifts!
Subscribe today — 1 year (6 issues) is just $29!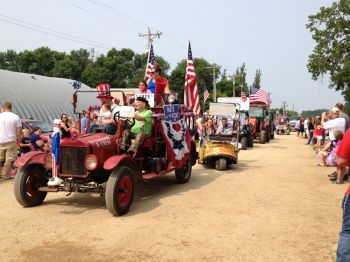 Kranzburg is King on the Fourth of July
Jun 30, 2016
By Lee Schoenbeck
Kranzburg, population 150, is king on the Fourth of July. If Descartes, the great philosopher and mathematician, were called upon to construct a philosophy for the foundation of man and the celebration of independence, and if he were a South Dakotan, it would begin: "I think, therefore I am … at the Kranzburg parade on the Fourth of July." There are other South Dakota communities that crave this recognition for the day we honor our American independence, but they would have a tough time measuring up. With supporting photos to dispel claims of embellishment, here are 10 reasons why Kranzburg is King on July 4.
10. There are clowns — a lot of them — and not those Shriner guys in little fezzes. These are more like Hobo Day clowns and they entertain young and old alike — and occasionally spray them with water or lipstick-laden kisses!
9. Horses with hoofs painted red, white and blue. Even the non-human participants are into this parade.
8. Copious amounts of candy. Every kid leaves with a bag of goodies picked up off the dirt main street. A smile, a wave and a cheer will inspire just about every entry to throw candy. As the kids run under horses, tanks and flatbeds, it becomes clear why the City Council runs an ad each year in the Watertown Public Opinion disavowing any knowledge or responsibility for the event!
7. Politicians. I once saw U.S. Senate Majority Leader Tom Daschle walking the parade with a very big Secret Service agent right behind him (I'm pretty sure the Secret Service guy had to skip item #3 below). Sen. John Thune was there last year, and in election years every person that stops for a second on the route is stickered with the whole slate from both parties.
6. A band on a flatbed. The Watertown Municipal Band rides through the parade entertaining the crowd with John Philip Sousa march tunes. Young and old swing, smile and cheer to the music that triumphantly celebrates America's freedom.
5. Thousands of firecrackers rolled out down the middle of the parade route and randomly discharged. Happens every year — great noise, no fatalities. If you want to be the best on the Fourth, you have to sound like it, and little Kranzburg's random pyrotechnics are a roar for freedom.
4. Festive costumes and red, white and blue everywhere. Three years ago, a local college student in a red, white and blue speedo ran right up the front of a van in the parade and danced on the roof! Not sure if his poor choreography, or the bill for the damage, was more disturbing for the family the next day. But, the spirit of the Fourth moves people in Kranzburg. While famous South Dakota kicker Adam Viniatieri didn't make it last year, his Sioux Falls City Councilmember sister, and her whole family of in-laws, were there in red, white and blue tights. Fashion assumes a whole new meaning here on Independence Day.
3. Kranzburg's parade is the only one in South Dakota where spectators can get cold tap beer off floats as the parade goes by. But they serve a balanced menu. The Coteau Cattlemen toss out beef sticks, and other floats have popsicles. My only caution is to avoid the hot dogs cooked on the diesel engine.
2. Patriots. Veterans groups and the American flag are prominent in the Kranzburg festivities. The Vietnam Veterans on motorcycles carry flags and capture the crowd's respect. They are a vivid reminder of the reason for the celebration.
1. 5,000 South Dakotans, who, for that morning, are your best friends. They pack themselves along a two street parade, singing, cheering and celebrating what makes America — and South Dakota — great.
While the Kranzburg parade is the definition of Marquis of Queensbury rules for a public event, there are actually two rules — mostly science things — that are not suspended and to which you must adhere.
First, the parade starts at 10:30 a.m. There will be 5,000 people driving the 8 miles down Highway 212 from Interstate 29 and trying to get into a town of 150 by then, so get there early. If you arrive an hour early you can avoid a half hour traffic jam on Highway 212, and you can find a place to park that is within a mile walk.
Second, make a friend. You can camp out in just about any yard along the parade route and find many new friends who will likely share adult refreshments with you. Mostly, people tend to go back to the same spot where their family and friends have been squatting for decades. If you make friends with the folks who live along the route, you might get bathroom privileges, and not have to share the four porta-potties with the other 4,999 guests.
We camp in front of "Aunt Barb's place." I never knew my mother-in-law's Aunt Barb, and I now think she maybe never lived there, but some relative of hers did. That's close enough for our family to have bathroom privileges.
In Kranzburg on the Fourth of July, everybody's a friend you just haven't met yet.
Lee Schoenbeck grew up in Webster, practices law in Watertown, and is a freelance writer for the South Dakota Magazine website.