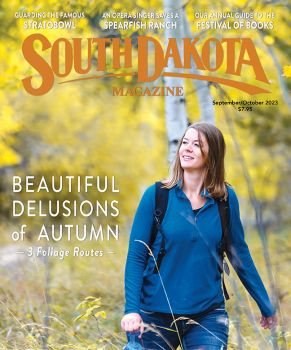 Subscriptions to South Dakota Magazine make great gifts!
Subscribe today — 1 year (6 issues) is just $29!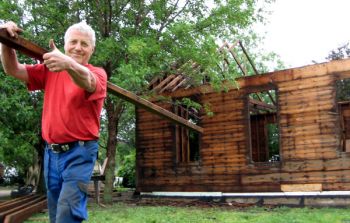 Leet School: Spanning Time and Space
Jun 23, 2015
By Katie Hunhoff
Once a teacher, always a teacher. That's true of many educators, and it also applies to a little country schoolhouse built long ago in Sanborn County.
The Leet School, built in 1883 by Norwegian immigrants near Letcher, was painstakingly deconstructed board by board in 2007. It took two weeks to disassemble and pack the country school into a 40-foot container. The school was sent by train to New York City, then by freighter to its new home — the Norwegian Emigration Museum in Hamar, Norway.
Eight years after its relocation, the doors of the Leet School have reopened at the Norway museum as part of a permanent exhibit. "The school is a wonderful addition to the Norwegian Emigration Museum because it is a true, unbroken link with Norwegian-American pioneers," says Elyce Rubin, who originally notified the museum about the Letcher school. "It will teach invaluable lessons of self reliance, love of the land and patriotism."
Rubin, a travel writer, became aware of the school when she came to South Dakota researching pioneer photographer O.S. Leeland. She sent out a request to South Dakotans to contact her if they knew of any information on Leeland. H. Richard Christopher, a Letcher farmer, knew of some Leeland photographs and contacted her in New York. When Rubin visited Christopher in Letcher, she was amazed to find the Leet School on his farm.
When the school closed in 1968, Christopher purchased it at an auction for $115. He moved it to his farm and started collecting items from the school's past. Over the next several decades Christopher found furniture, textbooks, photographs and assorted school supplies including lunch buckets and a school bell, a coal stove and kerosene lanterns. "The school was my baby," Christopher told a South Dakota Magazine writer in 2007.
Donating the school to the museum was difficult, he said. In the end, Christopher agreed if he could control the classroom's setup and placement of his memorabilia, which included his own report cards, art and tests. The museum was especially thrilled to receive the school's contents, which Christopher had carefully displayed in the school.
"I tend to give life and personality to inanimate things. I had dialogue with the books and desks and what these items meant to me. I thought about keeping the teacher's desk bell and a student desk. But they all seemed to say to me, 'We all want to stay together,'" he said.
Eight years after Christopher made the hard decision to donate the school and its contents, he is traveling to Norway this month for the grand opening of the Leet School, now called the Leet-Christopher Skolehuset. The simple schoolhouse has new life in Norway.
Someone once said that education is a matter of building bridges. In the case of the Leet School, the spans of time and distance are fairly impressive.
Editor's Note: The article on Leet school, written by Steven Garnaas, was originally published in the November/December 2007 issue of South Dakota Magazine. To order a copy or to subscribe, call (800) 456-5117.