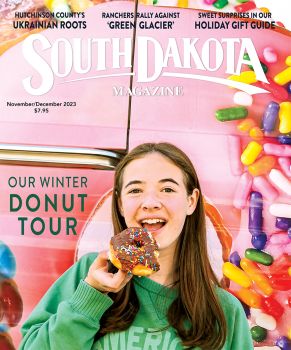 Subscriptions to South Dakota Magazine make great gifts!
Subscribe today — 1 year (6 issues) is just $29!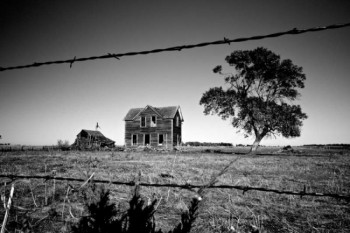 Visions of the Past
Oct 31, 2011
Abandoned farmhouses and barns intrigue me. I realize that a lot of folks see them as eyesores or maybe even negative signs of the times. I see them as pieces of history. I imagine stories of the joys of living the country life as well as stories of hard times on the prairie all wrapped into those weathered walls. When I look at an old, abandoned house I can almost see gathering friends and family chatting on the front step or sitting around the dining room table for a high holiday. I guess part of it is reliving my childhood on the farm. My boyhood home is still being lived in, but my grandparents' house that stood just a mile away is now gone. I stopped there this summer and walked the old yard I used to mow. I marked the old foundation and where the garage was. It was a bittersweet thing to remember the good times there with my grandparents and family.
The old barns, on the other hand, have much different stories to tell. Stories of daily chores, stories of somehow both loving and hating the farm animals that used the barns. I know our barn would have a lot of stories to tell. I can think of many incriminating instances concerning my brothers and I that demonstrate the old saying; "boys will be boys." Some of the tamer shenanigans would be goofing off with the newborn kittens in the hayloft while our oldest brother milked the last of the cows, hollering at us every couple minutes to get down and help. There were also epic fights in that barn. Mostly between my older brothers, but I was in my share as well. In fact, the only time I ever remember bloodying anybody's nose in a fight was in that barn — it was a blind swing over my shoulder in a fit of lost temper. It quickly ended the skirmish, but I think my brother was more surprised than hurt.
I cleaned that barn floor more times than I can count. The worst was in the winter. The western side of barn got so cold that the hot water would freeze on the cement almost as soon as we poured it out of the bucket. I had to be quick in order to sweep it down the drain or it would create an ice rink, which was fun to play on, but created havoc for 40 milk cows to cross over. One winter our drain froze solid and we had to sump pump out the water until June.
It is funny how living those memories didn't seem like all that much fun at the time. I realize now how important it was to learn how to work and work hard. My brothers and I can now laugh at the old barn stories. Which is a good thing.
All that to say, that when I have time and the light is right, I can't help but stop and take some photos of old, abandoned buildings found along South Dakota's country roads and wonder about the stories they could tell.
Christian Begeman grew up in Isabel and now lives in Sioux Falls. When he's not working at Midcontinent Communications he is often on the road photographing our prettiest spots around the state. Follow Begeman on his blog.