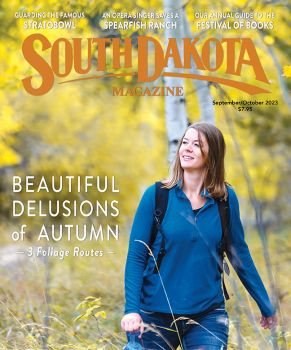 Subscriptions to South Dakota Magazine make great gifts!
Subscribe today — 1 year (6 issues) is just $29!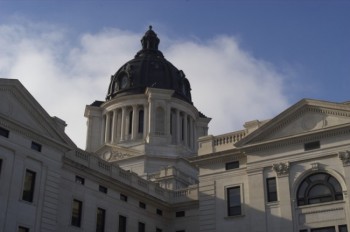 Legislature Not Helping SD Tourism Do Its Job
Mar 21, 2013
Thank goodness for SDSU and March Madness. South Dakota needs something to clear from the national headlines the embarrassment wrought on our state by our own Legislature.
We made the New York Times, CNN, the Huffington Post, Fox News, the BBC, and Emergency Management with House Bill 1087, the new school gunslinger law. (The bill text specifies that the newly authorized gunslingers be called school "sentinels"; I refuse on principle to this Marvel-Comics marketing-speak and the fantasy-hero complex that lies behind this nomenclature.) To observers around the country, we have declared, "We're so afraid we can't even hear our educational experts telling us almost unanimously that they don't want guns in our classrooms."
For the record, not one professional educator testified in favor of the school gunslinger bill. Nine superintendents of districts in and around the Sioux Falls metro said publicly at a Chamber forum last week that they don't anticipate their school districts seeing a big need for HB 1087 in their districts. Supt. Don Kirkegaard told the NY Times that he doesn't see any evidence that even the isolated schools in his sprawling Meade County School District would be safer with armed teachers.
Even if no school in the state takes advantage of this unwise policy, the Wild West gun ethos that plays so well in our legislators' minds undoes South Dakota's image elsewhere:
... it's easy to imagine a situation in which a heroic teacher with a gun takes a crazed gunman down, action-movie style, because we've seen that movie many times. But in the nonfictional world, where real schoolchildren live, it's much easier to envision amateur shooters spraying bullets as wildly and ineffectively as, say, New York City police officers, and getting themselves and others killed.
We are not in Deadwood anymore, and who would want to be? [Lawrence Downes, "Welcome to Deadwood," New York Times: Taking Note, 2013.03.08]
Who would want to be in Deadwood? It's hard to counterprogram lines like that ("Come to Deadwood—no, really, you won't get shot!")... but we bring it on ourselves. As long as we elect legislators who think that schools need more guns, that women can't think on weekends, and that economic development incentives boost wages and workforce (not to mention the Legislature's classic headline-making belief that global warming comes from astrological forces), South Dakota Tourism will struggle to keep our brand polished.
Editor's Note: Cory Heidelberger is our political columnist from the left. For a right-wing perspective on politics, please look for columns by Dr. Ken Blanchard every other Monday on this site.
Cory Allen Heidelberger writes the Madville Times political blog. He grew up on the shores of Lake Herman. He studied math and history at SDSU and information systems at DSU, and is currently teaching French at Spearfish High School. A longtime country dweller, Cory is enjoying "urban" living with his family in Spearfish.