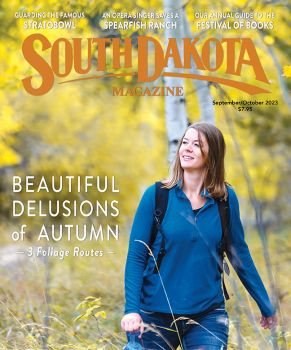 Subscriptions to South Dakota Magazine make great gifts!
Subscribe today — 1 year (6 issues) is just $29!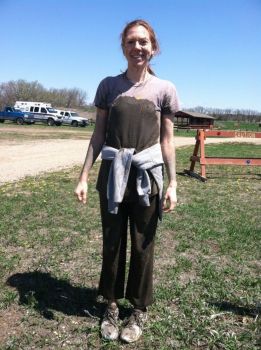 Muddy Fun Run
May 13, 2013
The first annual Lewis & Clark Adventure Race was held west of Yankton this past Saturday. It's an obstacle-style 5k held on the Lewis & Clark Scout Camp.
I love running 5k races but when I first heard about this one I was not interested. Potential obstacles like climbing over a wall, belly crawling through mud under electrified wire and jumping into ice water sounded horrible. I prefer to stay relatively clean and dry on my runs. I don't even like outdoor swimming unless it's over 90 degrees. Why would I intentionally jump into ice water? Well, a friend invited me to run and I realized I didn't want to miss out on this extreme experience with her.
I got an e-newsletter a week before the race showing a weight-lifting plan to help you get ready for obstacle-course racing. It hadn't occurred to me to do any training besides running and by then it was too late! What was I getting myself into? By the time Saturday morning rolled around I was anxious to see what torture awaited me.
The race was challenging, but really quite fun. The course was mostly hilly trail-running with a small camp of obstacles in the middle and a few more toward the end. The mud was cold, and even smelly, but I had a blast. And I felt a sense of accomplishment from completing obstacles like carrying a big piece of driftwood, climbing a rope ladder and sliding down a fireman's pole. Oh, and the wire wasn't really electrified. There was just a sign saying "Danger: High Voltage" to scare you. What a relief!
If you're considering doing a mud run or adventure race, gather a group of friends and go for it! The race probably isn't as hard as you think and you'll have an amazing time with stories to tell.
Here are some upcoming obstacle-style races around the state –
Black Hills Mud Run – Sturgis, June 1 & September 14
Dakota Mud Run – Hot Springs, July 6
MudChug – Sioux Falls, August 3
South Dakota Mudathlon – Sioux Falls, August 24
Rumble on the Ranch – Watertown, September 7