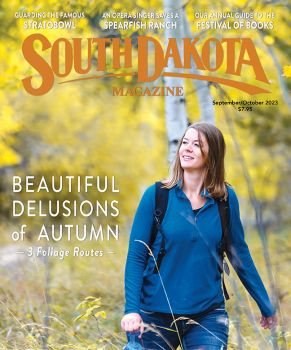 Subscriptions to South Dakota Magazine make great gifts!
Subscribe today — 1 year (6 issues) is just $29!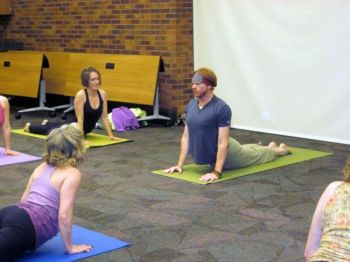 Get Your Yoga On!
Jan 17, 2013
I don't know about you, but I find January a little boring. The holiday sparkle has faded and I shiver at the thought of my usual outdoor activities. Oh sure, I'm glad to have the time to work on my Scrabble skills and my dog loves our extra couch time, but I've been dreaming about skipping town this weekend.
Along with my duties at the magazine, I teach yoga part-time. Winter weekends are a great opportunity for me to be a student again and explore local classes. Luckily it's the third annual Sioux Falls Yoga Day this Saturday.
Yoga Day USA used to be an annual event sponsored by Yoga Alliance. Registered yoga teachers hosted free or low cost workshops the third Saturday in January to share the benefits of yoga with their communities. The last official Yoga Day USA was held in 2011, but a group of instructors have continued holding free classes at the Siouxland Libraries Main Library each winter.
Deb Yoder and Jill Johnson organize the event. Yoder teaches yoga at the Avera McKennan Fitness Center and the Prairie Center and Johnson is co-owner of The Dharma Room. Their goal is to introduce yoga to the community in a fun, neutral way that encourages people to find yoga in their neighborhood. "We offer a wide range of mind/body classes throughout the day so people can explore different modalities to find what works for them," Johnson says
Along with teaching yoga, Yoder works for Siouxland Libraries as a Collection Development Librarian. The organization is helping to sponsor the event this year to demonstrate the Siouxland Libraries' resources for planning healthy lifestyles. The event is free, but donations of non-perishable food items will be accepted for the Sioux Falls food pantry. Beginners and experienced practitioners are invited to drop in for a class or spend the whole day. "Some of the instructors will bake breads. We have tea and usually some fresh fruit so there's something you can snack on," Yoder says. Yoga mats are available to borrow, but those who have one are encouraged to bring their own.
The day's schedule is as follows:
Beginning Yoga 9:15 - 10 a.m.
Learn basic moves that help you connect the mind, body, and breath. Taught by Alison Larson and Amanda Hahn, who recently completed their yoga teacher training with the Organic Yoga Company.

Family Yoga 10:15 - 11 a.m.
Kids and parents practice fun yoga moves and activities. Taught by Maria Travers from East Bank Yoga.

Qi Gong 11:15 a.m. - 12 Noon
Experience gentle movement that helps heal your body in this ancient Chinese health care practice referred to as "Chinese Yoga." Taught by Kim Kersbergen from The Dharma Room.

Crystal Singing Bowls 12:15 - 1 p.m.
Relax and enjoy the singing bowls' sound vibrations that have a positive effect on your body's well-being. Presented by Veronika Ludewig from The Dharma Room.

Yin Yoga 1:15 - 2 p.m.
Relax into seated or reclining yoga poses held for two to three minutes, allowing a gentle stretch for the joints and tissues of your body. Taught by Deb Yoder from Avera McKennan Fitness Center and the Prairie Center.

Intermediate Yoga 2:15 - 3 p.m.
Use the yoga basics to build strength and find balance in more challenging poses. Taught by Jean Slattery from Om Yoga Fitness.

Laughter Yoga 3:15 - 4 p.m.
Laughter exercises and gentle yoga breathing beat stress and invigorate the body. Taught by Jill and Dan Johnson from The Dharma Room.