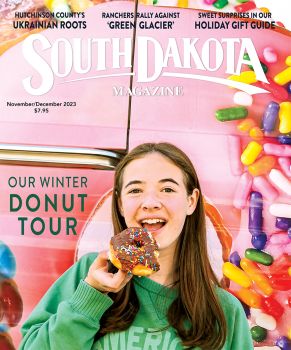 Subscriptions to South Dakota Magazine make great gifts!
Subscribe today — 1 year (6 issues) is just $29!

MWM Looking For Bargains
Feb 28, 2012
Call me weird, but I've always thought classified ads were one of the best parts of newspapers. When shoppers first came out, I was overjoyed. Finally. Without the distraction of wars, natural disasters or losses by sports teams, I could enjoy unadulterated advertising.
Part of the reason I'm drawn to them is that a tiny portion of me is always hoping the opportunity of a lifetime is lurking there in four lines or less:
HELP WANTED: Position requiring no work open, 150K per year. Liberal benefits, including car and mansion. Good-looking secretary supplied. No supervisor, lots of underlings waiting to grovel. Guys named Roger given preference.
Though I haven 't seen that ad yet, there are usually half a dozen things I didn't even know I needed. That's how I wound up with a radial arm saw, which I use all the time, and a countertop pizza maker, which I never used but my wife developed an all-consuming hatred of. That's another story, though.
I read want ads hoping for a miracle, and it seems there are people out there who place ads with the same idea. When our town experienced a modest real estate boom, making rental houses somewhat hard to come by, a hopeful soul would place an ad that went something like this:
WANT TO RENT: Nice, clean three or four bedroom house, with at least one-and-a-half baths, within five miles of town. Fireplace a plus. Must be on rural water.
What responses are they expecting? "Well, yeah, I got a place you might want to look at," a hopeful landlord might say. "But golly, I'd have to have $60 a month rent, though I might go down to $50 if you sign a long-term lease. Of course, I insist on paying the utilities."
These are probably the same people who placed a WANT TO BUY ad earlier. They would like to buy a late model, low mileage, one-owner car from a nonsmoking older couple. Below blue book, of course. "Oh, by the way," they should have added, "could you make sure it's filled with gas and waxed when we come to pick it up?"
This is a bit off track, but we actually bought a car like that once. Not through a want ad, but by the magic of in-law intervention. It was as close to perfect as a used car gets.
Within a year. our little family turned it into something that looked like it should be parked in front of a squatter's shack, complete with a missing hubcap, mud-covered sides and two little holes where it used to say LTD. Inside was even worse. From its burned-out dome light to the petrified lumps of Froot Loops wedged in the back seat, our once pristine chariot is a testament to the rigors of travel with kids. That's also another story.
Personal ads are fun too, with "Will no longer be responsible for any debts but my own" right next to "Thank you St. Jude for answered prayers." Another staple is embarrassing messages pointing out people who are turning 30, 40 or 50. Other years are never noted, presumably because it 's hard to find a rhyme for, say, 46.
Several papers are now running ads from SWFs and DWMs — single white females and divorced white males, for those who haven 't been keeping up with their acronyms — along with every other combination of D, W, M, F and S you can think of. They're usually looking for "a possible long term relationship," which makes me wonder why they point out that they are divorced right up front. That's sort of like starting off your interview for a bank teller job by relating that your last bank teller job didn't work out so hot. Truth in advertising should be commended, I suppose, but wouldn't it be better to slip that into conversation a little later?
Some seekers are quite discriminating, specifying nondrinkers, outdoor types, likes country music, etc. Others are less so. "Female, 40-50" is enough to get you in the door with one 48 year-old SWM. Also, descriptions often say as much between the lines as in them. Women seeking a modest companion would be well advised to answer a 40-year-old SWM who lists his first attribute as "employed," and goes on to point out that he is "not necessarily good looking, but healthy." No ego problems here.
Another quality that turns up a lot is "fun loving." Is it necessary to specify that? Are there "fun hating" people out there'? "My dream date," such a person might say, "would begin with dinner at a dump, where we'd feast on liver, cabbage and beets. After a bad movie, during which I will moan endlessly about the price of Jujubees, we can go somewhere special that's cheap. After too many drinks I'll get arrested for picking a fight and leave you to walk home."
Someday, I will combine all my favorite ads into one and wait for the phone to ring:
MWM SEEKS individual to give him a house, car and large sum of money. Will consider annuity in lieu of cash. Donor must be fun loving and believe in St. Jude.
Watch for it in your town — this could be your big opportunity.

Editor's Note: Contributing Editor Roger Holtzmann's column "Seriously, Folks" regularly appears in South Dakota Magazine. This column is revised from our May/June 1993 issue. To subscribe, call us at 800-456-5117.