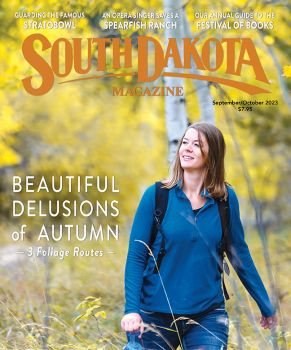 Subscriptions to South Dakota Magazine make great gifts!
Subscribe today — 1 year (6 issues) is just $29!

The Luthier's Life
Nov 2, 2016
By Michael Zimny
Josh Rieck builds custom guitars and other stringed instruments in his Sioux Falls shop.
Like so many artistically inclined Aberdeen natives before him, Josh Rieck has always been fascinated by the intersections of utility and aesthetics.
Filmmaker Bruce Baillie left the lakes and plains of Brown County for 1960s San Francisco and found his happy synergy of form and function among the crisscrossing pipelines of the Standard Oil refinery with his experimental film Castro Street.
Rieck stayed closer to home. At Northern State, then the Guitar Repair & Building program of Minnesota State College Southeast in Red Wing, he found his own Castro Street in the graceful curvature of an acoustic guitar or ukulele.
He studied the luthier's craft, then brought it home to Aberdeen, opening a small custom instrument and repair shop called String Theory, while studying double bass performance at Northern State. Continuing his studies at the University of South Dakota in Vermillion, he found a luthier's dream — an unlikely backyard well of inspiration, centuries deep, at the National Music Museum.
Since 2009, Rieck has lived and worked at his home studio in Sioux Falls where he makes custom acoustic and electric guitars, ukuleles and occasionally other stringed instruments. A versatile artist, he's currently building a mandocello, an instrument with a demanding hand-carved archtop design. He also does repair work, though as his oeuvre garners more word-of-mouth from musicians and collectors he finds himself doing less of that these days.
We visited the J. Rieck Luthiery as he was working on three custom ukuleles for a trade show in Hawaii.
Before he begins, Rieck — or the customer ordering a bespoke uke — must choose the right wood(s) that will yield the desired tonality, endurance and aesthetic. Finding tonewoods is a constantly changing game, as restrictions on endangered species have made it harder for luthiers to obtain some of the most coveted materials. This year, the international Convention on the Trade in Endangered Species (CITES) summit moved to restrict all rosewoods — some of which are very popular tonewoods — even those that aren't endangered, largely in response to soaring demand for rosewood furniture in China.
You might guess that there'd be fewer luthiers around 40+ years after Kraftwerk's Autobahn and 37 after Rapper's Delight, but anecdotal evidence suggests that there are more boutique instrument makers now than ever, which makes networking easier but also increases demand for materials.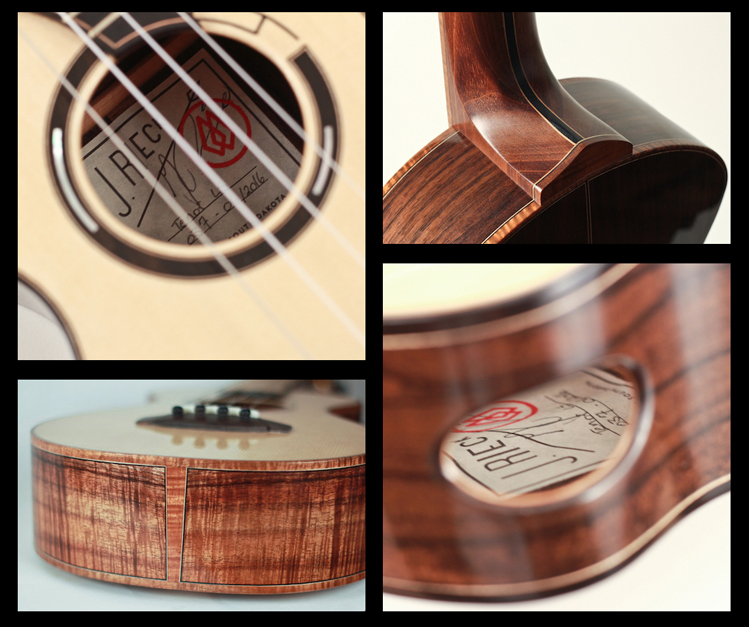 A finished ukelele takes four to five weeks to complete.
"There are a lot more guitar makers now then there were 20 years ago," Rieck says. "I think it's partly an economy thing, and partly that more schools have popped up. There are more people trained in instrument making.
"It's interesting, when everything else is going towards high-tech — people don't really value crafts in our society the way that some others do — to have this kind of resurgence of handmade guitars and craftsmen."
During our visit, Rieck worked on a ukulele topped with creamy Carpathian spruce, known for its glassy tap tone (whether this quality is real or imagined is hotly debated among luthiers), with a body of African sapele, a wood with a grain that, when quarter sawn, often reveals ornate, almost psychedelic patterns called quilting, especially when finished.
Rieck cut the soundboard, back and sides out of the chosen woods and thicknesses (that's a verb) the pieces by hand with planes, scrapers and sanding. Using his own templates, he braced the top with an intricate system of internal wooden struts that help the instrument stand up to string tension. He cut the sound hole and decorative rosette with a circle-cutting jig, and inlayed the rosette with decorative materials like ovangkol or mother of pearl. The sides are painstakingly shaped with forms, using moisture and heat to make the delicate wood supple. The back gets a simpler, ladder-style bracing.
He creates linings made with layers of long, pasta-thin wood strips to attach the soundboard, back and bout (sides). He routes channels in the edges of the separate components so that thin bindings can be fitted around them to smooth the edges and increase stability.
That's just the body (short version). The neck has its own procedure and material considerations. Each ukulele Rieck makes takes two to three weeks to build, then another two weeks or so for finish work.
He's been working around the clock to get three custom ukes ready for the voyage from Sioux Falls to the Aloha state. If you listen closely, their sunny tones might waft ever so lightly over the prairie on an adventurous El Niño.
Michael Zimny is the social media engagement specialist for South Dakota Public Broadcasting in Vermillion. He blogs for SDPB and contributes arts columns to the South Dakota Magazine website.