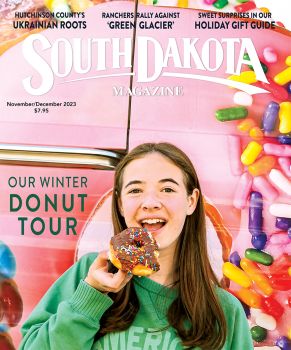 Subscriptions to South Dakota Magazine make great gifts!
Subscribe today — 1 year (6 issues) is just $29!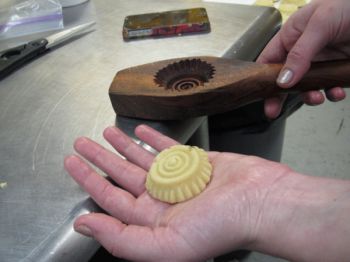 Molding Ma'amoul
Dec 5, 2013
By Laura Andrews


In the November/December issue of South Dakota Magazine, we featured mouthwatering holiday treats from several South Dakota food bloggers. One of my favorites is Sioux Falls restaurateur Sanaa Abourezk. She serves healthy variations on recipes popular in her native Syria and other Middle Eastern countries at Sanaa's 8th Street Gourmet and shares recipes on her blog, sanaacooks.com.
When I saw her recipe for ma'amoul, a shaped, stuffed cookie made for Christmas, Easter or Eid, I was reminded of a lecture I'd attended at Augustana College earlier this year. Stephen Cusulos is researching Sioux Falls' Syrian and Lebanese community, which started over one hundred years ago. Though some were Muslim and some were Eastern Orthodox Christians, these immigrants were bound together by the Arabic language and by a common culture. Many were peddlers back in the horse and buggy days, traveling around the region delivering goods to farm families. When automobiles took over, the peddlers set up shop in downtown Sioux Falls, opening up groceries, cafes, candy stores or selling dry goods.
Though Cusulos joked about these immigrants' "gift of gab," they were surprisingly quiet about their shared culture, at least to the outside world. But it was a different story when they met in each other's homes to socialize, or in the case of the Muslim immigrants, to worship together. Perhaps they met to make ma'amoul, just as Sanaa's family did in Syria. Here's how she describes those gatherings:
My mom used to get together with her friends on a certain day before the Eid to make ma'amoul. One friend would bring the dough, another would bring one kind of stuffing and someone else would bring another kind of stuffing. The rest would bring stories and gossip. The ladies would spend the whole afternoon making the cookies. I can still remember hearing them, talking, laughing and baking.
---
Ma'amoul

Dough
4 cups farina (a type of wheat flour)
1 cups cake flour
1/2 cup sugar
1/2 teaspoon salt
2 cups unsalted butter, room temperature
1/2 cup warm milk
1 tablespoon sugar
1 teaspoon yeast
Mix farina, cake flour, 1/2 cup of sugar and salt. Add butter and mix well. Dissolve 1 tablespoon of sugar in the warm milk. Add yeast and stir. Let yeast rest for a few minutes, then add to the flour mixture, mixing until the dough is smooth. Add a couple of tablespoons of cold water if needed. Cover and let the dough rest for 1 hour.

Walnut Stuffing
4 cups walnuts
3/4 cup sugar
1 tablespoon orange blossom water
Grind the walnuts, then mix with sugar and orange blossom water.
Date Stuffing
4 cups chopped dates
2 tablespoons butter
1 tablespoon orange marmalade
Add dates, butter and marmalade to a food processor and process until the mixture forms a smooth paste.
Assembly
Preheat oven to 350 degrees. To form the ma'amoul, take a small piece of dough. Make a dent in the middle of the dough to form a cup. Spoon about 1 teaspoon of filling into the cup, then gently close the opening with your fingers. Decorate the top of the ma'amoul by pinching the dough with pastry tweezers or pressing the cookie in a ma'amoul mold. Place your hand under the mold and gently strike the mold on the edge of a table to make the cookie fall in your palm.
Place the ma'amoul on a cookie sheet and bake for 30 minutes, or until lightly browned. Allow cookies to cool for one hour, then dust with powdered sugar and store in a tightly closed container. Makes 50 cookies.

Note: Sanaa also has a gluten-free, vegan version of this recipe on her blog.