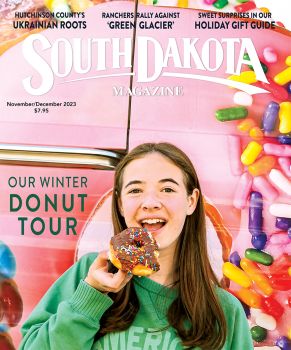 Subscriptions to South Dakota Magazine make great gifts!
Subscribe today — 1 year (6 issues) is just $29!

The Story Behind the Square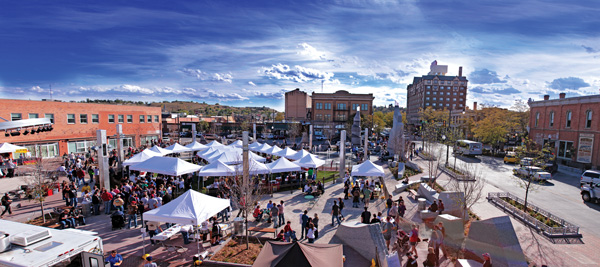 Rapid City's Main Street Square is abuzz with activity at festivals held throughout the year. Photo by Destination Rapid City.
Mitzi Lally loved children, so you might imagine her dismay when she discovered that Rapid City citizens were spending $6.5 million on a new plaza to be known as Main Street Square even though there was a porn shop just down the street. The square was envisioned as a gathering place for families, yet it would be neighbors to Video Blue, a dark-windowed fixture on Main Street for more than 30 years.
Ray Hillenbrand, Mitzi's younger brother, runs Prairie Edge Trading Company from a second story office across the street from the square. He remembers when his 80-year-old sister climbed the stairs to register her complaint. "She wasn't happy about it, that's for sure," Ray said. So he called for help from Dan Tribby, his right-hand man at Prairie Edge.
Tribby hasn't forgotten the incident, either. After all, it's not every day that your boss orders you to go buy a porn shop. "Trib" (as he's called by friends) balked at the idea, but before the day was out he was walking through the front door of Video Blue for the first time.
Tribby grew up in Sturgis, the son of a car dealer, so he knew how to close a deal. But a porn shop? He decided it was best not to let on that he was there for Mitzi, or even that he intended to raze the structure. As it turned out, the owner knew the plaza was coming and had already thought about selling because he saw the proverbial "writing on the wall." All it took was $300,000.
Enthusiastic proponents of Main Street Square included (from left) Dan Senftner, Ray Hillenbrand and Dan Tribby.
Buying property is sometimes like eating potato chips. You can't stop. Hillenbrand and his family soon purchased four neighboring buildings at a total cost of nearly $5 million, because they thought that the other stores — while not offensive — were not the right mix for the square.
The Hillenbrands and Tribby restored the buildings, and went to great lengths attracting the perfect entrepreneurs. "We probably had 80 or 90 applicants for the 18 shops," Tribby says. "We studied each and every one of them. We decided we didn't want franchises. We thought we had enough local talent."
"We found that they were wonderful people with good ideas, and we wanted them to be a team," Hillenbrand says. "We told each of them that the idea wasn't for us to make money but for them to add something to the community."
So as Main Street Square opened to the constant laughter of children playing in splashing fountains, the shops began opening — a gift shop, bakery, coffee house, outdoor store, pub, ice cream parlor, several eateries and, of course, a toy store.
South Dakota's towns and cities share a modest prairie sameness. Those with more people have more parks and pretty buildings, but big or small they can usually be described as functionalism guarded by square blocks of square houses, all inhabited by easy-to-please citizenries that don't expect much more of their municipalities than to plow and police the streets.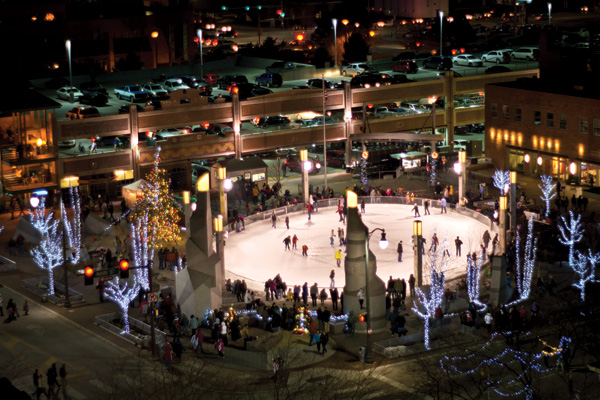 Families enjoy hot cocoa and free skating on an ice rink larger than the frozen pond at Rockefeller Center in New York City.
Rapid City is audaciously abandoning such humble expectations. It wants to become one of those rare cities in America that people seek out not just to ski or fish or see a nearby mountain but to see the city itself.
Most such destination cities — Chicago, Boston, Los Angeles — are larger than Rapid City, population 70,000. And none likely had more humble origins.
Rapid City began as nothing more than a supply center for miners in the 1870s. Called Hay Camp at the outset, it was eventually named for the pristine creek that ripples through town. Framed by the Black Hills to the west and small grass prairie to the east, the town had rough beginnings.
In June 1877, just after the city was founded, two horse thieves were apprehended. Red Curry and Doc Allen didn't argue their innocence, but they were adamant that a teenager traveling with them was not guilty. They said the 18-year-old was afoot when they found him, so they offered to let him ride one of their two spare horses.
Unfortunately, a gang of 15 or 20 vigilantes from Rapid City didn't believe them or didn't care. They hanged all three, and badly; it was later discovered that they didn't know how to tie a hangman's knot or judge the distance correctly. The fall didn't break their necks. Their feet barely scraped the ground, so they slowly strangled to death.
Some of the young city's most reputable citizens either participated or looked the other way as the hangings proceeded on a mountain overlooking the town that's still called Hangman's Hill. Robert Casey, a writer who moved to town 30 years after the incident, once said, "You could get yourself thoroughly disliked by discussing the affair." One fellow who insisted on an investigation was eventually committed to the mental hospital in Yankton.
Some pioneers shared the thought that the town wouldn't grow until all who took part in "the Hangman's Hill business" were dead, and the city did grow slowly. It had a population of just 14,000 in 1942, but that changed when the U.S. Air Force opened a training base for B-17 pilots and bombardiers a few miles east of town. More than 4,000 soldiers and staff arrived, and Rapid City has been on a growth trajectory ever since.
A serious setback came in 1972 when a heavy June rain flooded Rapid Creek, destroying or damaging 2,700 homes and killing 238 people. The aftermath of the flood led to growth; the waterway became a greenway that soon filled with parks and public improvements.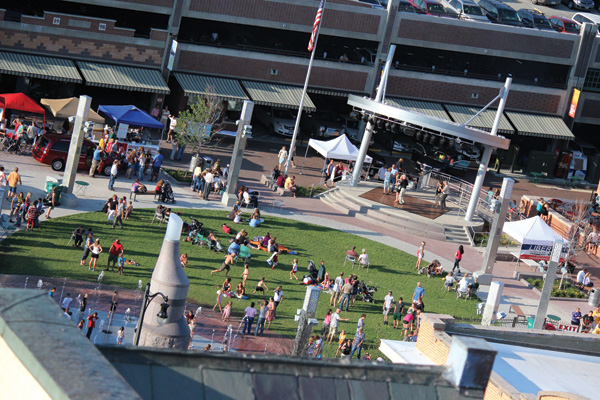 Thursday night festivals featuring food, music and art have become a summertime tradition in downtown Rapid City.
Historic restorations of downtown buildings began in the 1980s. The six-story Alex Johnson Hotel, built the year Gutzon Borglum arrived to carve Mount Rushmore, led the way. The Buell Building, the Prairie Edge Trading Company and other century-old brick commercial structures have also been given new life. The most modern downtown addition is the impressive Journey Museum, built in the flood's path in 1997. Still, a small group of community leaders believed the town was too much like every other place — square houses, good streets and all that sameness.
"There's an old saying that you don't have a town if you don't have a heart," says Ray Hillenbrand, as we trudged up those same steep wood stairs of Prairie Edge. In 2006, he and some fellow downtown storeowners developed an ambitious plan to make the city a destination city. They proposed a Business Improvement District to provide part of the funding, and it passed with 60 percent of the vote in 2008. They sought local contributions from businesses big and small, and converted a very average 68-car parking lot into a place called the Main Street Square, an oval green spot with fountains where children frolic in the summer and tourists and downtown workers enjoy outdoor lunches. Thursday nights in summer have already become a tradition. Families gather for children's activities and free concerts. An area is also cordoned off for beer drinkers.
The square remains a work in progress. Renowned artist Masayuki Nagase, who was educated in Tokyo and now lives in California, plans to sculpt 21 tall granite spires that will encircle the plaza. Nagase says his designs will honor the timeless elements of wind and water that have shaped the Badlands and Black Hills.
Visitors are likely to see Nagase and his local apprentices hand-chiseling the granite as children play in the nearby fountains. His preference for interaction with Rapid Citians was one reason why he emerged from a field of 88 applicants to win the $2 million commission.
Welcoming outsiders — even a Japanese-born artist — to take leadership roles might be one area where Rapid City differs from many other prairie places. Hillenbrand is an Indiana native who came to the city in 1980 to buy a Hermosa buffalo ranch and, a few years later, Prairie Edge. Tribby grew up in nearby Sturgis, but he left the state at age 17 to join the Marine Corps. He lived in New Mexico and ranched in Oregon before coming back to work at Prairie Edge, where he started out as the guy who boiled buffalo skulls so artists could paint designs on them. He became general manager in 1997.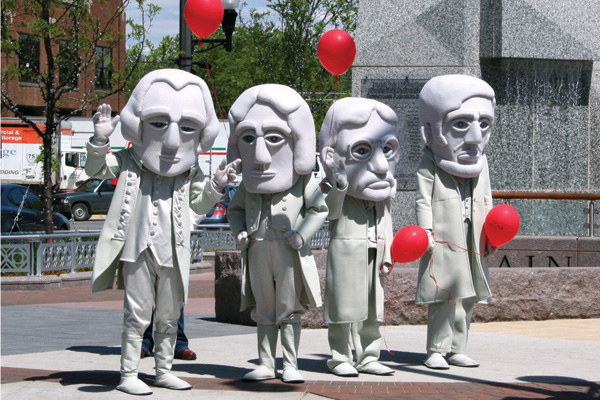 The state tourism department's presidential mascots, representing the faces at Mount Rushmore, occasionally visit the Square.
Perhaps it's because of the constant stream of mountain tourists, or the newcomers who serve at Ellsworth Air Force Base. Rapid City may not be a perfect place, but provincialism doesn't appear to be one of its sins.
Rapid City leaders new and old admit they're surprised at the early success of the Main Street Square. In just two years, it has become a daily gathering place for locals and travelers. But Hillenbrand is a pragmatist. "We haven't proven anything yet," he says. "It has to be sustainable for the community and it can't stop with just the square. It has to connect all of the city."
He and others hope the next step is a Memorial Park promenade, a 40-foot wide boulevard of trees and pathways from Main Street to the Rushmore Plaza Civic Center. The local Vucurevich Foundation has given $1 million to further that idea. Local leaders also want to connect downtown with the 2,100-student South Dakota School of Mines and Technology.
Leading the ambitious plans is Destination Rapid City, an organization that started in 2008 by the business community to re-invigorate the city's downtown district. Hillenbrand is chairman of the DRC board, and the hands-on leader is Dan Senftner, who grew up on a farm 17 miles from the small northeast South Dakota town of Herreid. His earliest retail experience came every August, "when mom loaded us in a car and took us to Aberdeen to buy school clothes."
Senftner started a music store in downtown Rapid City as a young man and operated it for 25 years. He also gained experience as a developer of historic commercial property. Along the way, the farm kid developed a keen sense for urban community. "I believe every community can benefit from having a focal point in their downtown corridor," he says. When he first came to Rapid City, the downtown district featured horse and carriage rides. "There was still a Newberry's five-and-dime store, and the moms and dads and kids all came downtown."
He says the square and the accompanying developments and restorations seem to be reviving that atmosphere. Tribby agrees. "I think we were romanticizing the whole idea when we were selling it, and now it looks like we weren't exaggerating because it is coming true even more than we could have hoped."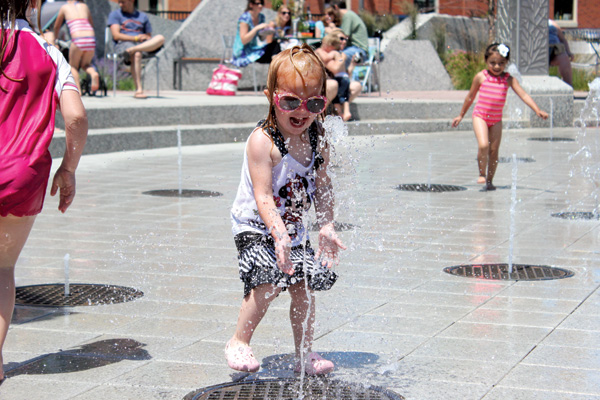 Children delight in the Square's interactive fountain, where water dances in patterns. Evening light shows are also staged.
But their senior partner, Hillenbrand, isn't satisfied. "We still have to make it a success," he says. "We have to make it sustainable for the community and for the store owners."
However, entrepreneurs in the new Shops at Main Street Square development and at nearby restaurants and stores that previously existed, say the plaza has already made a significant difference in their revenues.
Just as the plaza was being finished, Borders Books filed for bankruptcy and closed more than 200 stores in the United States, including its Rapid City location. That prompted Hillenbrand and his sister, Mitzi, to build a new bookstore where Video Blue once stood. It's a handsome building with big, welcoming windows. A bright, colorful corner is reserved for children, and there's a story time every Tuesday morning.
Mitzi died in August 2011, just before the store opened. But the name of the store is Mitzi's Books, and her smiling face is on the logo. Neither she nor her gentle but firm prodding for change will soon be forgotten.
Editor's Note: This story is revised from the March/April 2013 issue of South Dakota Magazine. To order a copy or to subscribe, call (800) 456-5117.