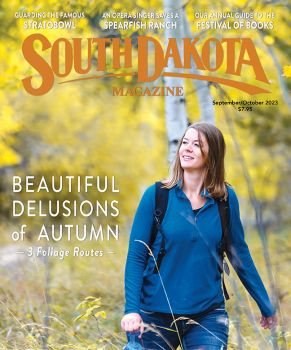 Subscriptions to South Dakota Magazine make great gifts!
Subscribe today — 1 year (6 issues) is just $29!

Malchow Plaza
By Bernie Hunhoff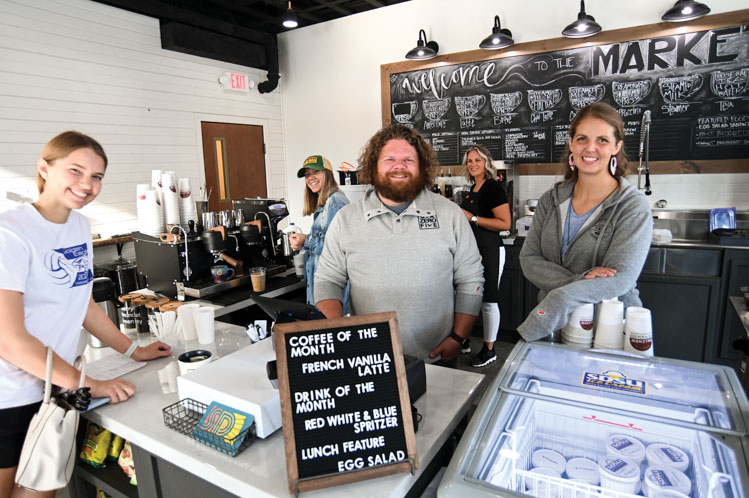 Brodie Mueller (center) and Carly Pochop (right) created Market on the Plaza, a coffee shop and gift store with South Dakota arts, crafts and foods. Their establishment opens onto Malchow Plaza, Aberdeen's new gathering place.
THE THIRD SATURDAY in October of 2019 is unforgettable for many Aberdonians. They recall where they were when they heard the news. They remember smelling smoke before they saw the flames. And they remember worrying about the future of Main Street.
It happened on opening day of pheasant season, a festive occasion in the Aberdeen area where wild ringnecks still flourish in the flatland cornfields and grassy sloughs that surround South Dakota's third largest city. By 6 p.m., hunters were finished for the day.
"I was at the Circus (a sports bar) when some guy came in and said there's a building on fire," remembers Carly Pochop, a local artist who runs a store called Colorful Creations.
Her first thought was, "Oh, no, I hope it's not mine!"
Pochop rushed out to the street to find that though her shop was safe, smoke was coming from the big Malchow Home Furnishings Store, a cornerstone of the Aberdeen business district for 75 years. She especially worried about the people living in the apartments above the store.
"We'd just finished cleaning our pheasants," says Mark Malchow, the third-generation furniture store owner who had been hunting with family. "I got a call from a friend who said there was smoke at our building. At first, I wasn't too alarmed because it's pretty common for someone to burn a pizza or leave a pan on the stove."
Then the friend called back to say he saw flames. Still dressed in hunting garb, and with his dog in the truck, Malchow rushed to Fifth and Main. Like Pochop, his first worry was also about the residents in the apartments.
Fortunately, two of the tenants had smelled something burning and heard a smoke detector as they were exiting the building at about 5 p.m. They thought someone had burned their dinner, perhaps, but they hung around and soon saw smoke coming from a door. When no one answered their knocking, they kicked in the door, saw flames and smoke, and called 911. Then they began to alert their neighbors in the building's 17 apartments.
The city's firemen, stationed just four blocks away, were on the scene in minutes. They made certain that everyone was evacuated, and they fought to save the building while hundreds of people converged on the streets to watch and commiserate.
A play went on as scheduled at the majestic Capitol Theater, which is just a few doors north and across Main Street. Patrons watched local actors perform Bridge to Terabithia, though they could see whiffs of smoke wafting near the stage lights.
Firefighters kept the flames from spreading to neighboring stores, but they couldn't save the Malchow building. Main Street was blocked off from car traffic for a few days after the fire, which added to the somber atmosphere. Then winter snow settled over the black ashes, and for months the Malchows and many others in Aberdeen wondered what would become of the empty hole.
"It was just a big punch in the stomach," remembers Malchow. "Nobody died. Nobody was injured, not the residents or the first responders. So that was the best thing."
*****
MIKE BOCKORNY WAS one of the Aberdeen residents who waited and wondered. He was also at the fire on Oct. 19, though not in his official capacity as CEO of the Aberdeen Development Corporation. He went to the scene to support Malchow, a close friend.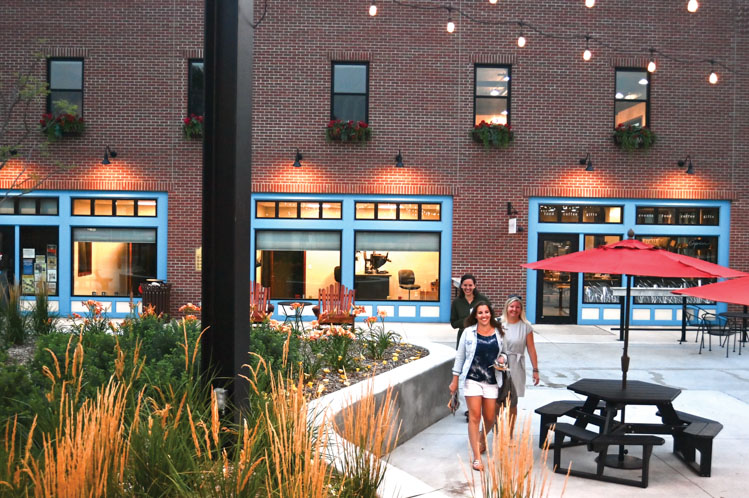 Malchow Plaza grew from the ashes of a devastating 2019 fire that destroyed one of downtown's landmark buildings.
"I just wanted to be sure Mark was okay, first of all, and then to make sure anybody who might have been in the store or the apartments were okay," Bockorny says.
Bockorny's offices were then in the city's Industrial Park, but he noticed, like everyone else, that the fire had left a hole in the center of town. "It was the first thing you saw as you turned off Sixth Street onto Main — a giant burned-out building that had collapsed," he recalls.
At first, civic leaders hoped the Malchows might rebuild. However, Mark Malchow soon developed a plan with the Montgomerys, another longtime South Dakota furniture family, to partner with them on a new store in an empty retail building on the east side of town. The Malchows represent three generations in the furniture trade and the Montgomerys recently celebrated their 130th anniversary and fifth generation, so their collaboration was big news in the South Dakota business community.
It also opened new possibilities for the hole on Main Street, says Bockorny, and the timing coincided with discussions that he had been having with the community's Chamber of Commerce and the Convention & Visitors Bureau.
The Chamber and CVB were already officed on Main Street, near the hole. "We went out and visited with a lot of our key community partners and we talked about whether it made sense to be located closer to each other," Bockorny says. "We talked about the importance of downtown and what Main Street means to recruitment and retention of people, and the quality of life. Young people, especially, like to live and work and play in a downtown district."
In the discussions, Bockorny also proposed a concept that he'd seen in other cities — a plaza that would serve as a gathering place. Then he broached the idea with the Malchow family.
"My wife Gina and I were driving to Sioux Falls for a weekend getaway when Mike called," remembers Mark Malchow. "By then we'd had some other people approach us about the empty space, but we could see the benefit to the community. I talked to Mom and Dad and the rest of the family, and it wasn't long before we all shook hands and said yes."
*****
SPENCER SOMMERS WAS called upon to lead the planning. The Aberdeen native, an architect with CO-OP Architecture, was out of town on the night of the fire but he remembers thinking — as he was texted the awful news — that a lot of the downtown's residential space was being lost. "What if it would just become another parking lot?" he wondered.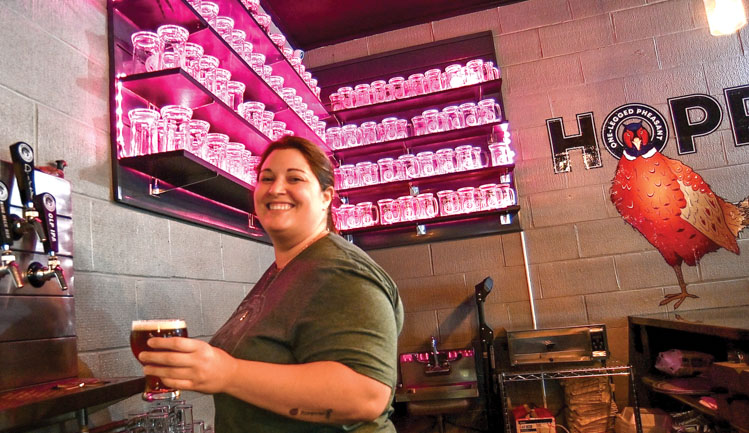 Several small shops and eateries surround Malchow Plaza, including One-Legged Pheasant Brewery, operated by Nikole Sidener and her family.
Quite the opposite has happened. Today, a new, $2.5 million office complex has arisen from the hole. Bockorny's staff is headquartered there, along with radio studios for Dakota Broadcasting (now nicknamed "The Shark on the Plaza") and a new coffee shop called The Market on the Plaza that features South Dakota clothing, foods, arts and crafts. Best of all, a beautiful outdoor space known as Malchow Plaza bridges the new construction to the old downtown, including the nearby Capitol Theater and the Masonic Temple, two Aberdeen landmarks.
The plaza is more than just a paved surface with tables and umbrellas. Sommers and his associates at Confluence, a landscape architecture firm in Sioux Falls, designed an island with a raised area in the center that adds privacy, beauty and mystique. The island will eventually be green with bushes, flowers and a shade tree, but Carly Pochop, the downtown artist who partnered with Brodie Mueller to start the adjacent coffee shop, led an effort last summer that filled the area with hundreds of yellow clay roses.
The rose project started after Pochop's father died. She made a dozen clay roses for his gravesite to deal with her grief. Recognizing that others were dealing with sadnesses of their own — some due to the COVID outbreak — she offered free clay and assistance to all. Since then, 600 yellow roses have been "planted" in the new plaza, some with names, messages and Bible verses.
Sommers, the architect, admits to wondering whether the people of Aberdeen would use the plaza. Pochop's roses showed that the possibilities are endless. All summer long, families, shoppers, downtown diners, theater goers and tourists gathered there. It also became a popular outdoor venue for concerts, farmers markets, car shows and numerous other events.
Malchow says the plaza is everything his family hoped it would be, although he admits to a tinge of nostalgia when he sits in a particular spot and recognizes that it was a favorite place in the store. Still, he says the transformation is good for Aberdeen.
"I am a downtown person. I always will be and my dad always will be. Downtown was just getting some traction and now the plaza will only help it grow," he says. "We love to go downtown for dinner and then just sit in the plaza, maybe watching as people enjoy a beer or a glass of wine or ice cream. I just like the unassuming nature of it, and it's very humbling to have it named for our family."
Bockorny says the plaza fulfilled his most optimistic vision. "There was a concert recently where you could hardly move, it was packed, and it was just so good to see people having fun and socializing and laughing." And he believes Malchow Plaza is making a difference beyond Fifth and Main. "The interest in entrepreneurial business ventures is growing," he says. "Downtown is coming back. It's noticeably busier and people are looking for opportunities to live and work here."
There's another good omen: Shoe Science, which started downtown nearly 40 years ago, moved back to Main after the plaza was finished — to a building that was once the Webb Shoe Store, a downtown fixture for 100 years.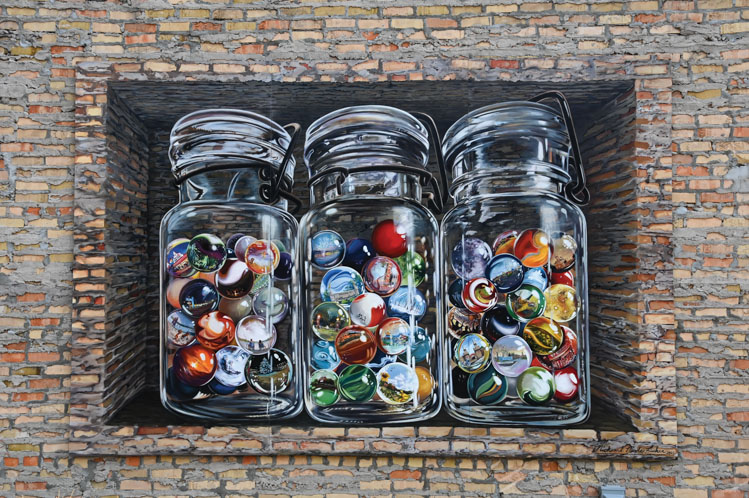 Marbles in a mural on the plaza's south wall, painted by Aberdeen artists Nick and Nicole Fischer, show reflections of other city treasures.
The Aberdeen Downtown Association now hopes to reopen Main to two-way traffic after decades as a one-way. Sommers, who also serves as that group's board chair, says the change might double the number of cars that pass by Malchow Plaza and the nearby shops and eateries.
The ADA has also promoted downtown murals, including a fanciful painting of marbles in the plaza by local artists Nick and Nicole Fischer, and supported an effort to restore century-old painted store promotions known as "ghost signs."
The biggest downtown news came in September when Sommers' CO-OP Architecture group announced plans to restore the long-vacant Citizen's Building, a six-story brick mammoth just three blocks north of the plaza.
The Citizen's Building, constructed as a bank in 1910, is the tallest building on Main Street. In its heyday, the six floors were filled with offices and the rooftop was an outdoor patio with a garden restaurant and tents for shade.
Sommers says the $9 million project will have retail space on the ground floor and up to 40 apartments on the upper levels, some with splendid views of the Brown County Courthouse, the Capitol Theater and prairie vistas, including grain elevators at Mina, west of the city. He and his partners intend to preserve historic elements that have survived, including a glass mail chute, original stairways and railings. They also hope to restore the rooftop patio.
Fire has plagued almost every downtown in South Dakota. But there are huge differences in how cities have responded after their flaming "gut punch," as Malchow described his town's 2019 fire. Stroll down Main Street today and you'll have Aberdeen's answer.
Editor's Note: This story is revised from the November/December 2021 issue of South Dakota Magazine. To order a copy or to subscribe, call (800) 456-5117.