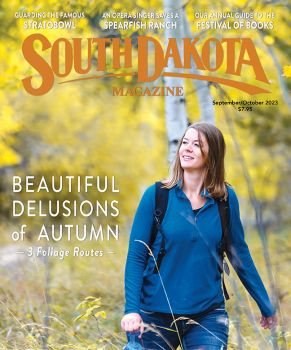 Subscriptions to South Dakota Magazine make great gifts!
Subscribe today — 1 year (6 issues) is just $29!

March/April 2014
Rare Nature Discoveries: Exploring the wonders of South Dakota's great outdoors.

My Day at the Track: Managing Editor John Andrews discovers the ups and downs of horse racing. [read more]

Freeman's Savory Soup: How a single herb creates a signature Schmeckfest dish. [read more]

A Lion on Campus: Lionel Bordeaux's academic destiny at Sinte Gleska University in Mission.

Angels Along the Way: Paddlers navigating the Missouri River from mouth to source need help, and South Dakotans are there. [read more]

12,000 Years of Stories: Minnehaha County's past comes alive in a new book by Bruce Blake.
Please note: Online articles are edited and may not include all pictures or content from the original version.