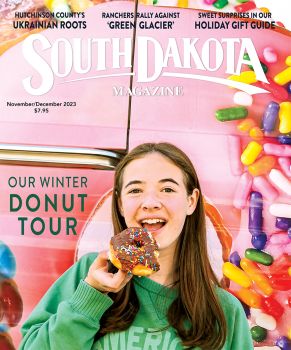 Subscriptions to South Dakota Magazine make great gifts!
Subscribe today — 1 year (6 issues) is just $29!

Current Issue
November/December 2023
South Dakota Donut Tour: Our favorite sweet treats.

Stopping the Green Glacier: Cedar trees have become a rancher's nemesis.

Hutchinson County's Ukrainian Roots: A cultural community found nowhere else.

The Dark Day of Nov. 22, 1963: JFK's life and death affected South Dakotans.

Needles Highway in Winter: When one road closes, another opens.

Night Walking South Dakota: Photographer John Banasiak has a curious spirit.

Tiny Towns: Thinking big in Rochford.

Holiday Gift Guide: Our annual guide to South Dakota-made products makes gift-giving easy.
2023

2022
| | | | | | |
| --- | --- | --- | --- | --- | --- |
| | | | | | |
| Jan/Feb 2022 | March/April 2022 | May/June 2022 | July/Aug 2022 | Sept/Oct 2022 | Nov/Dec 2022 |
2021
2020
2020- 2015-2019 2010-2014 2005-2009 2000-2004 1995-1999 1990-1994 1985-1989