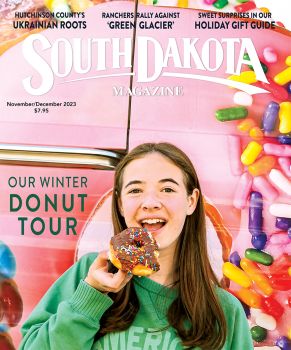 Subscriptions to South Dakota Magazine make great gifts!
Subscribe today — 1 year (6 issues) is just $29!

Riding with Matt and Chester
Dec 3, 2015
By Paul Higbee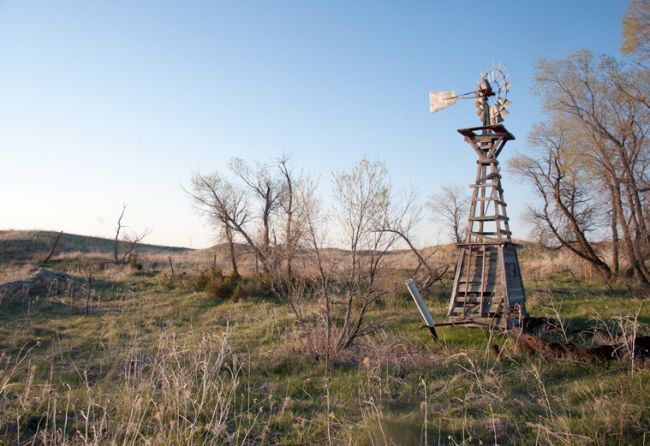 Audio episodes of the classic series Gunsmoke help pass the time while traveling West River.
Traveling across wide West River country the past few months, I've enjoyed a couple companions who know the prairies well: Matt and Chester. Matt's a U.S. marshal and Chester's a part-time deputy and full-time sidekick. You may know this pair, but probably not like I do.
As a hugely successful TV Western, Gunsmoke ran 20 years. James Arness and Dennis Weaver played television's Matt Dillon and Chester Goode, but they're not who I'm talking about. I ride with the radio characters who preceded the TV series, and I've come to believe theirs is the real Gunsmoke: two-fisted, dark, ripe with drifters escaping past lives. Speaking of drifters, take Doc Adams. On TV he was fussy and grandfatherly. On radio he moved his medical practice West because of a misadventure with a woman back East. "She didn't mention she was married," Doc said between Lemmon and Faith one night. "But her husband did, first time we met."
Meanwhile, back in Dodge City, there's little doubt on radio that Miss Kitty and her girls are serving more than beer and pleasant conversation at the Texas Trail saloon. But it's Matt, especially, who has an edge to him that disappeared on television. He snaps at Chester when tired, which is often because it appears he's the only responsible civil authority in all Kansas. He's not above roughing up a dying man if he needs vital information before the grim reaper appears. This is, as announcer George Walsh reminds us at the start of each adventure, "the story of the violence that moved West with young America … the story of a man who moved with it."
Still, Matt can wax poetic out there on the prairie, watching the breeze ripple through miles of grass, stars beyond count, or the way the sun first paints the plains before full daylight. As real Westerners will attest, the vast prairies do indeed touch people that way. Even tough guys. Maybe tough guys especially.
I have been riding with these characters since my birthday last December, when my daughter Julie presented me with 60 half-hour recorded episodes, 1952-1955. I'm up to episode 42 and just starting to dread going into re-runs. Sure, I can enjoy hearing a show now and then in the comfort of my home, but the stories take on a different quality when I listen in my car, surrounded by authentic prairie. Highway 34 between Enning and Fort Pierre is a good venue for Gunsmoke, as is Highway 85 between Belle Fourche and Buffalo. Reality and fiction merge out there. Late one afternoon between Philip and Midland I heard a meadowlark sing and couldn't decide whether it was genuine or part of the show. A while later, just as Pierre's lights appeared on the horizon, Matt offered a word of caution: "Don't judge a man by the drinks he buys you," he told Chester. I nodded. Good advice in Pierre, I thought.
He may be a Kansas man, but Matt has more than a passing knowledge of our state. In fact, he's strangely clairvoyant, because while his adventures are set in the 1870s when there was just one big Dakota Territory, he routinely mentions "the Dakotas." That little writers' faux pas aside, it seems Matt is attuned to many things Dakota. He knows Sitting Bull. He and his friend, fellow Kansas lawman Wild Bill Hickok, discuss Hickok's dream of settling into retirement in Deadwood.
Then there's the case of an Army deserter who leaves his regiment in Dakota, rides south to Kansas, and kills a man. He's certainly guilty, but all Matt can produce is circumstantial evidence and the murderous deserter is acquitted.
"Told you I'd go free, marshal," sneers the soldier.
"It will catch up with you someday," says Matt. "It always does, somehow."
The cocky soldier mounts his horse, bound for Dakota under Army guard, but not before an officer tells Matt the man won't even face a court martial for desertion. Seems the Seventh Cavalry needs every man available for an excursion into Little Big Horn country, with George Custer in command. Cue swelling music, punctuated by Indian drums, and then cut to a Post Toasties commercial. That episode aired on CBS radio in November 1953.
Of course CBS eventually took its Gunsmoke franchise, including the loping theme music and even some of the episode plots, and moved it to television. The network left the radio actors behind, though, including William Conrad who played Matt. Rumor had it that the thought of hefty Conrad leaping onto a horse made producers cringe — to say nothing of the studio horses.
Conrad landed other lead roles on TV, including detective Frank Cannon through most of the 1970s. I don't know what became of Georgia Ellis, who played Miss Kitty. As for Parley Baer and Howard McNear, who were the voices of Chester and Doc, they rode off together to Mayberry and were reincarnated as bumbling Mayor Stoner and Floyd the barber.
But as a radio quartet, these actors still work their gritty magic out there on the lonesome prairie, playing to an appreciative audience of one. They transport me to 1876. Or to 1953 when it's time to discuss Post Toasties.
Editor's Note: This column is revised from the May/June 2010 issue of South Dakota Magazine. To order a copy or to subscribe, call (800) 456-5117.