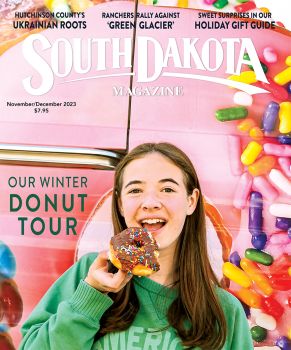 Subscriptions to South Dakota Magazine make great gifts!
Subscribe today — 1 year (6 issues) is just $29!

Cattle and Hogs
Jun 14, 2016
By John Andrews
Meade County, at 3,471 square miles, is the largest county in South Dakota, and its geographical vastness is matched by the variety of experiences travelers can have within its borders. You can don western chaps in downtown Faith or leather biker chaps in Sturgis. You can spend the night in an old missile command center or a notorious brothel and gambling den. You can enjoy the rowdy camaraderie of half a million motorcyclists during one busy week in August or the serenity atop one of the region's most sacred places.
Meade County got its start in 1887, when voters in what was then eastern Lawrence County voted 690-26 to separate. It became official two years later and was named in honor of Civil War Union General George Meade, also the namesake of Fort Meade, a military outpost established in the new county in 1878.
The cavalry's presence in the area began in August 1876, when a temporary camp was set up along Spring Creek near Bear Butte and named for Lieutenant Jack Sturgis, who died at the Battle of the Little Bighorn. A more permanent location was chosen two years later in the eastern foothills of the Black Hills.
The men at Fort Meade were charged with protecting new settlements in the northern Black Hills, especially the area around Deadwood, which had boomed with the discovery of gold. It was home at various points to the Fourth, Seventh and Tenth Cavalries as well as the Buffalo Soldiers. The Fort Meade National Cemetery is the final resting place of several of these soldiers, including men who survived the Battle of the Little Bighorn.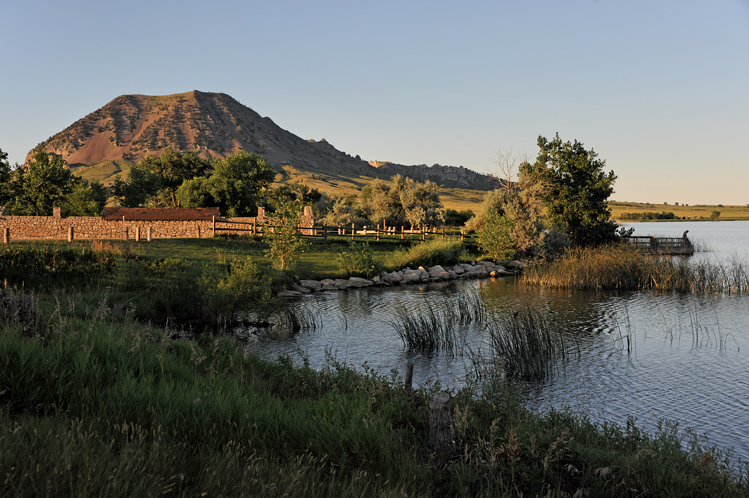 Bear Butte, a unique geological formation, is a sacred place for several Indian tribes.
Fort Meade is also the answer to an interesting historical trivia question. In 1893, post commander Col. Caleb Carlton began the custom of playing "The Star Spangled Banner" at military ceremonies and requested that everyone rise and pay it proper respect. The song became the official national anthem of the United States in 1931.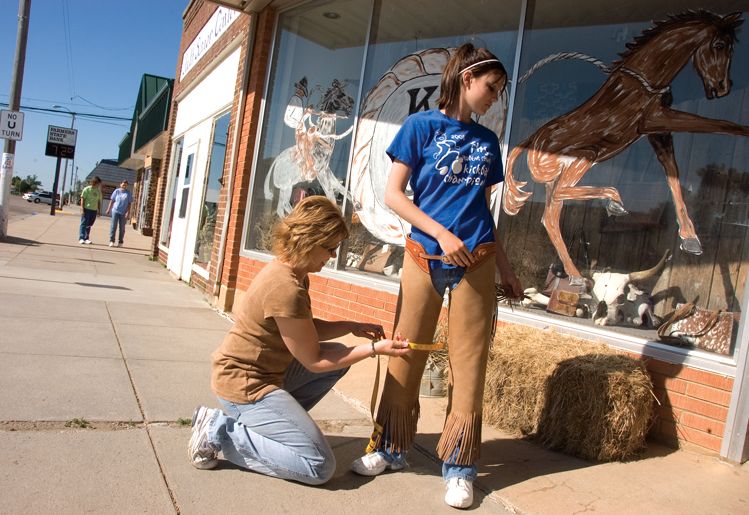 KJ Leather Company in Faith specializes in leather chaps for locals.
But long before European settlement, Indians made pilgrimages to Bear Butte, a unique geological feature northeast of Sturgis that many tribes consider sacred. Bear Butte is the result of ancient volcanic activity that occurred about 65 million years ago. Molten magma from deep within the earth pushed upward but never broke through the crust. Over millions of years, the magma cooled and hardened and the topsoil eroded, leaving the laccolith that we see today instead of a true volcano.
The butte is sacred to the Cheyenne and Lakota, who believe it is where they can communicate with the Creator through visions and prayers. Religious ceremonies are often held there, and worshippers who make the pilgrimage to the top leave offerings, such as prayer ties and tobacco pouches, in the trees along the path to the summit.
Bear Butte stands 1,253 feet above the surrounding plains and 4,426 feet above sea level. Nearby is a small campground and Bear Butte Lake, created in 1921 when speculators drilling for oil struck an artesian well. Motorized traffic on Bear Butte is prohibited, but anyone is free to hike the 1.85-mile Summit Trail to the top, which also serves as the northern terminus of the 111-mile Centennial Trail.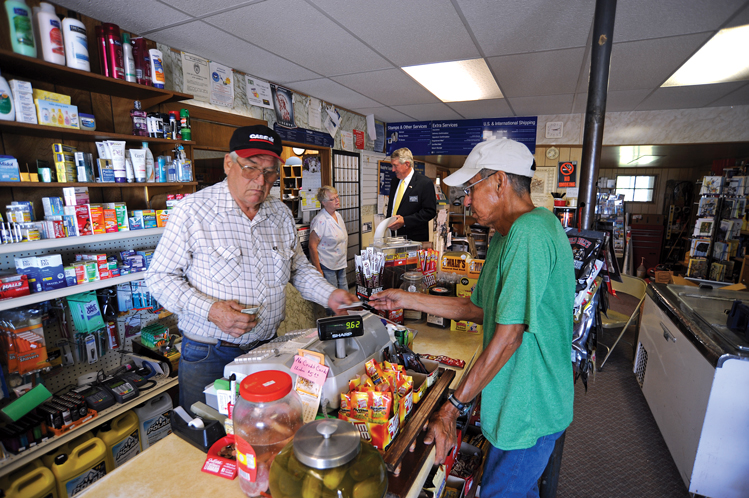 Bob Hansen ran the Howes Corner store for 38 years.
Several trailblazers made their way through Meade County en route to the Black Hills. A monument along Highway 212 between Maurine and Mud Butte memorializes one such group from Bismarck, North Dakota. Boosters of that young town wanted to promote Bismarck as a jumping off point for the Black Hills and wanted a party to head west and bring back reports of gold. Ben Ash, whose father Henry operated a hotel in Yankton, and four other young men set out in December 1874. The monument along 212, dedicated in 1949, stands in the place where the group caught its first glimpse of the Black Hills, still 100 miles away.
Early homesteaders in Meade County tried to farm like they did in Iowa and Minnesota, but departed when they realized the land was best suited for cattle. Today sprawling ranches cover most of Meade County's prairie. Faith is a cow town in the far northeast corner of the county. It sprang up when the Milwaukee Railroad bridged the Missouri River, crossed the Cheyenne River Reservation and laid track into the county. You'll find a school, places to eat, a golf course and even a lake, but cattle keep the town alive. KJ Leather Company specializes in western chaps and there are three cattle feed stores (as opposed to one grocery store). The Faith Livestock Commission Company sells up to 5,000 head of calves at the regular Monday sales during the fall calf run. In late October, so many calves are coming off grass that there's a special three-day sale to accommodate buyers and sellers.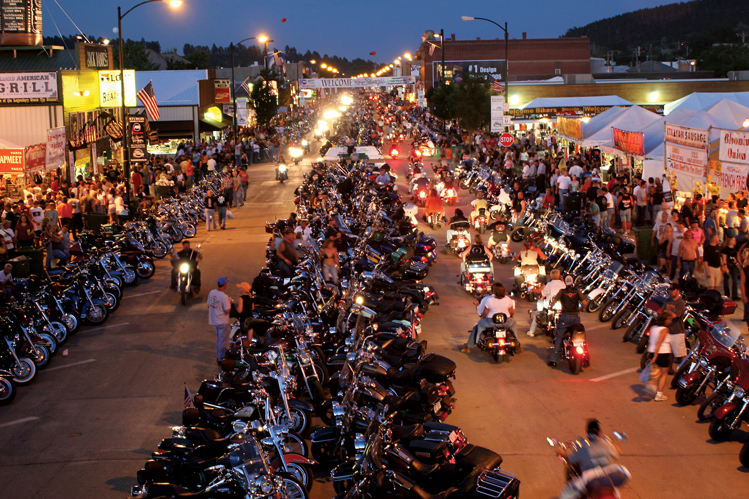 The Sturgis Motorcycle Rally brings 500,000 bikers to the Meade County town every August.
Another interesting chapter in Meade County history is the presence of Minuteman Missiles. Nearly 50 missile sites dotted the landscape, ready for launch during the decades long Cold War. They are long gone except for one, which operates as a museum, but Walter and Diane Fees turned a command center into Juliet Bed and Breakfast near Opal. The federal government bought seven acres from the Fees family in the 1960s to build the Juliet 1 base, one of 15 bases that once dotted West River. When it closed in 1993, the family bought the land back and opened the B&B in 2006.
The tall fence, gate and antenna cone outdoors are the only reminders of the deadly serious business once conducted there. Inside the Feeses turned the telecommunications room into a TV room and put a hot tub in the water treatment area. Juliet also features six decorated bedrooms, a restaurant and lounge. Interested travelers can head west of Faith on Highway 212, turn south at Fox Ridge Road and follow the signs.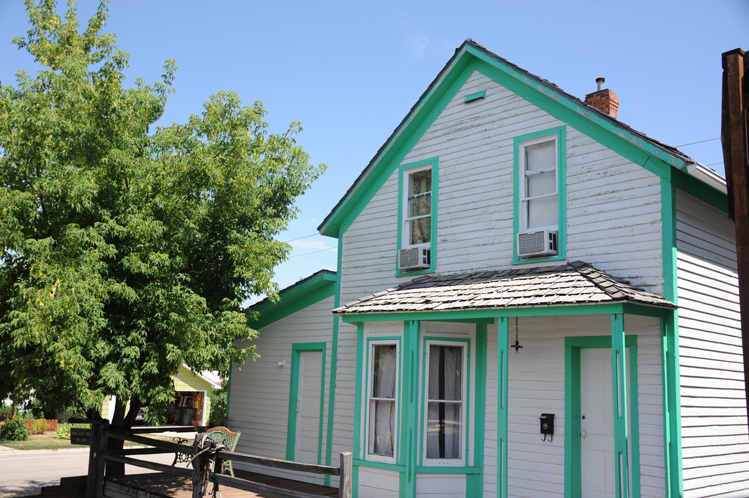 Poker Alice's house stands on Junction Avenue in Sturgis.
Several tiny towns and villages lie within Meade County: Howes (with its general store) Elm Springs, Maurine, Mud Butte, White Owl, Union Center. But the county's other major urban center is Sturgis, founded in 1878 founded in 1878 and originally called Scooptown because many of its residents "scooped up" their pay from nearby Fort Meade, according to longtime Black Hills historian Watson Parker. The name was later changed to honor Samuel Sturgis, another Civil War Union general.
Sturgis' claim to fame is the annual motorcycle rally, which draws 500,000 people to the town of 6,600 every summer. The rally traces its existence to Clarence and Pearl Hoel, who ran an ice businesses until electrical refrigeration put a dent in their livelihood in 1936.
That's when Clarence decided to open a shop in their garage, specializing in Indian motorcycles. To enhance the new business, Clarence organized a riding club similar to a larger club in Rapid City supported by the Harley Davidson dealer. One Sunday the club was picnicking in the Black Hills when an automobile tourist said they looked like a bunch of gypsies, and the Jack Pine Gypsies was born.
They decided to host a rally in 1937 to introduce motorcyclists to the Black Hills. The 76th such rally takes place during the first full week of August, and includes concerts, races and rides through the Hills.
Hotels and campgrounds are often booked months in advance. Some Sturgis residents rent out their homes. But visitors also have the opportunity to stay in the home of Poker Alice, a legendary figure of Black Hills history. Originally from England, Alice landed in the Black Hills and took an interest in gambling. She played professionally and worked as a dealer. Her house in Sturgis was built in 1895 and once featured a poker room, gambling and dance halls and a brothel in addition to Poker Alice's living quarters.
Editor's Note: This is the 26th installment in an ongoing series featuring South Dakota's 66 counties. Click here for previous articles.