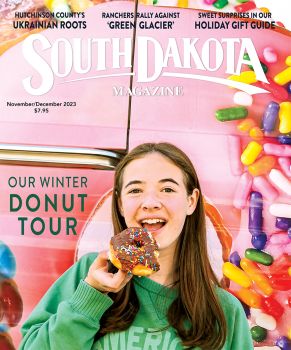 Subscriptions to South Dakota Magazine make great gifts!
Subscribe today — 1 year (6 issues) is just $29!

Meet Our New Staffer
Aug 15, 2011
Today's an exciting day at the office. We began the day with some wheat bread and homemade raspberry jam, brought by our newest staffer, Laura Johnson. Laura is our assistant marketing director. She will be working with Heidi Marsh to be sure fresh, entertaining material is always available to you on our website.
Gardening and cooking are some of Laura's favorite hobbies, so she might start contributing some recipes and food articles. Laura wrote a couple of paragraphs to introduce herself to our web readers. We asked her to share the raspberry jam recipe with you, too.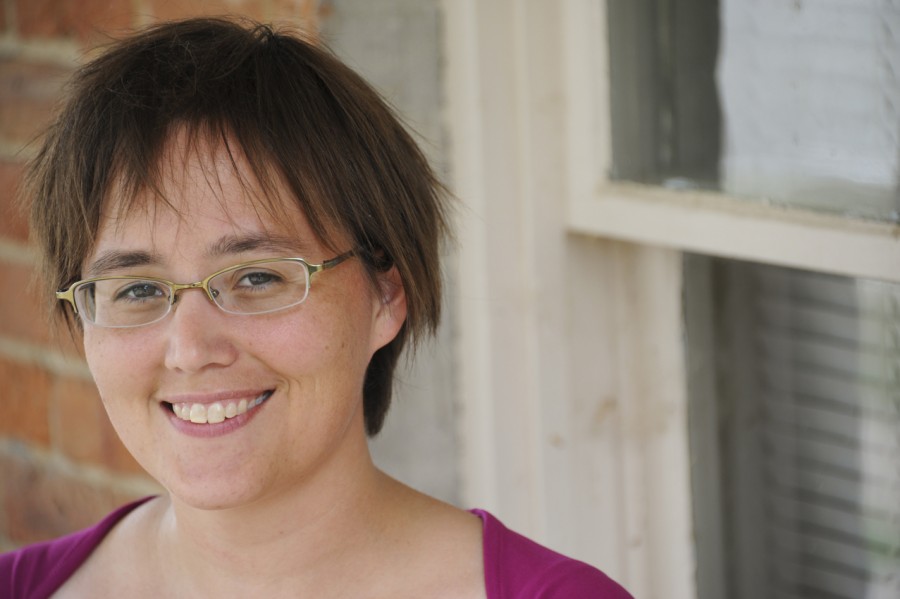 Our new staffer, Laura Johnson.
I started out life on a farm north of Mission Hill. I can remember hot summer days spent out in the bean field spraying weeds with my dad and brothers. Every now and then, Dad would suggest we quit early for the day and head over to Ponds of Fun to relax. By Ponds of Fun, he meant the scummy, snapping turtle-infested pond in Mission Hill. It had its hazards, but the water was cool and it beat working.
After 13 years spent in exile in Minnesota, I moved back to South Dakota in 2006. One of the things that brought me back home was the desire to spend time with aging grandparents, but another draw was the ability to see the sky again. When you grow up loving farmland and prairie, being hemmed in on all sides by trees and buildings can be rather oppressive.
Last year, I was allowed access to a friend's abandoned raspberry patch. I wasn't even sure I liked raspberries, but was lured in by the idea of free food and the ability to indulge in my passion for pulling weeds. Once I had experienced the thrill of seeking out the little red berries while fighting off insects, thorny raspberry canes, and giant weeds, I was hooked. Once my friends and family tried the homemade raspberry jam that resulted from my labor, they were hooked too. Be careful who you choose to give a jar to - they will pester you for more.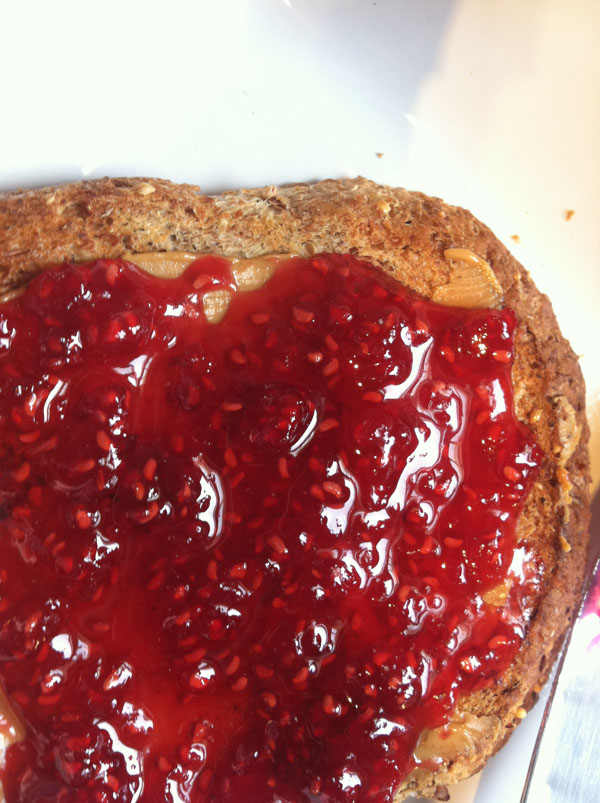 Raspberry jam glows atop a slice of peanut butter toast.
Red Raspberry Preserves
4 cups raspberries
3 cups sugar
1/4 cup lemon juice
Makes about 3 cups.
Sort fresh raspberries, discarding any that are soft, moldy, or otherwise dubious looking. Rinse and drain them well.
Stir the raspberries, sugar, and the lemon juice together in a bowl, using a rubber spatula. Let the mixture stand, stirring gently once or twice, until the sugar has dissolved, about 2 hours.
Scrape the mixture into a stainless steel or other nonreactive large skillet or sauté pan. Bring it to a boil, stirring constantly with a straight-ended wooden or nylon spatula, and boil it rapidly, stirring often, until it passes the jelly test; this will take from 3 to 5 minutes, depending on the juiciness of the berries. Remove from the heat.
Skim off any foam and ladle the hot preserves into hot, clean half-pint canning jars, leaving ¼ inch of headspace. Seal the jars with new two-piece canning lids according to manufacturer's directions and process for 10 minutes in a boiling-water bath. Cool, label and store the jars. The preserves will keep for at least a year in a cool cupboard.
If the jelling doesn't work out, do not fret. Even if it does slide off your toast, the cooked berry-sugar mixture will still make a fine sauce for ice cream, waffles, or anything else that would benefit from a sweet, fruity topping.
From "The Good Stuff Cookbook" by Helen Witty