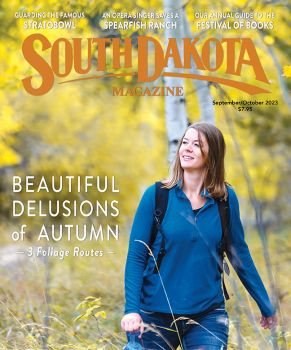 Subscriptions to South Dakota Magazine make great gifts!
Subscribe today — 1 year (6 issues) is just $29!

A Pioneer of Flight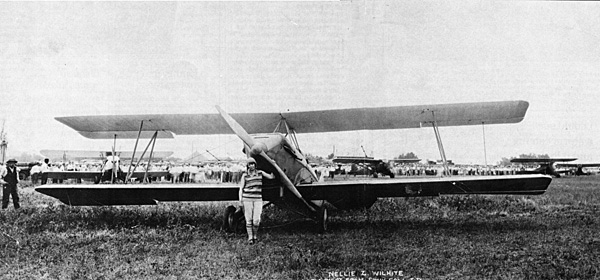 Nellie Willhite posed with her bi-plane Pard at a Wagner air show in 1930.

Nellie repeatedly circled the Renner landing field in her open cockpit plane. She gazed down at the people gathered on the soggy grass. They were frantically waving at her to land, certain she'd lost her nerve. She circled again, then eased the bi-plane into position.
Spraying a fountain of icy water, she made a perfect landing in a puddle. With dark curls peeking from under her aviator's cap, Nellie climbed from the plane. The instructor and student pilots, all men, surrounded her, shouting and pounding her on the back. She'd done it! Nellie Willhite was the first female pilot in South Dakota.
When I visited with her in 1989, 96-year-old Nellie was sitting on her bed in a Sioux Falls nursing home. Deaf since childhood, she astounded me with her ability to read lips. White hair frothing across her cheeks, she pulled old photos out of neatly stacked albums to show me. She loved to tell her story.
When Willhite was 34, a pilot friend asked, "Nellie, why don't you take lessons? If you learned to fly, you'd be the first woman pilot in South Dakota." Willhite was stunned and intrigued by the idea. But lessons cost $200, and she didn't have the money. She called her dad to tell him. "Before I knew it there was a check for $200 waiting for me," she said.
She started lessons in November 1927. Although she was excited about learning to fly, she kept it to herself. "I was afraid I might fail," she said. "I didn't even tell my landlady."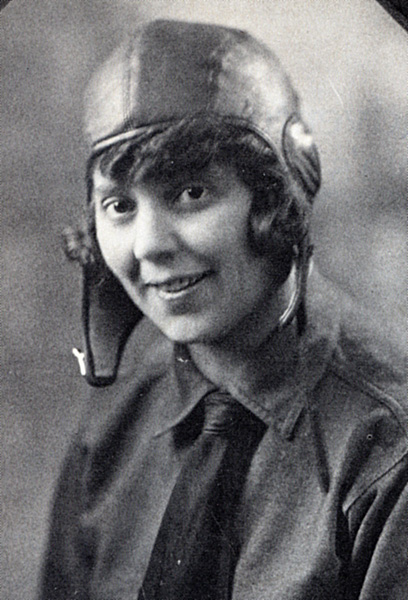 Nellie Willhite made a striking picture in her aviator's cap.
Willhite was the 13th student to sign up for a class taught by Harold Tennant. The weather was so bad that winter it took her two months to complete the instruction. After 13 hours of training, she flew solo on Friday the 13th in January of 1928. Nellie scoffed at superstitions associated with the number 13. "Superstitious? Gracious no!" she laughed.
News of her flight spread quickly. While her dad, brother and most of her friends were proud of her profession, others were shocked. Some criticized her, wondering how she had the audacity to go into such an impossible thing as flying. "I think the women were a little envious, and the men, too, especially after I got so much attention."
Nellie's flying career was marked with several unusual incidents. She and Amelia Earhart were instrumental in forming the "99 Club," an organization for women flyers. Willhite also flew in airshows and goodwill tours across the country, thrilling audiences with her acrobatics and loop the loops.
Willhite recalled one hair-raising flight in Nebraska. She had been flying a good-will tour for businessmen and was en route to the next stop. "I had gotten a late start," Willhite said. "The others had gone ahead. I could see a storm coming and it looked bad. That part of Nebraska is so hilly. I couldn't find a place to land, so I figured the best thing to do was to keep flying."
"An updraft tossed me 8,000 feet higher, and the engine stalled for lack of air. I knew I had to keep the propeller turning," she said. "I aimed the plane nose down and kept in a tight spiral. It was up to me to save myself." Willhite found her way back using an automobile map. "In those days we didn't have charts or anything," she said.
Another frightening incident occurred in Chicago when a friend talked her into flying a glider. The take-off went fine, but "I couldn't land the darned thing! I bet I was circling Chicago for an hour and a half before I gradually coaxed it down. I swore I'd never do that again!"
Willhite obtained a transport license and also worked as a flight instructor during her aviation career. After four years, she was forced to sell her plane due to the high cost of maintaining it and the scarcity of jobs during the depression.
Nellie Willhite participated in many unusual activities during her life. She refused to be hindered by her deafness or by the fact she was living in an era before women's liberation.
Editor's Note: This story is revised from the May/June 1989 issue of South Dakota Magazine. To subscribe, call 800-456-5117.