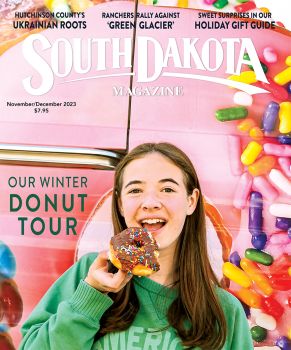 Subscriptions to South Dakota Magazine make great gifts!
Subscribe today — 1 year (6 issues) is just $29!

November/December 1995
Downtown Rapid: Old charm mixed with new surprises gives Black Hills visitors plenty to see and do.

Crow Creek Excavation: Mosasaurs and plesiosaurs are bringing people and cultures together in South Dakota.

Indian Women: Lakota author Virginia Driving Hawk Sneve shares her viewpoints. [read more]

Rugged as a Rock: Ipswich was built on a firm foundation by people like Joe Parmley...but there's still work to be done.

Elders of the Faith: Though their faces are weathered and creased, these South Dakotans reflect beauty and wisdom.

Old Timer On Skates Outshoots Them All: A Wessington Springs duck hunt turned fowl when an old neighbor took to the ice. [read more]

Frosting the Competition: Steve Stellingwerf shares some tips and recipes from 20 years in the baking business.

A Pickstown Avon Lady?: Writer John Hilpert explains and also shares other tidbits he dug out of his co-workers.

Following the Wind: Michael Melius takes readers inside the cavernous maze called Jewel Cave.
Please note: Online articles are edited and may not include all pictures or content from the original version.