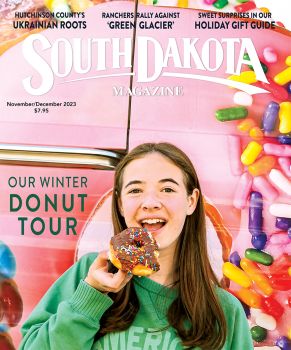 Subscriptions to South Dakota Magazine make great gifts!
Subscribe today — 1 year (6 issues) is just $29!

Our 100th Pheasant Party
Sep 17, 2018
By Katie Hunhoff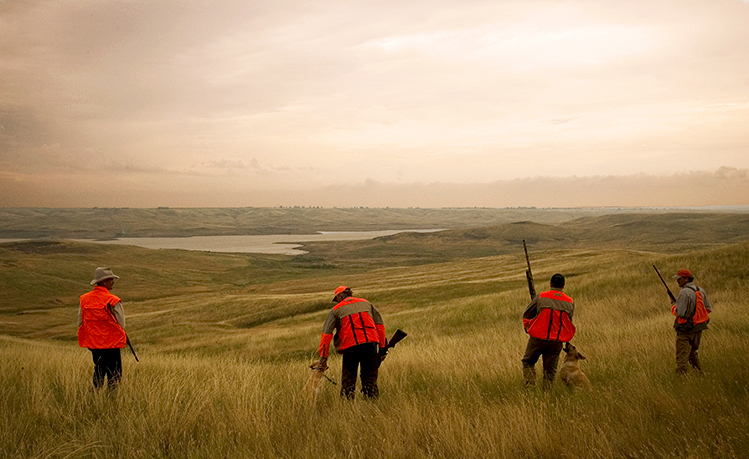 Families gather every autumn to walk the fields in search of ringneck pheasants. But the season has become as much about fellowship as bagging birds. Photo by Chad Coppess/S.D. Tourism.
Just imagine that we all dress alike for one autumn weekend in South Dakota. We cook big pots of chili and make ham sandwiches and taverns (or sloppy joes, if you prefer). We invite family and friends and retired baseball stars to go for long walks with us through the fields and weeds.
We bring our dogs and we take rides in the back of grandpa's old pickup truck. We tell stories and enjoy the sunshine and blue skies of October in South Dakota.
Wouldn't that be the perfect weekend?
Of course, I am describing the opening weekend of pheasant season. It would be a special occasion with or without 6 million pheasants. This year, there actually may be even more. Our wildlife experts predict there's a 47 percent increase. But few of us are counting. This is the 100th consecutive "opening day" in South Dakota, and the hunt is no longer all about the birds. It's a festival of our grand outdoors.
To commemorate the centennial hunt, we devoted much of our September/October issue to stories. We didn't have to do much hunting. Just about everybody has a pheasant tale.
Sen. John Thune told us of the day he was hunting with a group that included Twins slugger Kent Hrbek. They knocked on a farmer's door to ask permission to hunt, and as it turned out the man happened to be watching a replay of Hrbek's dramatic home run in Game Six of the '87 World Series.
"He wasn't that pleased to meet me," laughs Thune. "But Hrbek got it done for us."
We learned that the Dunse family of Beadle County has been gathering on the family farm for decades, and it's really special when all 10 grandsons arrive. They usually dine at the Presbyterian Church supper in nearby Bonilla.
Madison artist John Green remembered hunting with some out-of-staters who had seen horned rabbits at a gift shop before they went afield. Once they reached the corn, a jackrabbit jumped up. It had big ears but no horns so one of the novice hunters yelled, "Don't shoot, it's a doe!"
Watertown attorney Lee Schoenbeck wondered if it's sacrilegious to secretly help the bishop bag a bird. Peggy Schiedel remembered when actor Cary Grant visited her family's Faulkton farm. Yankton broadcaster Monte James told of guiding a group of Coca Cola executives from Atlanta who hardly knew how to hold a gun.
Rapid City journalist and sage Kevin Woster penned a story about his family's tradition of meeting at cousin Donnie's farm. Kevin noted that his brother Jim called everyone last year to warn that the bird numbers were down and to ask who might still be coming.
"Well, is there still going to be some sloppy joes in the tool shed before the hunt?" Kevin asked.
Jim thought so.
"And are at least some of the Irish cousins and neighbors going to gather there in the shed and hang out for awhile and swap a few lies?"
Jim was sure they would gather.
"That's all I need to know," Kevin said.
One hundred years of South Dakota socialization will be celebrated in October. Toss in a few million pheasants and we've got a real party.