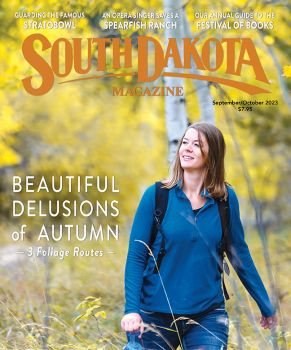 Subscriptions to South Dakota Magazine make great gifts!
Subscribe today — 1 year (6 issues) is just $29!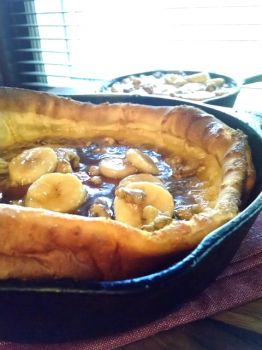 The Colome Pancake Party
Oct 2, 2014
Our local school recently observed Homecoming, and as in most small towns, it was a community-wide event. Students celebrated all week with Super Hero and Duct Tape days, alumni returned from near and far for the weekend festivities, and there wasn't a business window in town without slogans painted by the cheerleaders. Community spirit was high.
My husband's graduation class was an honor year and 12 of his 19 classmates gathered for roll call at Coronation, the parade and football game on Friday, and a reunion banquet on Saturday. They greeted each other with warm hugs, and lively stories of days gone by flowed freely. After 30 years, they were still the group of close-knit kids that had terrorized the teachers and stuck up for each other through thick and thin. Past and present school staff, parents, and other alumni joined their group in reminiscing, and the tales only got better.
When the current CEO and principal sat down at our table, he didn't talk about crazy hijinks. Instead, he told a tale that embodies what community is in a small town.
In the late '70s, Mr. Armstrong was a teacher and coach and took on the challenge of wrangling the junior high boys' basketball team. There was some discussion of a game during which one boy dribbled the wrong way down the court and scored the winning basket for the other team. Then my husband asked if anyone remembered going to the coach's house for pancakes one night after a tournament.
Immediately, Mr. Armstrong asked if they knew why that happened. Nobody was aware of what led to that often remembered feast. It seems that when the team loaded back onto the bus after an out of town tournament, they were all hungry and wanted to stop to eat. Being a poor, young teacher with his own little family at home, the coach was broke. There wasn't money in his wallet to feed a bus full of growing boys. Thinking quickly, he made a deal with the team. After they made the short drive back home, they could all come to his house for pancakes.
He assumed that most parents would be picking up the kids and very few, if any, team members would actually take him up on the offer. However, the entire team followed him home. The coach and his wife flipped pancakes for hours until everyone was stuffed. Thirty years later they can't tell you who actually won the tournament, but they still fondly talk about that pancake feed.
It's the little things — like unexpectedly flipping pancakes for the junior high basketball team — that are the beginnings of community spirit. Looking out for each other and doing what you can, however minimal it may seem, is the glue that holds our small towns together. We know what matters.
Those long ago pancakes were most likely a simple recipe of flour, milk, egg and sugar. However, just a few weekends ago, I broke out another old recipe for a puffy pancake that Hubs and I love. Baked in a cast iron skillet while warm caramel and banana sauce simmers on the stovetop, this breakfast treat may not feed an entire basketball team, but does easily serve four to six people, especially with a side of bacon.
Dutch Baby with Caramel Sauce and Bananas
(adapted from Rachael Ray)
1 stick unsalted butter
5 eggs
1/3 cup milk
3/4 cup flour
1/3 cup sugar
1 cup brown sugar
pinch of salt
1/2 cup sour cream (or plain Greek yogurt)
2 bananas, peeled and sliced
1/2 cup walnuts, chopped and toasted
Preheat the oven to 425 degrees F. Add 1/2 stick of butter to a 9-inch cast iron pan and melt in the oven, about 5 minutes.
Meanwhile, whisk together the eggs and milk. Combine the flour and sugar and add to the egg mixture.
Pour batter into the prepared skillet; bake until the pancake begins to rise, 15 to 20 minutes.
Meanwhile, combine the brown sugar, salt, and 2 tablespoons water over medium heat, stirring until bubbly. Stir in the remaining 1/2 stick of butter and the sour cream until smooth. Add the bananas and the walnuts to the sauce.
Drizzle the pancake with half of the caramel sauce. Slice into wedges and serve with the remaining sauce on the side. (Serves 4-6)
Fran Hill has been blogging about food at On My Plate since October of 2006. She, her husband and their two dogs ranch near Colome.