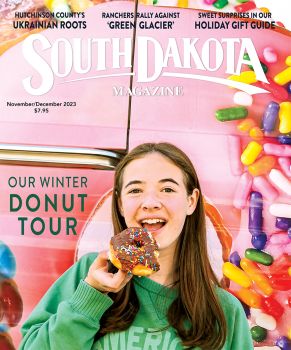 Subscriptions to South Dakota Magazine make great gifts!
Subscribe today — 1 year (6 issues) is just $29!

Steak Night Light
Oct 29, 2015
By Fran Hill
Recently, a column featuring my hometown of Colome was pulled from the print archives of South Dakota Magazine and posted online. Along with a short history of the origin of this small town's name, the article discusses one of our famous traditions: Steak Night.
Every Thursday, a stream of ladies carrying covered salad bowls and trays file in through the side door of the American Legion. These dedicated volunteers not only provide the homemade salad bar for the evening diners, they also work the event. Waitresses, dishwashers, cleanup crew and kitchen prep staff are all our family, friends and neighbors.
Take your time as you move through the room to find a table on Steak Night. Stop and visit with a friend; tip your hat to your child's teacher; gossip a little with your neighbor; buy a drink for the business owner that did the small town above and beyond for you last week. As you navigate the line for the salad bar, don't waste too much space on that plate with lettuce. You will want plenty of room for the wide variety of homemade salads. While chicken strips, fried shrimp, fried chicken and battered fish are available for those who run against the grain, Steak Night really features sirloins, rib eyes and hearty hamburger steaks. The flattop-fried steaks are served with your choice of baked potato or fries and buttered toast on the side. It is a menu that is simple, to the point and tried and true for the loyal patrons. Nobody leaves Steak Night hungry. It is a community event that feeds body and soul.
On nights that aren't Steak Night Thursday, there is a new kind of steak that I have been cooking up for Hubs. His favorite vegetable is cauliflower, but after a while, I just can't take any more cheese sauce. We frequently roast our cauliflower, but slicing it into a thick steak makes it a whole new dish. Of course, this doesn't replace a juicy, well-prepared beefsteak, but depending on our mood, it can be an entire meal on its own.
Simply brush thick slices of cauliflower with olive oil and toss into the oven to roast. Meanwhile, sauté onions, diced red pepper, diced zucchini and sweet corn. Season it all with salt and pepper and serve the corn relish over the cauliflower steaks. Invite some friends, family or neighbors over and create your own Steak Night.
---
Corn Relish over Cauliflower Steaks
1 head cauliflower
Olive oil
1/2 cup onions, diced
1/2 cup red bell pepper, diced
1 cup zucchini, diced
1-2 cups sweet corn (fresh or frozen/defrosted)
Kosher salt
Freshly ground black pepper
Preheat oven to 375F.
Cut 3/4-inch slices from the head of cauliflower. (Most large heads will allow for about 4 slices. Reserve remaining cauliflower for another purpose.) Brush both sides of the cauliflower steaks with olive oil and season with salt and pepper. Arrange on a baking sheet and roast until golden and tender, about 40 minutes. Flip the steaks about half way through roasting time when the bottom becomes browned.
Meanwhile, heat olive oil in a large skillet. Sauté the onion until tender and translucent. Add the red pepper and zucchini; cook, stirring occasionally, until vegetables begin to soften. Add the corn and heat through. Season with salt and pepper to taste.
Serve the corn relish over the roasted cauliflower steaks. (Serves 4)
Fran Hill has been blogging about food at On My Plate since October of 2006. She, her husband and their two dogs ranch near Colome.