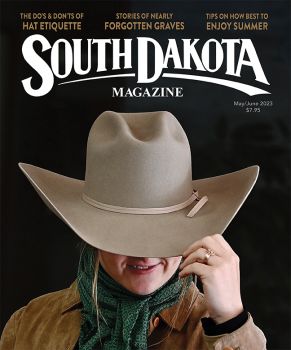 Subscriptions to South Dakota Magazine make great gifts!
Subscribe today — 1 year (6 issues) is just $29!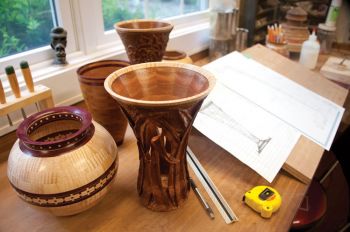 Paul Sova's Bowls
By Bernie Hunhoff
We all agree that Mother Nature is the supreme artist, but her woods become even more amazing when reworked by Sioux Falls woodturning artist Paul Sova.
Sova is president of Showplace Wood Products, a company based in Harrisburg that manufactures and markets nationwide. As Showplace grew, Sova found himself spending most of his days as a businessman. "I was looking for ways to be creative," he says.
In 2007 he found his niche in segmented lathe-turned art. He assembles hundreds of tiny wood pieces into intricately designed bowls and vases that rival Mother Nature's sense of pattern and design.
Sova carefully selects each hardwood. Once his material is at hand, he starts each bowl with a sketch. Then he converts the drawing to a mathematical design. He glues the pieces together and carves the bowl on a wood lathe. He finishes using chisels and other carving tools handed down from his father. Each bowl takes up to 50 hours.
He is too busy at Showplace to market or promote his art, although it is available at the Washington Pavilion and on his website. "They are all ornamental. They're not designed for functionality," he says. "But a few are being used for mixing salads. The oils would be good for the wood."
Editor's Note: This story is revised from the November/December 2014 issue of South Dakota Magazine. To order a copy or to subscribe, call (800) 456-5117.