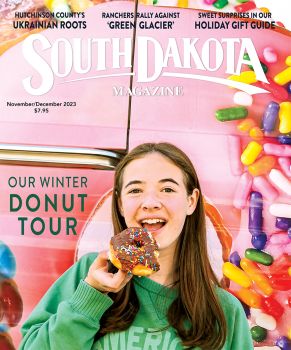 Subscriptions to South Dakota Magazine make great gifts!
Subscribe today — 1 year (6 issues) is just $29!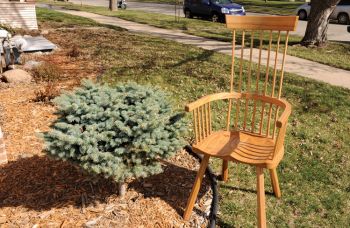 Chairs that Last
By John Andrews
Kerry Hogan jokes that he is Tripp's finest chair maker, but even if the town (pop. 625) was 10 times bigger, he might still be right. Hogan specializes in Welsh stick chairs, a unique style dating to the 17th century and popularized again by woodworker John Brown in the 1990s. Hogan has been making cabinets and furniture since 1989, when he was living in St. Paul. But he and his wife Penny wanted to escape the urban environment and found 2 acres in Tripp after an online real estate search. When he discovered the huge elm trees on his new property, Hogan knew they would be perfect for the chairs, which he'd read about in Brown's book, Welsh Stick Chairs.
The only power tool you'll find in Hogan's Sacre Coeur Woodshop is a table saw. All other work is done using hand tools. "I've had them in the past and I prefer the quiet and slow pace of hand tools," Hogan says. "This is not some quaint preference. My very sharp Stanley No. 5 plane makes a much faster job of smoothing the octagonal legs."
A "quick" project may require 65 hours, but Hogan says his pieces are built to last. "A chair that falls apart is called firewood," he says. "What I have made will never be thrown away. Treated well, it will not break. Someone's grandchild will say, 'This was grandpa's chair.'"
Editor's Note: This story is revised from the May/June 2016 issue of South Dakota Magazine. To order a copy or to subscribe, call (800) 456-5117.