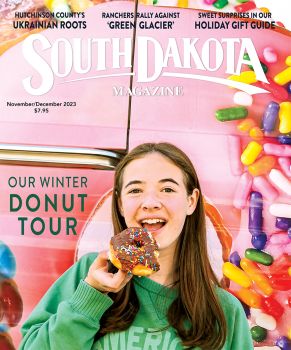 Subscriptions to South Dakota Magazine make great gifts!
Subscribe today — 1 year (6 issues) is just $29!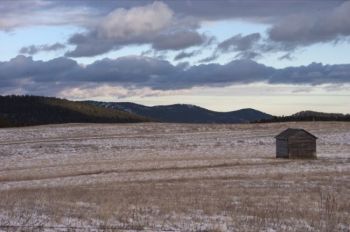 Pe 'Sla, Property Tax and Reconciliation
Sep 5, 2012
The day after I wrote about Lakota efforts to raise enough money to outbid developers for the 2000-acre Pe 'Sla/Reynolds Prairie, the white owners called off the auction. A week and a half later, the Great Sioux Nation announced it had raised enough earnest money to seal a deal to make this sacred Black Hills site the property of the Great Sioux Nation.
Don't bang the celebration drum just yet. Cartoonist Marty Two Bulls notes that Custer may be having a big chuckle with Columbus and the conquistadors in Hell:
First we stole the Black Hills. Now to get them back, the Natives have to buy them back. But this is the best part: even if they buy them, they have to pay a yearly tax to keep them.
Buying 2000 acres is a practical investment, with practical costs. Given the sacred nature of the place, it is unlikely the Native purchasers would exploit the land for some money-making purpose. Preserving this prairie oasis in the heart of the Black Hills will cost the tribes money.
"The land is priceless," says Lakota activist Madonna Thunder Hawk says. "It doesn't matter how much money the tribes have to put up for Pe' Sla. We have to have it." A quick search of the Pennington County property tax database shows that the county taxes paid by current Pe 'Sla owners Leonard and Margaret Reynolds are around $1.50 per acre on some parcels. The tax bill for the entire 2000 acres might be a few thousand dollars a year. That may not be much, but the taxes still catch the Great Sioux Nation in that dark Custerian joke of deception, theft and ongoing tribute.
So maybe South Dakota should recognize the unique nature of the Lakota claim to this portion of the Black Hills. We can recognize that the Lakota hold Pe 'Sla as holy as we hold our churches, temples and mosques. We can exempt Pe 'Sla from taxes, for as long as the Great Sioux Nation owns it and protects it from development.
Taking Pe 'Sla off the tax rolls would have a minor impact on tribal, county and state finances. It could have a major impact on white-Native reconciliation. Just as the successful acquisition and ongoing possession of Pe 'Sla may promote cultural renewal and further positive activism among our Native neighbors, South Dakota's declaration, written into tax law, that "Pe 'Sla is yours, and it is sacred" could build a little trust and respect and make it easier for whites and Natives to work together on other projects.
Cory Allen Heidelberger writes the Madville Times political blog. He grew up on the shores of Lake Herman. He studied math and history at SDSU and information systems at DSU, and is currently teaching French at Spearfish High School. A longtime country dweller, Cory is enjoying "urban" living with his family in Spearfish.