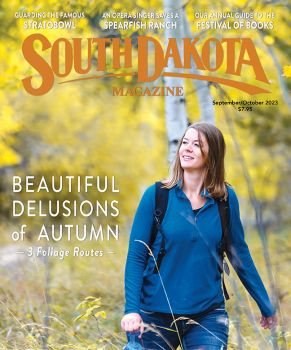 Subscriptions to South Dakota Magazine make great gifts!
Subscribe today — 1 year (6 issues) is just $29!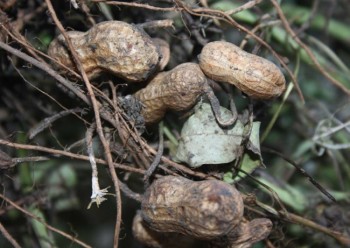 Peanut "Farming"
Nov 11, 2011
South Dakota weather is so unpredictable. We've had an unseasonably warm fall in Yankton and it made me wish I had kept my garden going longer. A surprise hail storm this summer took out a lot of our plants, but do you know what survived? The peanuts!
I didn't even know you could grow peanuts in South Dakota until a few months ago. My husband and I spotted starter Spanish peanut plants at a local greenhouse and decided to try it. They already had lush oval leaves when we transplanted the plants to our garden in May, but you may be able to start your own plant indoors with a raw peanut.
You need loose or sandy soil for the peanuts to grow, so we planted them in small mounds like you might a potato plant. Initially I thought the peanuts grow from the roots - well, actually I thought they grew on trees - but the peanuts form from small yellow flowers that bloom near the bottom of the plant. When the flowers lose their petals, a stem that looks a little like a skinny peanut forms and gets pulled into the dirt by gravity. This is where the peanut comes from.
It takes most of the summer or longer for the peanuts to mature. They are ready to harvest when the leaves turn yellow and you can expect 30-60 peanuts per plant. When ready, carefully pull up the entire plant, shake off the dirt, and hang it in a warm, dry place to dry for one to two weeks.
Roasting in the shell is fairly easy:
1. Preheat the oven to 325 degrees.
2. Spread the peanuts in a single layer in a shallow pan.
3. Bake for about 20-25 minutes, stirring frequently.