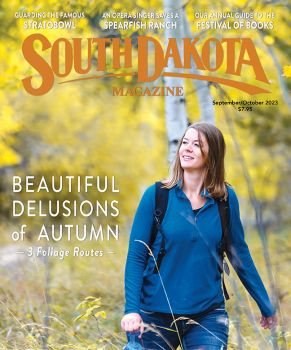 Subscriptions to South Dakota Magazine make great gifts!
Subscribe today — 1 year (6 issues) is just $29!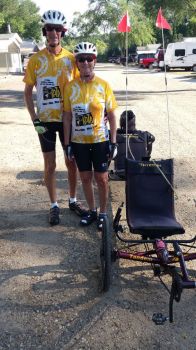 Pedaling South Dakota
Jul 25, 2016
Carl and Jan Brush of Yankton are loyal readers of our magazine, and avid bicyclists. This summer they are combining those two loves on a cross-country trip, using past issues and articles to guide them to interesting people and places. The Brushes have cycled in all 50 states. "But we like South Dakota best!" says Jan. They intend to travel about 360 miles in the next eight days. They've agreed to post some reports from the road so we can go along.
DAY ONE: German Cuisine and a Stone Church

We took off from Yankton Sunday morning. We met Ella Berth and Edna Kalubt near the old stone church south of Menno. They told us that Albert Gunderson split the stones with help from an inmate and the congregation in 1935. The church still has services on Wednesday evenings.

In Menno it started to rain so we parked the trike out of the weather at the school and visited the Open Door Cafe for lunch. Great food! We met owners Jerome and Rita Hoff. Rita was proud to point out the framed pages from South Dakota Magazine, Sep/Oct 2011, featuring their German meals that are still served every Tuesday. Rita mentioned the sign above her. It was made by Jerry Buum who passed away young. His widow, Vicky works at Yankton's Hy-Vee bakery. The Elvis shirt is an antique, collected by Rita's daughter-in-law.

Overall it was a great ride. We stayed dry. 51 miles total. We saw lots of wildlife. Everyone waved and a herd of horses greeted us west of Freeman at the Jonas farm and ran alongside us for 100 yards inside their pen. We love cycling in South Dakota!

Note: We ride a tandem recumbent trike. It is a 27 speed and is 10 ft long. The brand is Terra Trike, built in Michigan.