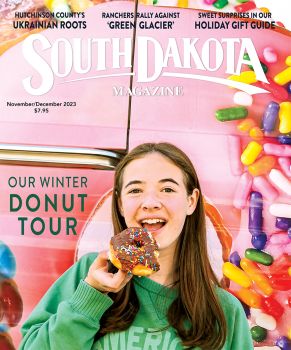 Subscriptions to South Dakota Magazine make great gifts!
Subscribe today — 1 year (6 issues) is just $29!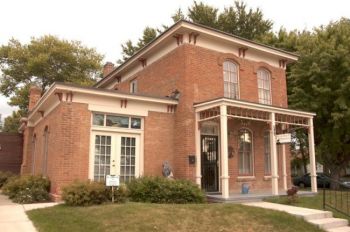 A Scoundrel and a Saint
Apr 25, 2013
The homes of two territorial governors still stand in South Dakota, the Mellette house in Watertown and the Pennington house in Yankton, now home to South Dakota Magazine. Both are stately, attractive Italianate brick houses but they housed very different men with different ideas on how the territory should be governed.
The Pennington house was built in 1875 by John L. Pennington, a carpetbagger appointed by President Grant. Pennington's predecessor John Burbank spent more of his term in Washington than he did in Dakota Territory. Yankton was mostly a clapboard town. Pennington's two-story building, made from locally manufactured soft brick, is a humble abode compared to the Victorian mansions built just a few years later in Yankton but it has stood the test of time.
Pennington's character was tested when the territorial legislature established Custer, Lawrence and Pennington counties in the Black Hills. Pennington had authorization to appoint officials for the new counties, and he promptly gave jobs to his Yankton cronies rather than West River locals. As expected, there was an uproar, especially when the new appointees stayed in Yankton rather than relocating west.
To make matters worse, he then chose Sheridan over Rapid City as the capital of his namesake county. Rumors abounded that he had a stake in the Sheridan town site, which fueled even more resentment.
Locally elected officials soon replaced Pennington's friends, but the governor's reputation was tarnished. William A. Howard succeeded him in 1878. Five years later, Yankton lost the territorial capital to Bismarck in large part because of the cronyism practiced in the river city.
Nine years later, Arthur C. Mellette became the last territorial governor. His integrity was beyond reproach. In fact, Mellette actively campaigned for statehood for Dakota Territory and spent $16,000 of his own money traveling to Washington to lobby the cause.
Mellette was successful and became our first governor. He faced hard times immediately as the state was crippled by a drought that hung on for years. He traveled east again, at his own expense, to raise money from charities. One trip raised almost $40,000 and all donations went directly to needy families. He spent $3,600 of his own money to manage the funds.
After serving two terms, Mellette decided not to seek re-election in 1893. His health was failing and he was devastated after his eldest son, Wylie, committed suicide during a fit of delirium from typhoid fever.
The last tragedy came in 1895 when Mellette's good friend, State Treasurer William Walter Taylor, stole $300,000 from public funds and fled to South America. Because Mellette served as bondsman for Taylor, he was legally required to pay for the thievery. Worse, Mellette felt betrayed and personally responsible. He handed over all his money and property, including his fine new home in Watertown. Taylor was eventually caught, but Mellette was never repaid.
Broke, homeless and betrayed, the Mellettes moved to Kansas. Mellette died on May 25, 1896. His wife, Maggie, fulfilled her husband's wish by returning him to South Dakota for burial. Thousands paid respects as he lay in state at Watertown's Arcade Hotel and for his burial at Mount Hope Cemetery. At the funeral, Mellette's last statement as governor was recalled: "May God bless the people of South Dakota and their children forever and make them all worthy representatives of a great and grand state."
After Pennington's term as territorial governor he stayed in Yankton and started the Weekly Telegram. He opposed dividing Dakota Territory into two states and in 1891 returned to the South. He died in Anniston, Alabama and is buried nearby in the Oxford Cemetery.
Pennington met many historic figures at the foot of his black walnut stairway in his house; riverboat captains, military officers and Indian chiefs. If you're interested in visiting a piece of territorial history, we'd be happy to give you a tour of our magazine publishing office.
You may also tour the Mellette House, which is preserved by local historians in Watertown and open to the public. The house features a beautiful circular wood stairway that was built in Minnesota and brought by train.
Our territorial governors lived far from perfect lives but they built a foundation for our state that still serves us today.