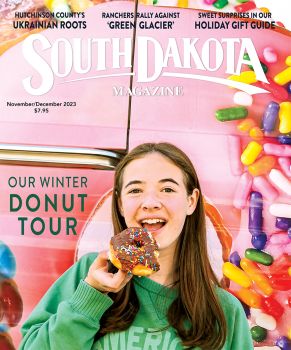 Subscriptions to South Dakota Magazine make great gifts!
Subscribe today — 1 year (6 issues) is just $29!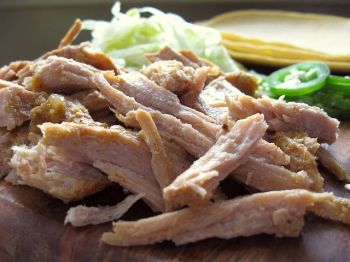 Piggin' Out On Pork
Editor's Note: October is National Pork Month. Several years ago, South Dakota Magazine toured the state to see how families and restaurateurs were featuring the "other white meat." Here's what we found.
Three years ago, Louise Albers' father told her about a new cut of pork, prime rib, that would be a good entree for her restaurant, the Black Angus in Canton.
Intrigued, Albers went looking for it.
She quizzed the hog buyer at John Morrell and Company, the meat buyers at grocery stores and each of her food service vendors.
She finally found the cut her father described at Iowa Quality Meats in Des Moines. A phenomenal success for Iowa Quality Meats, pork prime rib is a Black Angus special, served one or two weekends a month.
South Dakotans are lucky that Albers doesn't give up easily. Slow cooked at 150 degrees in a special oven called an altosham, Pork Prime Rib is gluttonous: tender, juicy and chock full of flavor.
South Dakota chefs like Albers are inventing sophisticated yet hearty ways to serve pork, an entree that satisfies "down home" diners as chops and bacon, but can be "dressed up" for dinner out.
Newer recipes for stay-at-home cooks feature pork that's cubed, sliced and ground, and combined with fruit and spicy seasonings, such as Peachy Pork Picante. Because South Dakota produces 3.5 percent of the total pork raised in the United States we need a lot of ways to prepare pork.
"We're receiving more requests than ever for pork recipes with hot peppers and hot and spicy flavors," says Robin Kline, director of the Pork Information Bureau for the National Pork Producers Council.
"Pork is the perfect complement to spicy, bold seasonings. Its robust taste stands up to strong flavors rather than being eclipsed."
"Pork is a menu maker, because you can go so many ways with it," confirms Dave Casper, owner of Casper's restaurant in Brookings.
Casper's menu includes Pork Cacciatore, Pork Loin Cutlets, Twin Chops, Pork Saltimbocca, Smoked Chops and Pork Citron. Pork Robert is a special.
"Pork Loin Cutlets is everybody's favorite," he says. Casper's prepares more than 400 pounds of boneless pork a month. "I serve the cutlets with braised red cabbage and apples, and browned spaetzle."
One of the best ways to enjoy the newest pork dishes is the annual Taste Of Elegance contest, sponsored by the South Dakota Pork Producers Council. Chefs from the region compete for first place and the right to represent South Dakota at the National Pork Producers Council competition.
The Council sponsors the contest to promote boneless pork to restaurants and encourage them to feature pork as a menu entree. For a pittance, the public can attend the event, graze from the buffet, and taste the chefs' entries. You can even vote for the winner of the People's Choice award.
In 1992, Casper won the Taste of Elegance contest with Pork Saltimbocca. In 1995, he won with Pork Rattle and Roll, a pork version of Beef Wellington.
Back home in Brookings, Casper demonstrates a dish once or twice to his kitchen staff, then he becomes quality control chief.
"I garnish the dish, and if it's not right, I throw it right back in their face. I'm the final inspector."
Casper's presentation is wonderful, and his "fill `em up" portions reflect another customer service philosophy: "Give `em plenty. South Dakotans are leery of leaving a restaurant hungry."
Because they want a sure thing at mealtime, a lot of South Dakotans stick with the tried-and-true pork chop. It's a staple on the Black Angus menu.
"Some people like pork chops, and that's the only way they want pork," Betty Fiegen acknowledges. Still, as an education consultant for the South Dakota Pork Producers Council, Fiegen demonstrates how to prepare new pork dishes that fit today's lifestyle. She also talks to groups on how to fit pork into a nutritious diet.
"Pork is a different product than it was 10 years ago," she explains. Pork is 31 percent lower in fat than it was a decade ago. "The tenderloin is the cut lowest in fat. It compares to a chicken breast. You can have pork in your diet and still have a low fat diet."
Fiegen may get a touch of stage fright before a demonstration. "I've been known to have a few butterflies. If I do demonstrations more often, then I don't get nervous."
Fiegen was preparing three different dishes for a group in McCook County, on a stage equipped with an outdated electrical system. The breakers kept going, so she had to prepare one dish at a time.
"The women were so patient," Fiegen recalls. "They made me very comfortable. They didn't act like they were in a hurry to go anywhere."
Parkston pork producer Glenda Odegaard created a Pork and Pasta Salad that is popular with South Dakota Pork Producer demonstrators.
"I just threw it together," recalls Odegaard. The salad won second place at a contest for salads using pork. "I've been making it four or five years now ... I think I've worn it out."
Jeff Tuschen has charcoal on his ingredient list when he cooks pork. The Salem resident cooks 2,000 to 3,000 pounds a year at community events across the state. He was part of the crew that cooked pork when Bill Clinton's presidential campaign came to Baltic.
To cook for a crowd, Tuschen calculates he'll get five sandwiches from a pound of meat; a bit more if there's a lot of kids. For every 150 pounds of pork, he'll use 50 to 60 pounds of charcoal.
He prefers charcoal to gas. "I have better control over charcoal, and I think the meat tastes better."
He grills the pork loins whole (he can prepare 150 pounds at a time), slices and buns them, and adds a squirt of sauce. The sauce recipe is from a friend's father.
"The biggest secret is when to take the meat off the heat," Tuschen explains. He's willing to spill all his secrets to someone who wants to go into the business: he can't keep up with requests.
"I'd teach `em in a minute," Tuschen says. "It's a good way to promote pork"
While in San Diego, Albers visited "the" steak house on the West Coast. Anticipation built as she read the menu: Midwest corn-fed beef.
"It could've gagged a maggot at a chuckwagon," she reports. "The grass isn't greener. South Dakotans may lack fresh produce sometimes, but we do have the best meat. We wouldn't have it any other way."
---
JEFF TUSCHEN'S BARBECUE SAUCE FOR PORK SANDWICHES
"This makes a little over two gallons," Jeff says. "For the sugar, I use half brown sugar and half white sugar."
2 10-pounds cans of catsup
3 to 4 pounds sugar
1/3 cup pepper
1 cup onion flakes or chopped onion 1/3 gallon vinegar
1 small bottle Tabasco sauce
3 tablespoons garlic powder
1 pint honey, optional
Mix together. Spread on pork sandwiches.
---
PEACHY PORK PICANTE
"Who'd have thought to mix salsa and peaches together?" Betty Fiegen asks.
1 pound boneless pork, cut into 3/4-inch cubes
2 teaspoon vegetable oil
1 tablespoon taco seasoning mix
1 8-ounce bottle chunky-style salsa 1/3 cup peach preserves
Coat pork cubes with taco seasoning. Heat oil in large non-stick skillet over medium high heat. Add pork and cook to brown, stirring occasionally. Add salsa and preserves to pan; lower heat, cover and simmer for 15 to 20 minutes. Serve over rice if desired. Serves 4.
---
GLENDA ODEGAARD'S PORK AND PASTA SALAD
1/2 to 1 pound cooked pork, cut into thin strips
1 7-ounce package rotini pasta, cooked and drained
Toss pork and pasta with raw, diced vegetables, such as celery, tomatoes, carrots, onions, green pepper, broccoli, cauliflower and radishes. For dressing, combine one packet of Italian dressing mix with one bottle Italian dressing, creamy or oil. Toss with salad. Serve.
---
GLENDA ODEGAARD'S ROAST PORK
Chefs agree, do not overcook pork. Cook it to a maximum of 160 degrees, a medium temperature that's safe.
Mix 1/3 cup garlic pepper with 1 teaspoon crushed rosemary. Rub the mixture over a pork loin or pork roast. Place fat side up and bake at 350 degrees, or barbecue on grill. Make sure the internal temperature reaches 150 to 155 degrees. Let set before slicing. For a 3 to 4 pound pork loin, cook 1 hour. For a 3 to 4 pound pork roast with bone, allow a little longer time.
Editor's Note: This story is revised from the January/February 1996 issue of South Dakota Magazine. To order a copy or to subscribe, call (800) 456-5117.