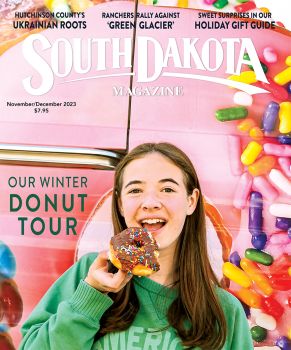 Subscriptions to South Dakota Magazine make great gifts!
Subscribe today — 1 year (6 issues) is just $29!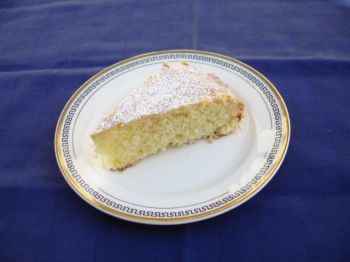 Bake Like a Pioneer
Aug 16, 2012
We're in prime fair season right now, and the reports I've heard from the county fairs around the state have me really excited about my trip to the South Dakota State Fair on September 2 to be a judge at the Family Heirloom Recipe Competition. I hope to see you all there, with your favorite pre-1950 recipes and stories in hand.
I love historic recipes. It's fascinating to leaf through old cookbooks and see how tastes have changed as new ingredients, tools and techniques were introduced. How would you like to whip stiffly-beaten egg whites by hand? Can you imagine a Midwestern potluck before the days of Jell-o?
I recently learned a little about cooking in the 1860s after browsing through a few years' worth of the Yankton Weekly Dakotian, one of South Dakota's first newspapers and an ancestor of today's Yankton Daily Press & Dakotan. It was a short four-page publication, comprised largely of stories, Civil War news, a handful of local items and ads with titles like "Lumber!" "Shingles! Shingles!" and "Brick! Brick! Brick!" I suppose if you had to choose between hauling construction materials up from Sioux City or purchasing them in Yankton, a local supply might be worthy of multiple exclamation points.
Occasionally the paper would include a few "receipts," or recipes. The July 13, 1861 edition has recipes for sponge cake, rice pudding, cocoanut cake, cake without eggs, removing warts on cattle, gold cake, johnny cake, puff pudding and silver cake. Yes, they put the wart removal instructions smack in the middle of the desserts. Very appetizing.
I thought it'd be fun to try my hand at one or two of these prairie desserts, but it proved to be more of a challenge than I was expecting. For one thing, they're a little light on instructions — no oven temperatures, no cooking times and very little guidance on how the ingredients are to be combined. Some of the measurements are a little sketchy, too — the Dakotian measures rice for pudding by the teacup, and the sponge cake recipe calls for one do. of sugar. What's a do.?
So I selected a couple recipes that looked manageable, threw caution to the wind, preheated my oven to 350, plugged in my electric mixer and thought about my great-great grandmothers, and how tough they must've been to be able to do this all by hand. You'll find the receipts as written in the Weekly Dakotian below, along with my interpretation of them. If you have any insights into 1860s cooking, PLEASE leave a comment — particularly if you have some 1860s era frosting recipes.
---
Puff Pudding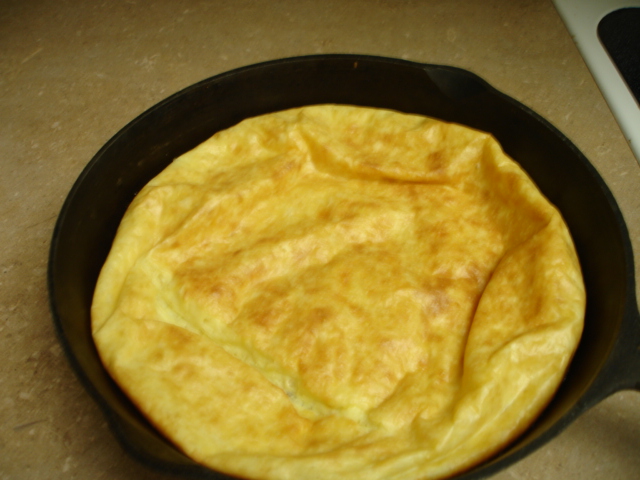 Golden on the outside, lumpy on the inside.
Take three eggs, nine table-spoons of flour, a pint of milk, salt, pour the milk on the flour, scalding hot, then add the eggs; bake from twenty minutes to half an hour. Sauce made from wine or lemon, to suit the times.
This recipe was one of the more detailed ones. After trying it out in my usual slap-dash fashion, I would recommend adding the scalded milk to the flour SLOWLY. I ended up with a lumpy mess that whisking did not really improve. I baked said mess in a cast iron pan until it was speckled brown on top. It puffed up nicely, but collapsed quickly once removed from the oven. Lemon sauce suited my times, but the lumpy texture of the finished pancake did not.
---
Warts on Cattle
Dissolve potash to a paste, spread over the wart with it for half an hour, then wash it off with vinegar. The cure is sure for man or beast.
I didn't actually try this, but it didn't seem right to leave it out.
---
Gold Cake
One cup of sugar, half cup of butter, half cup of milk, yolks of eight eggs, one teaspoonful cream tartar, half teaspoon of soda, two cups of flour.
I chose to follow what I think of as standard cake-baking procedure on this one. Cream butter and sugar together, then beat in the egg yolks. Mix the flour, soda and cream of tartar together, then add it to the egg mixture alternately with the milk. The batter fit in two greased and floured round cake pans. Bake for a half-hour or until toothpick comes out clean. The Dakotian didn't include frosting recipes, so I gave it a quick dusting with powdered sugar so it looked a little more finished.