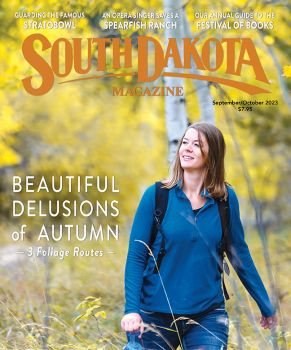 Subscriptions to South Dakota Magazine make great gifts!
Subscribe today — 1 year (6 issues) is just $29!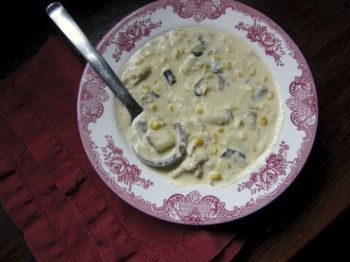 Bridging the Seasons
Sep 19, 2013
By Fran Hill

As someone that enjoys every aspect of food, I read a lot of blogs on the subject. There are gardening blogs that help me determine what I want to grow and the best way to do so. There are photography blogs that focus on the beauty of foods, raw, prepared and in states in between. And of course, there are cooking and recipe blogs that share the process of preparing amazing meals, sweet baked goods and every type of delicious delicacies.
However, when the first of September rolls around, I am always disgusted with a large percentage of my chosen form of entertainment, knowledge and enlightenment. The dawn of the ninth month seems to be the official kick-off for all things autumn in the blogging world. It is all pumpkin and apple all the time, and I am never ready for these signs of winter. I want to hold on to summer as long as possible. Embrace it. Savor it. Memorize it to carry me through the bone-chilling cold days of snow that I know will inevitably come.
I won't willfully ignore the fact that many of our gardens are only just now producing hearty tomatoes, peppers, and zucchini. Fall does not officially begin until September 22, and the carefully cultivated vegetables don't just die because the calendar changed a page. There will be plenty of time for apples and pumpkins.
Because I spent Sunday tromping around in a cool, drizzly (turning to pouring every time I ventured outside) rain, and this morning was overcast, windy and very fall-like, I will give in a little to heartier comfort foods. They still must pull from the produce that is rolling in from the garden, though. The last of this season's sweet corn is harvested and it deserves to be celebrated. Peppers are at their peak, and if you are lucky enough to have the rich flavors of a poblano, why wouldn't you use it? Make a Poblano and Corn Crab Chowder, bake a pan of corn muffins, and slice a plate of just-picked tomatoes and herbs on the side. Serve a meal that bridges between the dwindling days of summer and the coming days of fall.
---
Poblano and Corn Crab Chowder
Adapted from Cooking Light
1 medium poblano chile
1 tablespoon butter
1 cup onion, finely chopped
1/2 teaspoon kosher salt
1/2 teaspoon sugar
1/4 teaspoon chipotle chile powder
2 cups fresh sweet corn, cut from the cob
1 cup half and half, divided
1/2 pound small red potatoes, diced
2 cups water
2 tablespoons flour
1 cup whole milk
1 pound lump crab meat
Preheat broiler. Place pepper on a foil-lined baking sheet to roast. Broil 8 minutes on each side, or until blackened. Immediately, place pepper in a zip-top bag and seal. Let stand 10 minutes. Peel and chop the pepper.
Melt the butter in a large Dutch oven or soup pot. Add onion and next 3 ingredients. Sauté until the onion is tender, stirring occasionally. Add corn, stir to combine, and cook briefly…still maintaining the crispness of the corn. Remove 1/4 cup of the corn mixture and combine with 1/4 cup half-and-half in a blender; process until smooth. Add potato to soup pot and sauté briefly. Stir in the water and bring to a boil. Cook until the potato is tender.
Combine the remaining 1/4 cup half and half and flour in a small bowl, stirring until smooth. Add flour mixture to soup pot. Cook 1 minute, stirring constantly. Return corn puree to the pan. Stir in the roasted poblano, milk, and crab; bring to a simmer. Cook until heated through, stirring frequently. Serves 4.

Fran Hill has been blogging about food at On My Plate since October of 2006. She, her husband and their two dogs ranch near Colome.