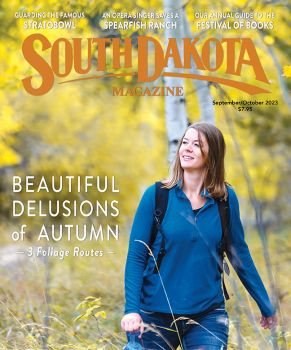 Subscriptions to South Dakota Magazine make great gifts!
Subscribe today — 1 year (6 issues) is just $29!

Better Late Than Never
Jul 20, 2017
By Fran Hill
Wednesday was National Hot Dog Day. As a food blogger, this meant that a large majority of the brands, bloggers and food obsessed every day Joes that fill my social media feeds shared pics of their favorite ways to enjoy hot dogs. As the host to two dachshunds (because let's face it, nobody owns a dachshund, they own you), the number of hot dog puns in my feeds was increased exponentially. And yet, I failed. I didn't share a pic of my furry tail-waggers in their Halloweenie costumes. I didn't light our fire pit and roast some of our favorite sausages from the Avon Locker. There were no Chicago-style dogs with sweet relish, pickles and spicy peppers. There wasn't a single drop of ketchup or mustard spilled.
I am hoping to remedy my lapse this weekend. I do appreciate a good hot dog, and nothing pairs better with a roasted wiener than a cool salad. Despite the recent heat, spring radishes and snap peas are still coming from the garden, making Potato Radish Salad the perfect accompaniment for my dogs. This potato salad relies on lime juice rather than mustard or vinegar for its tartness. It is fresh and light, yet still sturdy with the heartiness of the potatoes. Hot Dog Day can be any day with Potato Radish Salad on the side.
---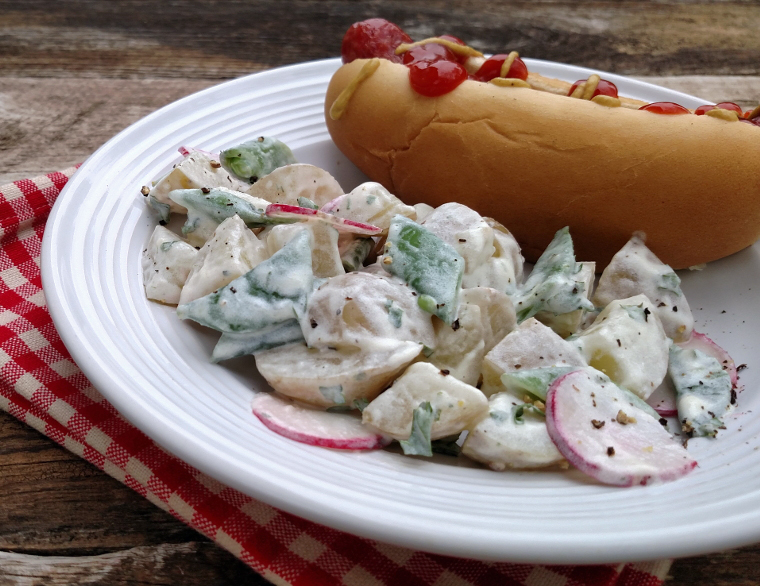 Hot Dog Day can be any day with Potato Radish Salad.
Potato Radish Salad
(adapted from Real Simple Magazine)
1 pound small Yukon gold potatoes, cut into quarters
1 cup snap peas, cut in half
2 tablespoons fresh parsley, chopped
1/2 cup sour cream
Zest and juice of one lime
2 tablespoons olive oil
Salt and pepper
1/2 cup sliced radishes
Boil the potatoes in salted water until tender, about 10-15 minutes. During the last 3 minutes, add the snap peas to the boiling water and cook. Drain and rinse with cool water.
Whisk together the sour cream, zest and juice of lime, olive oil and parsley. Season with salt and pepper to taste. Toss with the potatoes, peas and radishes to coat. (Serves 4.)
Fran Hill has been blogging about food at On My Plate since October of 2006. She, her husband and their three dogs ranch near Colome.