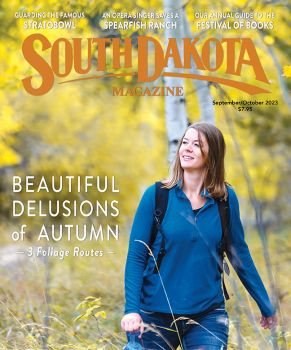 Subscriptions to South Dakota Magazine make great gifts!
Subscribe today — 1 year (6 issues) is just $29!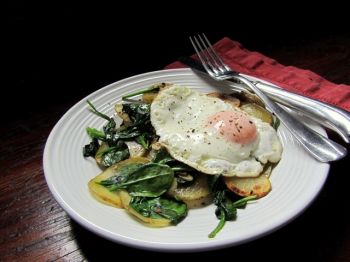 Put an Egg on It
May 16, 2013
The incredible, edible egg is a staple in my diet. Breakfast, lunch or dinner, this adaptable protein fills me up and fuels me for whatever life may have in store. Boiled, scrambled, baked, poached, in omelets, or simply fried it can pair with anything from toast to salad, hot or cold, day in and day out. Eggs are a lifeline.
I love a scrambled egg with toast and fruit for breakfast or beside a salad for a quick solo lunch or light dinner, and of course, we can't forget sandwiched on a biscuit with bacon and cheese as a favorite guilty pleasure. A nice sprinkling of coarse salt brings the beaten eggs to life, and I am a purist that believes a grating of cheese isn't always necessary with good scrambled eggs. However, I won't ever turn down Heavenly Scrambled Eggs with cream cheese and chives.
Boiled eggs are a versatile wonder all their own. Avocado and Egg Salad, Tarragon and Caper Deviled Eggs, sliced or diced on a green salad, or the simple pleasure of a still-warm boiled egg with a slightly gelled yolk dipped in salt and pepper and eaten in hand all please me immensely.
Although, if I had to choose, I think that poached, fried over-easy, or sunny-side-up are my perfect eggs. Nothing can compare to the joy of a golden, runny yolk. A breakfast plate with toast, pancakes, bacon or sausage to swirl through the tasty yellow rivers is an exceptional bright spot in any morning. At lunch, Warm Spinach and Sausage Salad makes my day. Leftover chili is almost always layered over corn chips and served with shredded cheese and a fried egg on top. Put an egg on a burger with cheese and bacon, and I will order it any time I see it on the menu. I love a runny yolk and believe it has no boundaries.
Hash seems to be another perfect pairing for fried or poached eggs with their flowing yolks. From corned beef hash to more modern vegetable stir-fries, the ingenuous mash-up of hash is made for eggs. I grew up with perfectly fried, thinly sliced potatoes as a standard side dish for almost any meal; adding spinach updates this comfort food for me. Anchovies, garlic, and red pepper flakes are the consummate seasonings to highlight the earthiness of the vegetables, and this hearty meal is most beautifully complete when you put an egg on it.
---
Potato and Spinach Hash with Fried Eggs
Adapted from Rachael Ray
3 tablespoons olive oil
8 flat anchovy fillets
4 baby Yukon gold potatoes, very thinly sliced
4 cloves of garlic, finely chopped
1/4 teaspoon crushed red pepper flakes
3-4 cups baby spinach
Freshly ground nutmeg
2 tablespoons butter
4 large eggs
Salt and pepper
In a large cast-iron skillet, heat the olive oil over medium heat. Add the anchovies, stir and cook until melted. Add the potatoes and garlic, spreading evenly over the pan and sprinkle with the red pepper flakes. Cook, turning, until the potatoes are golden. Fold in the spinach, season with nutmeg and cook over low heat, turning a few times, until the spinach is wilted.
Meanwhile, in a large, non-stick pan, melt butter over medium heat. Crack in 4 eggs and season with salt and pepper. Cook until the edges are starting to crisp and whites are firming. Cover pan with lid for a minute or so for steam to firm white over yolk, if desired.
To serve, plate a portion of the potatoes and spinach hash and top with a fried egg. Season with black pepper, as desired. Serves 4.
Fran Hill has been blogging about food at On My Plate since October of 2006. She, her husband and their two dogs ranch near Colome.