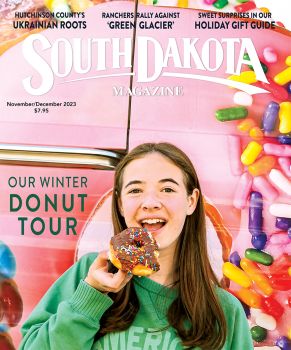 Subscriptions to South Dakota Magazine make great gifts!
Subscribe today — 1 year (6 issues) is just $29!

Holiday Recipe: Prairie Sage Dressing
Sagebrush grows wild in South Dakota. Often farmers have to clean it off the prairie to make room for their crops. But sagebrush survives to add great flavor to many foods. My favorite use is in a recipe for turkey dressing at Thanksgiving; it's a flavor you won't soon forget.
Even better yet, it can be stuffed inside a wild prairie chicken, grouse, sage hen or pheasant, all birds native to South Dakota. My brothers often brought in some of these wild birds for our family to enjoy.
As kids, my sisters and I went out on the prairie and stripped the leaves off the branches of the sagebrush plants. We took them to the house, spread them out on newspapers to dry for about a week, and then placed the dried leaves in a jar Mama kept in the pantry to add to her sage dressing for the holidays. If you've ever eaten dressing with the delectable flavor of wild sage, you will never buy the store brand again.
Celery and onions, other ingredients in the stuffing, also grow on the prairie but they are not quite as easy to find as sage. We only found those in the spring and would stop to pick them on the way home from school.
We collected wild chokecherries, buffalo berries and plums every summer for the most mouth-watering jams and jellies. They have flavors you can't find elsewhere.
My family also enjoyed several wild vegetables during the Depression. Mama made a wilted salad using fresh young dandelion leaves. She fried a couple slices of bacon until crisp, crumbled them, added salt, pepper and a splash of vinegar and poured the hot liquid over the dandelion leaves. We also used lambs quarter, pigweed or purple sour dock as a substitute for spinach. When the plants come up in the spring, the tender leaves make wonderful hot greens for dinner. Just put them in boiling water for about five minutes, drain, add a splash of vinegar and garnish with hard-boiled eggs. The pioneers in South Dakota often made do with things that already existed on the prairie.
---
Emma's Wild Sage Stuffing
6 cups dried and cubed English muffin bread
3 eggs
Turkey giblets (boiled until tender and chopped)
Broth from the giblets to soften bread cubes
1 teaspoon salt
1 teaspoon pepper
1 clove garlic, crushed
1/2 cup dried, crushed sage leaves
1/2 cup chopped onions
1/3 cup chopped celery, including some of the leaves
1 apple, peeled and chopped
Mix all ingredients together and stuff into the cavity of the turkey. Roast for 20 minutes per pound in a 325 degree oven.
Editor's Note: Emma Willey learned about finding food on the prairie while growing up on her family's homestead near Zeona in Perkins County. After serving in the Women's Army Corps in World War II, she and her husband Orman settled in Rapid City, where they had three children. Willey lived in Oregon for several years and passed away in West Virginia just before Thanksgiving in 2014. This story is revised from the November/December 2010 issue of South Dakota Magazine. To order a copy or to subscribe, call (800) 456-5117.