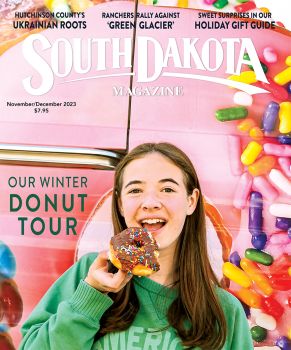 Subscriptions to South Dakota Magazine make great gifts!
Subscribe today — 1 year (6 issues) is just $29!

A Rapid City Treasure
Story by John Christopher Fine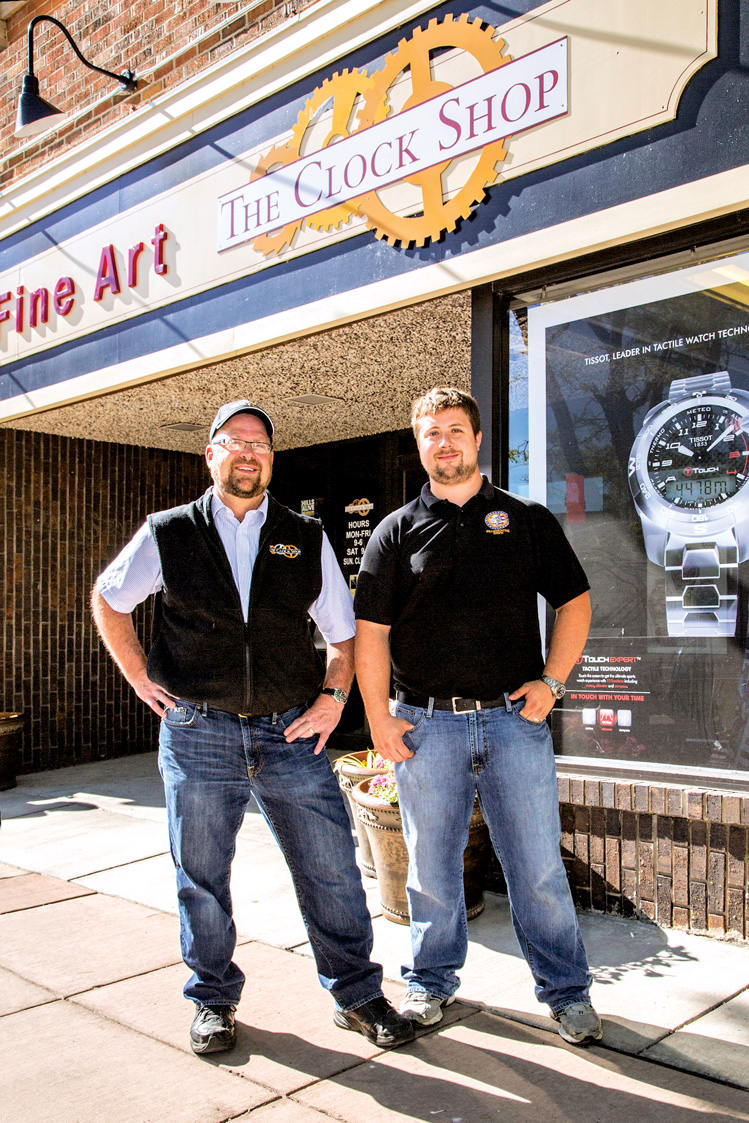 Entrepreneurial storekeepers Chris and Trevor Johnson operate Rapid City's eclectic Clock Shop.
Photos by Mike Wolforth
To appreciate the Clock Shop and Presidential Pawn in downtown Rapid City, you need to know about Chris Johnson, who grew up 200 miles to the east in Highmore.
"We were not far from where the Arikara ran buffalo over a cliff. In a family of seven boys and six girls, there was plenty of fun," Johnson says. "Dad would pile us into the station wagon and we'd have a picnic at the buffalo jump 11 miles east of Highmore. We'd chase each other around the hills. Dad would show us how to find arrowheads and buffalo teeth. That's how we spent our Sundays."
The Johnsons weren't wealthy, and gold was the furthest thing from their minds. Mr. Johnson was a high school history teacher and a carpenter. Mrs. Johnson baked bread for local restaurants, and for her children.
Years later, while working in the mailroom for the Rapid City Journal in the 1980s, Chris helped his in-laws, Tom and Jean Uhrich, start a shop called The Clock Shop, a spin-off to their jewelry store. "There was a large calling for clock repair," Chris says. "I helped him put it together in the basement of his store across the street from here." He started working full time for them in 1993 and bought the store eight years later.
Clock and watch sales sank with the recession of 2008, but a funny thing happened. "People asked if we still bought gold. Because my father-in-law did as a jeweler, I knew how. I just didn't pursue it. In the recession, clocks were considered luxuries. My son Trevor was just getting involved in the business. We were not doing well selling fine watches and clocks. We had advertised $2 watch batteries for years, so as people came in for a watch battery we started handing out a business card that read, 'We Buy Gold.'"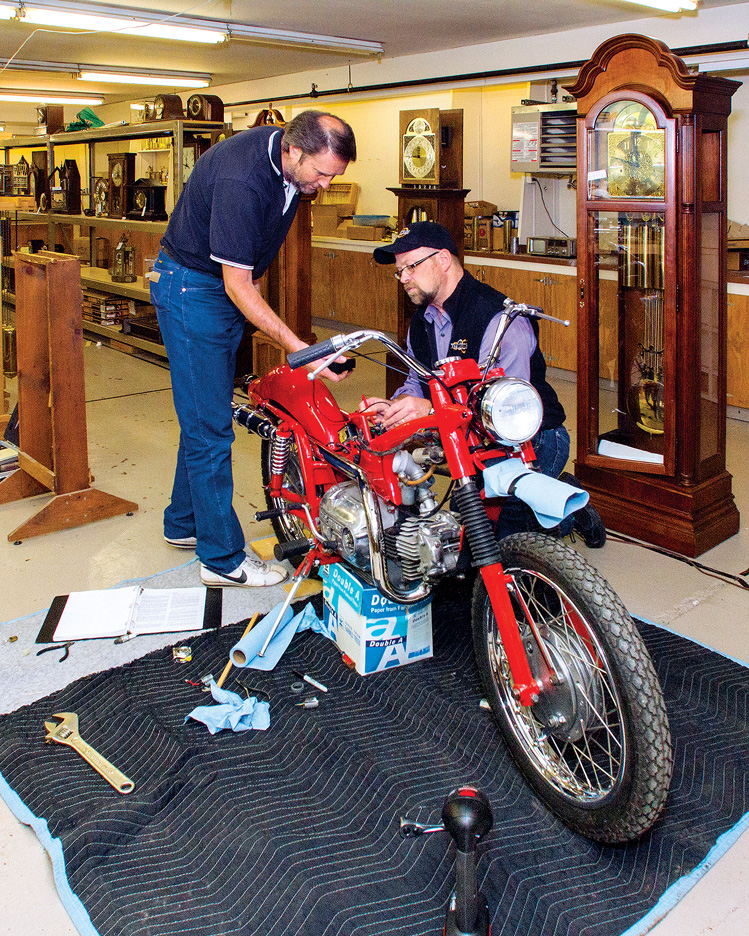 Chris Johnson and David Peck, the shop's clock repairman, have dealt with a wide variety of merchandise, including a rare 1964 Harley Sprint motorcycle.
Timing is nearly everything. Gold prices were soaring and there was an opportunity to sell unwanted gold scrap and jewelry. "It was just like our childhood," Chris says. "You learn to survive. The survival instinct brought about my desire to buy historic items. I have to pinch myself to realize that we not only survived the worst economic time but flourished. Trevor pushed me to start the pawnshop. He said a pawn shop does well in a good economy, and flourishes in a poor economy."
But the Johnson family pawnshop, at 610 Seventh St., in Rapid City's bustling downtown, is different. Customers are often offered a free book on how to escape debt. "We feel that every day there is something important happening here," Chris says. As many as 400 people visit the store daily, and the Johnsons now buy and sell $5 million a year in gold and silver bullion.
But they aren't hoping for higher gold prices. "Rising gold prices have a direct correlation to an unstable economy and uncertainty," Chris says. "I have no hope for gold to go up. I would much rather have a good economy. Gold bullion serves better as an insurance policy for money than a growth investment. We don't hoard it. We buy it and sell it."
Chris credits Trevor for having a good business mind. "I am more of a romantic," he says. "Money, like life, is fleeting. An old person told me long ago a bit of philosophy that I stick to: I'd rather regret what I did in life than what I didn't do."
So he steps into the window of the Clock Shop and takes a key out of the drawer of a clock. "I found this in an antique shop. The glass was missing. It is an original Samuel Whiting clock. It has the original case and movement. I sent the doors to be gilded. Whiting was an apprentice of Simon Willard, patent holder of the banjo style clock."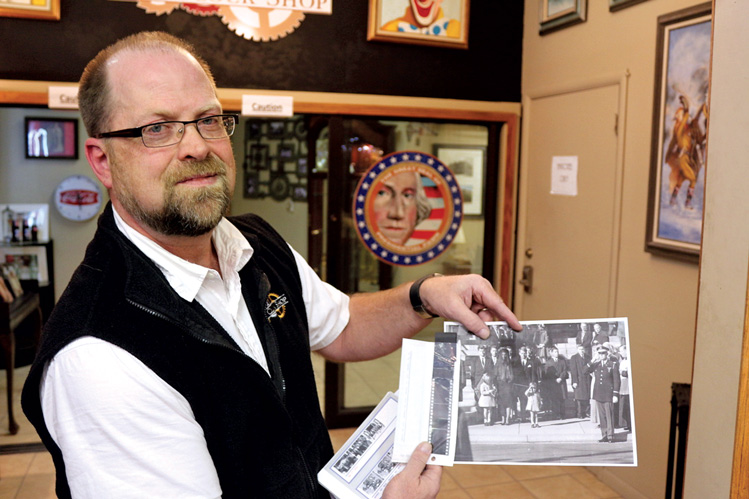 Chris Johnson's collection includes original negatives from President John F. Kennedy's funeral in 1963. The photographer's girlfriend brought them to the shop in 1982.
The clock may have stopped running 150 years or more before he found it. "My uncle was a clock maker. Later on in his life we talked about it. He said, 'Take a clock built in the early 1800s. Get it started. The clock says thanks old buddy, you got me going again.'"
Then Chris shows us a miniature dog preserved by a taxidermist that might have been the smallest dog in the world. And a Salvadore Dali drawing. And the Icebox Nugget, thought to be the largest undisputed placer gold nugget from the Black Hills in existence.
Chris' brother Ron, who also works at the shop, goes to the vault and brings back a plain manila envelope. Inside are 190 35mm negatives shot by photographer Robert Tobin at President John F. Kennedy's funeral in 1963.
"You see John John saluting," Chris says. "Look at this negative. We believe it to be the original of the photograph published in Life." But most of the pictures have never been published.
Tobin was murdered in 1982. The Rapid City woman who brought the negatives to the Johnsons identified herself as the photographer's girlfriend.
"You just really don't know what's going to come into this store," he says. But one thing is predictable: at the top of the hour, the Clock Shop resonates with melodious gongs, chimes and cuckoos from the clocks. It is a wonderland of warm sounds, perhaps as comforting as was Mrs. Johnson's bread, baking in the oven at Highmore many years ago.
Editor's Note: This story is revised from the September/October 2014 issue of South Dakota Magazine. To order a copy or to subscribe, call (800) 456-5117.