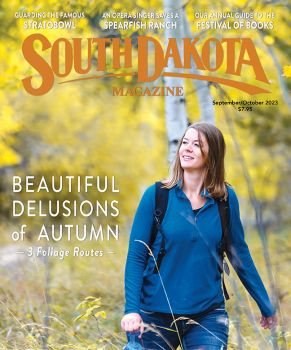 Subscriptions to South Dakota Magazine make great gifts!
Subscribe today — 1 year (6 issues) is just $29!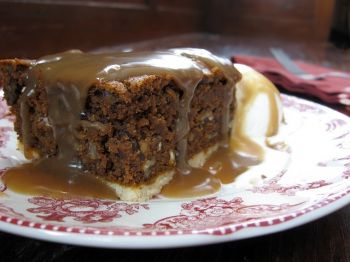 Turning Into a Pumpkin
Oct 17, 2013
By Fran Hill

This week I have been battling a nasty sinus cold (and to be honest, at the end of last week as well, but at that time I was bound and determined to diagnose my runny nose and headache as just allergies). After pushing through a few days of feeling icky, I hit rock bottom with a cough, severe congestion, body aches and all the miserable symptoms that make me a whiny mess. Therefore, I kinda feel like I am turning into a pumpkin with the deadline for this South Dakota Magazine submission sneaking up on me.
However, never fear; even with my head feeling pumpkin-like, I won't let you down. I will use that as inspiration. My archives hold a great pumpkin dessert that I have made so many times that I could probably make it in my NyQuil-aided sleep. Pumpkin Gingerbread with Warm Caramel Sauce came from one of those Pillsbury pamphlet-style cookbooks sold at the checkout stand of the grocery store. The cover photo of a square of deliciously old-fashioned cake topped with a perfect scoop of vanilla ice cream and drizzled with warm caramel sauce screamed "Fall!" and was incredibly tempting. I couldn't resist this sweet, spiced pumpkin comfort food, and I am betting that you can't, either.
---
Pumpkin Gingerbread
2 1/4 cups flour
1/2 cup sugar
2/3 cup butter
3/4 cup pecans, coarsely chopped
1 teaspoon baking soda
1 1/2 teaspoons ginger
1/2 teaspoon cinnamon
1/4 teaspoon salt
1/4 teaspoon cloves
3/4 cup buttermilk
1/2 cup molasses
1/2 cup canned pumpkin
1 egg

Preheat oven to 350F. Combine flour and sugar. Mix in butter with a pastry blender until mixture resembles fine crumbs. In a 9-inch square baking pan, place 1 3/4 cups of the mixture and press evenly along the bottom to form a crust. Add pecans, baking soda, ginger, cinnamon, salt and cloves to crumb mixture and stir well. Add buttermilk, molasses, pumpkin and egg. Pour batter on top of the crust in the baking pan. Bake for 40-50 minutes, or until a toothpick inserted in the center comes out clean.
Warm Caramel Sauce
1/2 cup butter
1 1/4 cups light brown sugar
2 tablespoons corn syrup
1/2 cup heavy cream

Melt butter in a heavy saucepan. Stir in brown sugar and corn syrup. Stirring constantly, bring mixture to a boil, and cook for 1 minute or until sugar dissolves. Gradually add cream and return to a boil. Remove from heat.

To serve, top each serving with scoop of vanilla ice cream and spoon sauce over warm gingerbread. Serves 9-12.

Fran Hill has been blogging about food at On My Plate since October of 2006. She, her husband and their two dogs ranch near Colome.