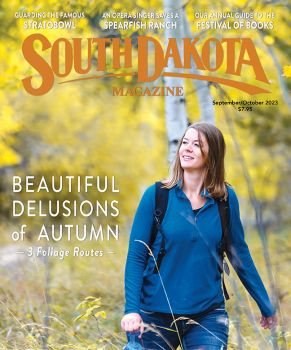 Subscriptions to South Dakota Magazine make great gifts!
Subscribe today — 1 year (6 issues) is just $29!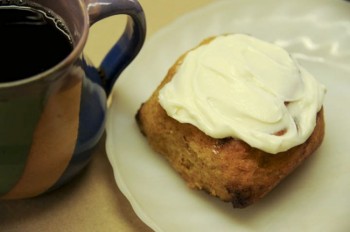 Pumpkin Cinnamon Rolls with Cream Cheese Icing
Cinnamon rolls are a good treat any time, but these pumpkin cinnamon rolls seem tailor-made for early Thanksgiving morning. The sweet cream cheese frosting pairs well with the spicy holiday flavors of cinnamon, ginger, nutmeg and clove, and the addition of whole wheat flour and pumpkin puree allows you to pretend they're nutritious. Mary Elsen, one of our circulation assistants, brought a pan in recently to share. She says that they don't raise as high as traditional cinnamon rolls because of the whole wheat flour, but you can make up for their lack of height with extra cream cheese frosting and no one seems to mind.
Pumpkin Cinnamon Rolls with Cream Cheese Icing
By Mary Elsen
Ingredients:
Roll Dough:
1/3 cup warm water (about 110 degrees)
1 package (2 1/4 teaspoons) active dry yeast
1 tsp. sugar
1/3 cup warm milk
1 large egg, beaten
3/4 cup pumpkin puree, either fresh or canned
1 tablespoon butter
2 1/2 to 3 cups all-purpose flour
1 cup whole wheat flour
1/2 cup brown sugar
1 teaspoon salt
3/4 teaspoon cinnamon
1/4 teaspoon ground ginger
Filling:
1 stick (1/2 cup) butter
1/2 cup brown sugar
2 teaspoons cinnamon
1/8 teaspoon nutmeg
1/8 teaspoon cloves
Cream Cheese Frosting:
8 ounces cream cheese
1/4 cup butter, softened
1 1/2 teaspoon vanilla extract
1 teaspoon lemon juice
2 1/2 to 3 cups powdered sugar
Directions:
Sprinkle yeast and 1 tsp. sugar onto water in a large bowl. After 5 minutes (when mixture is foamy) stir to combine. Heat milk in microwave until bubbly but not boiling over, then add butter and stir until melted. Add the milk-butter mixture, egg, pumpkin puree, brown sugar, salt, cinnamon and ginger to the yeast mixture. Mix well. Add the cup of whole wheat flour and 2 cups of the all-purpose flour. Turn dough out onto a floured surface. Knead for 6 to 8 minutes, adding more flour as necessary, until you have soft dough.
Grease a large bowl with a generous teaspoon of butter. Add the dough and turn it until the entire ball is coated with butter. Cover with plastic wrap and put in a warm place until doubled, approximately 1 hour.
Combine the butter, brown sugar, cinnamon, nutmeg and cloves in another bowl, set aside. Transfer the risen dough to a lightly greased work surface, and pat or roll it into an 18" x 12" inch rectangle. Spread with the butter/sugar/spice mixture.
Starting from one of the long sides, roll the dough into a log and cut into 12 generous slices. Place in a greased 9" x 13" inch baking pan (I prefer to use a metal pan — if you use a glass baking dish, you may need to reduce the oven temperature). Cover with a towel and let rise until almost doubled, about 45 minutes.
Bake in a preheated 375°F oven. Bake about 20-30 minutes, until the rolls are brown around the edges and beginning to turn golden brown across the center.
While the rolls are baking, prepare the cream cheese frosting. Beat together the cream cheese, butter, vanilla, and lemon juice until well combined. Add the powdered sugar 1/2 cup at a time, until desired consistency is reached. (I used 3 cups powdered sugar.)
Frost warm rolls with the cream cheese frosting and serve immediately.
---


Pumpkin Puree From Scratch
When I have the smaller, sweeter pie pumpkins growing in my garden, I like to make pumpkin puree from scratch.
Begin by preheating the oven to 350 degrees. Next, line a large (rimmed) baking sheet with heavy-duty aluminum foil, and spray the foil with non-stick cooking spray. (If a rimmed baking sheet is unavailable, I would suggest folding up the edges of the aluminum foil, and crimping the corners, because the pumpkin can release a noticeable amount of liquid while baking, and this is not something you want dripping all over your oven!)

Select a solid-looking pie pumpkin. Knock off the stem, and cut the pumpkin in half. Scoop out the pulp and seeds (save them for roasted pumpkin seeds — they are delicious!) Place each half, cut side down, on the prepared baking sheet. Bake until pumpkin is soft and can be easily pricked with a fork, and begins to collapse (this can take 1 to 2 hours — it just depends on the pumpkin.) Remove the pan from the oven and let everything cool until it can be handled comfortably.

Scrape out the soft pulp and discard the skin. At this point you can pulse the pulp in a food processor if an even puree is desired, or use it as is, if a more rustic texture is preferred. Either way, I always cook the pulp on the stovetop over medium-high for an additional 15 minutes or so, to evaporate away extra liquid and get closer to the consistency of canned pumpkin used in most recipes. During this step, try to use a non-stick pan and stir constantly, to avoid burning! When the pumpkin appears thickened, you are ready to proceed with your recipe.