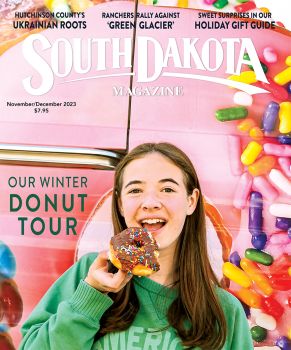 Subscriptions to South Dakota Magazine make great gifts!
Subscribe today — 1 year (6 issues) is just $29!

A Developing Story
By Paul Higbee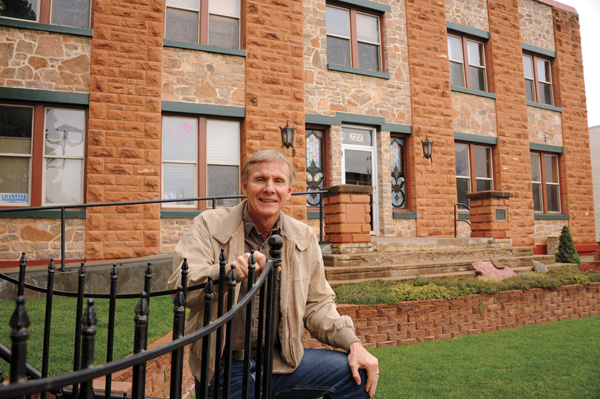 Rand Williams bought Spearfish High School at auction in 2011. The hometown developer hopes his mountain city's "world class natural ambiance" will help attract a new tenant to the stately old structure.
Forty years after his 1971 graduation, Rand Williams generated a real buzz as he walked into Spearfish High School's all-class reunion in 2011. He had just arranged to buy the old alma mater.
No, he told former classmates that night, he didn't know exactly what he'd do with the big 1924 brick building two blocks east of downtown. He was open to ideas and, in fact, enjoying hearing from people who offered suggestions.
"I still don't know where this is going," he said several weeks later. "Of the ideas I've heard, I've ruled out only two — minimum security prison and brothel. All other suggestions are still on my list of possibilities."
That list includes condos, apartments, office space and hostel. A gymnastics organization is interested in the gym with its wonderful hardwood floor, and Williams has also heard from a women's roller derby team. The possibility that intrigues him most, what he considers the "highest and best use" in the language of building restorers, would be some type of school. "Maybe a trade school, private college or a seminary," he says. "It was designed for education and preserving it for that kind of use would be ideal."
Although Williams has acquired and refurbished other public, commercial and residential buildings over the years, his high school wasn't in his sights. But he showed up at the auction last June after the school district pronounced the building surplus, and of course anything can happen at an auction.
Now that he's the owner, he takes that role seriously. "I want it to be a functioning part of the community," he says. "If it ends up being torn down to make way for something else, I'll consider that a personal failure."
If Williams' 40th school
 reunion was memorable, so
 was his 30th. "You always
 hear people say, 'I love 
Spearfish. I want to live there someday,'" he says. "And my 30th reunion was where I heard a lot of classmates who had left the area for careers say they hoped to move back. In terms of investing in the community, hearing that all the time confirms that your investment is sound. Individual circumstances can change with jobs, but that impulse to live here remains."
He considers Spearfish a place of "world class natural ambiance." Anyone who attended Spearfish High School from 1924 until about 1970 will attest that the building showcased natural splendor beautifully. Wide windows in classrooms on the second and third floors framed stunning views of Spearfish Canyon's mouth to the south, and Crow Peak to the west. Concentrating on algebra problems or a history lecture on soft spring mornings challenged the resolve of even the most serious scholars. A renovation that reduced window sizes, about 1970, didn't reflect an effort to keep students on task, but rather one to cut heating costs.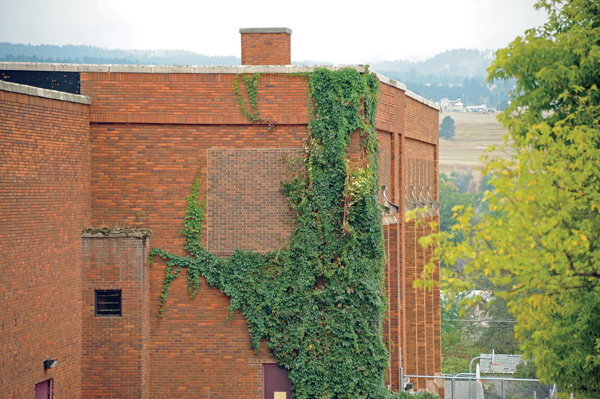 Spearfish High School later became Creekside Elementary, and housed students for 87 years. Now the building is ready for new life.
As Williams walks the quiet hallways, memories are triggered by smells, or the way light streams through windows as seasons change. "That's been an unexpected treat, something I didn't think of," he notes. "Something sensory will bring back a memory, vividly. Things I hadn't thought about in years."
To sit down with Williams to discuss this latest project is to come away with lots of bonus material. During a single interview over breakfast this fall, he spoke mostly about the high school, yet also touched on comparative economic philosophies of Adam Smith and Milton Friedman and George Gilder, the benefits of reservoirs (including beaver dams), a Japanese adage about stewardship, and Black Hills historical figures.
It would be easy to simply describe Williams as a man of varied interests, but that would be selling him short. He seems to tap all of those interests regularly to drive his business thinking. Rand owns Williams Properties, which acquires and leases both residential and commercial real estate. His wife, Gayla, runs the company's business office. In the past, he worked as a journalist, served eight years on the Lawrence County Commission, and was longtime president of the Spearfish Area Historical Society. Earlier this fall, at a history celebration in Spearfish, he demonstrated considerable acting skill when he performed a monologue as Deadwood-Spearfish stagecoach driver Harvey Fellows.
"And a lot of people remember me as the town's grave digger for 39 years," he adds. He's not kidding. He dug graves for nearly four decades, beginning at age 15. He can't even estimate how many graves he did over the years, but it was work that marked the beginning of his entrepreneurial enterprises.
The high school that contributed to Williams' development and worldview was planned in the early 1920s. The state legislature decided that towns like Spearfish, with state colleges, had to establish their own high schools instead of sending their teenagers to the local college to take coursework for secondary diplomas. Several factors entered into the policy change, including campus overcrowding as higher education institutions drew more college students than ever before. Plus, many of those students were sticking around for four-year degrees, as opposed to two-year certificates. Meanwhile, neighboring towns (in Spearfish's case Deadwood, Whitewood and Belle Fourche) had complained that they were in effect subsidizing secondary education in college towns through state tax dollars, while simultaneously being taxed locally for their own high schools.
Under the guidance of city supervisor Martin Thompson, Spearfish High School's construction began in early 1924. The school opened on September 30 of that year. One of the construction workers, J. Howard Kramer, moved on to earn advanced education degrees at the University of South Dakota and University of Iowa, then successfully applied to work as superintendent in the very school he helped build.
Most everyone called the place "the high school," but in fact it was both Spearfish's high school and junior high. Back when most students walked to school and Spearfish's streets hadn't been paved yet, keeping the building mud-free was a constant struggle. Still the school held up well. The 1942 yearbook noted, "Few realize by taking a look at the building that it is as old as it is." The high school was 18 years old that year and, keep in mind, the student writer was probably 17.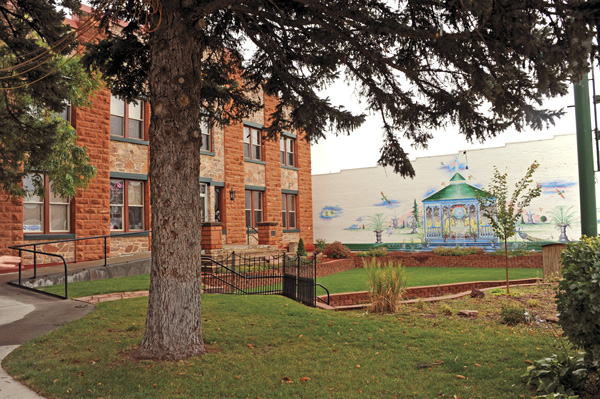 Williams has also revamped Spearfish's old City Hall, in use from 1939 to 1995. His grandfather, Jack Williams, planted three spruce trees on the grounds shortly after its completion.
Through most of the 1930s, '40s and '50s, Spearfish graduated classes of about 50 every year. The board of education knew that would change, though, as the big post-World War II baby boom generation appeared on the scene. In 1961 a low-slung junior high annex building (not included in Williams' purchase) took form and was attached to the older school by a breezeway. It was that bright new portion of the structure that played host to smiling "First Teenager" Luci Johnson in 1964, as she stumped the Black Hills for her father, President Lyndon Johnson.
About the same time, Spearfish's people realized it wasn't only the baby boom generation that was pushing enrollment upward, but the fact that the community's overall population was soaring with no end in sight. The class of 1968 numbered 108, more than double what the school district long considered standard. In the 1970s committees went to work planning a replacement high school on the town's north side. The last "old Spearfish High School" class graduated in May of 1979. Students and community volunteers showed up over the next Christmas break with pickups and moved furniture, books, and files to the spanking new building.
As it turned out, the old school still had 31 years of service to public education in it. Somewhat forgotten as alumni recounted old Spearfish High School memories at last summer's reunion was the fact that, from 1980 until 2011, thousands of students and their teachers and parents knew the school as East Elementary. Finally, with the opening of Creekside Elementary in 2011, the old school's hallways were silent for the first time in 87 years.
Williams knows and deeply appreciates all that history. "But I don't confuse the artifacts of history with history itself," he says. "When the artifact is a building, that confusion can lead to bad results, because people start thinking old buildings can only be museum pieces. I like to see buildings remain functioning parts of the community, and functioning within what's economically feasible."

Williams traces his belief in free enterprise's potential for making good things happen in communities to a book that deeply influenced him 30 years ago: Wealth and Poverty by George Gilder. After excelling in debate at Black Hills State University, he considered becoming an attorney. But Gilder's book told him, "it was time to get off the sidelines" and follow his instincts as an entrepreneur. As it turned out, he developed into an entrepreneur who helps other entrepreneurs realize their business goals.
"When you have a building, the ideal situation is fitting a tenant's needs to what you have," he says.
This isn't the first time Williams has come to own a prominent public building in Spearfish. After officials moved to a new City Hall in 1995, he acquired the beautiful native stone City Hall of 1939. He transformed it into a center with private sector offices, shops and services. Spearfish people were surprised to one day find a little stream flowing through old City Hall's front lawn. Williams knew that one of Spearfish's irrigation channels, moving water from Spearfish Creek through residential neighborhoods and on to outlying agricultural lands, passed through the old City Hall property. He found it 4 feet underground, opened it up and landscaped the lawn with terraces descending to the water.
Williams is leery of regulations often attached to historic properties that make creative renovation difficult. "If not able to be fully utilized, a building can be virtually a liability," he says. "If you're involved in building projects, you realize that sometimes mistakes are made in the original design. To say that those mistakes can't be corrected because the building is historic is incredibly detrimental to future owners."
It would be easy for outsiders to look at a small city like Spearfish, consider the buildings and employees and opinions Williams has, and assume he's prominent in all aspects of local life. In fact, he and Gayla value a low-key lifestyle, immersed in business and church activities. They have no use for late-model cars or other status symbols. Community newcomers who say they've never met him perhaps have — dressed for a day of labor and driving a pickup full of tools.
For Spearfish old timers who can't place the quiet but creative developer, rest assured. Your old school is in good hands.
Editor's Note: Since this story appeared in our November/December 2011 issue, Williams has also purchased the 6,000-seat amphitheater where the Black Hills Passion Play was performed for 70 years. The school building and its grounds remain well tended, but no development has begun to date. To order a copy of this issue or to subscribe, call (800) 456-5117.