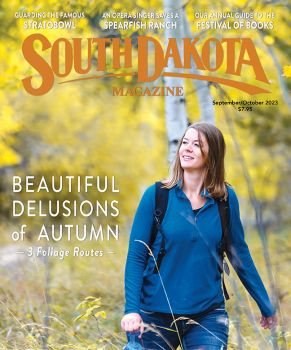 Subscriptions to South Dakota Magazine make great gifts!
Subscribe today — 1 year (6 issues) is just $29!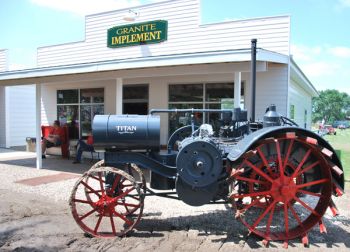 In the Red
Jun 24, 2014
Farm equipment comes in every color of the rainbow, but in Huron, from June 26-28, the color of the day will be red — as in International Harvester red.
International Harvester Collectors Chapter 21 of South Dakota will serve as the host club for the 25th Annual National Red Power Round Up on the state fairgrounds. Collectors, exhibitors, vendors and fans of Big Red from across the country will descend on Huron to talk and gawk at every type of farm equipment the company made, from the steel wheel era to the 1980s.
Many of Chapter 21's members will be showing one or more of their prized possessions. Jay Graber of Parker can choose from around 100 machines, though not all of them are restored. Jason Sweeter of Lennox will be there with several from the extensive collection started by his father. Nick Osterman, of Groton, has assembled a fleet of nearly all the Hi Boy tractors that IH built to work the cane fields. He plans on bringing 20 down to Huron.
A wide range of activities is planned around the exhibits, including musical performances and a Thursday night chicken feed put on by the Spink and Clark County 4-H clubs. Billy Steers, author of the "Tractor Mac" children's book series, will be giving presentations all three days. (Click here for a complete event schedule).
Chapter 21 holds a state roundup every year, often in conjunction with other farm events such as the Menno Pioneer Power Show. This is the second time it has hosted a national event.
"We held a national roundup at Prairie Village in Madison in 1997 and we had about 385 exhibitors," said Wilbur Goehring, chairman of the event's organizing committee. "This year we're expecting around 1,200, and many of those will be bringing multiple items to show."
International Harvester was formed in 1902 by the merger of McCormick Harvesting Machine Company and Deering Harvester Company, along with several smaller agricultural manufacturers. As the company grew its offerings expanded to include cotton pickers, pickups and combines, to name only a few, but the company's signature product on small farms in this part of the world was its fire engine red Farmall tractors.
In its time the company manufactured everything from M-1 rifles to toys and commemorative items, and a little bit of everything will be on display in Huron. An exhibitor from Missouri will even be bringing an entire Irma Harding kitchen — complete with a kitchen sink, of course — to the fairgrounds. Irma was a marketing creation, like Betty Crocker or Aunt Jemima, who promoted the IH line of refrigerators and freezers during the 1950s.
"IH was the king of the hill [among farm equipment manufacturers] for many years," said Goehring, but stiff competition and poor management combined to put pressure on the company's bottom line. After many years of slim profits, the agricultural manufacturing sector of the business was sold in 1984 to Tenneco Inc. Since then they have been marketed under the Case IH nameplate.
Case IH will be bringing the earliest and last tractors built by International Harvester to the Round Up: a gas-powered 1924 Farmall Regular, and a 5488 from 1985, which was the last one to roll off its assembly line in Rock Island, Illinois. A brand new tanker/pumper fire truck, fabricated on an International 4400 Workstar 4X2 truck chassis, will also be on display.
People who need a golf cart or side-by-side to get around the fairgrounds are welcome to bring them along. "We've had people call and ask if it's okay to use their John Deere Gator," said Goehring. "We tell them yeah, that's OK. If you're not too embarrassed to drive it that's fine with us."