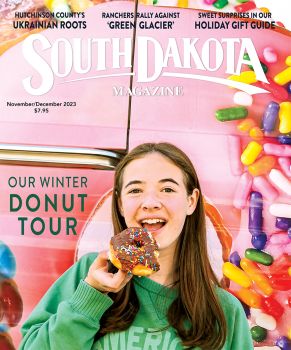 Subscriptions to South Dakota Magazine make great gifts!
Subscribe today — 1 year (6 issues) is just $29!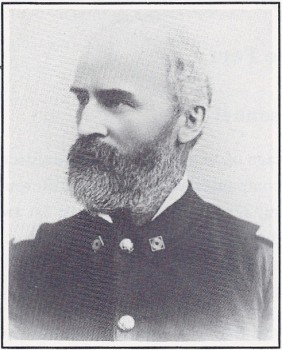 Rediscovering J.B. Irvine
Aug 31, 2011
We were visiting my wife's parents in Letcher last Christmas when my mother-in-law asked if I'd ever heard of J.B. Irvine. I know a few characters from state history, but Irvine didn't ring any bells. Then she showed me a number of photocopied letters written from Fort Sully in the 1860s and 1870s.
The copies came from Ken Stach, a postal history collector who lives on a farm near Letcher. He's interested in old postmarks, and tries to ascertain the routes pieces of mail took to reach their destination. He's also the editor of two postal history journals: Western Express and the Dakota Collector.
In 1987 he bought a collection of cancelled envelopes that belonged to James Finley, a South Dakota native living in California. Included were a series of envelopes postmarked from Fort Sully in the 1860s and sent by J.B. Irvine, mostly to his wife and children living in St. Paul. Stach didn't know it, but the letters once contained in the envelopes are in the state archives in Pierre, presumably donated by Finley. When Stach discovered their location, he made an agreement with archives staff: they would photocopy the Irvine letters in exchange for copies of Stach's postal history collection. Stach received the copied letters in the early 1990s, and they've lain largely unused in his collection until last winter.
"After 20 years I decided to get the letters transcribed so they're a bit more usable," Stach says. He turned to my mother-in-law, a recently retired schoolteacher at Sanborn Central, who has been typing away all winter. Stach plans to provide the archives with electronic versions of the letters. Researchers frequently access the Irvine collection because it's one of the best sources of information available about that time and place in Dakota history.
Javan B. Irvine was born in New York in 1831 and moved to Minnesota in 1852 to work as a builder with his brother, John. He joined the First Minnesota Volunteer Infantry Regiment when the Civil War broke out and fought at the Battle of Bull Run in 1861. He saw action throughout the war, then was stationed at various military outposts, including Fort Sully in Dakota Territory from 1867 to 1874.
Many of Irvine's missives are routine accounts of fort life, but in a December 1872 letter to his wife he describes a near fatal encounter with an Indian. Irvine had gone hunting on horseback when he met the Indian, whom he had seen before and considered friendly. But as Irvine rode away, the Indian drew a pistol and shot four times. One of the bullets lodged in Irvine's scalp. After a brief pursuit, he returned to Fort Sully and eventually persuaded the skeptical doctor to extract the bullet.
"Dr. Wright dressed the wound, and from the fact that a hole was found in the top of my cap, supposed the ball had glanced after striking the skull, and passed out of the top of the cap," Irvine explained. "I called his attention to a lump on top of my head, but with his usual super abounding theories, he explained the cause of that to his apparent satisfaction, but not to mine! I went to bed and commenced feeling the top of my cranium, and becoming convinced that the bullet was there, sent for the Dr to come down and cut it out. This he succeeded in doing after some difficulty, and spattering blood all over your nice bedclothes. The ball had remained in the wound about eight hours and didn't want to come out very bad."
Irvine retired from 30 years of military service in 1891 and moved to California, where he died in 1904. Though he spent just seven years of his distinguished military career in South Dakota, his correspondence gives us a remarkable look at Dakota's early history.