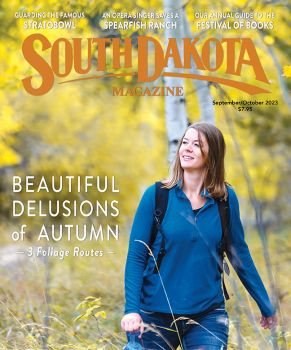 Subscriptions to South Dakota Magazine make great gifts!
Subscribe today — 1 year (6 issues) is just $29!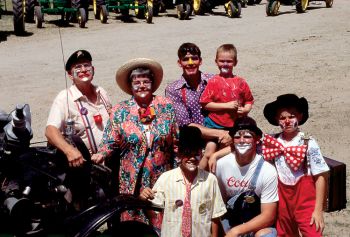 Goodbye to the King of the Clowns
Nov 23, 2016
By Bernie Hunhoff
Who knows why men paint their faces and dress funny to become clowns? Some do it for attention. Some probably like to entertain in anonymity. Others just like to help others have a fun time. And the latter describes longtime Watertown clown Don Crouse who died early Saturday morning in a house fire at age 91.
We had an opportunity to attend a couple of parades with Crouse and his clown family in 2002. In all our years of exploring the far corners of South Dakota, we've met lots of wonderful folks who go to great lengths to make their communities happier places. Don Crouse was a king among all of them; a king and a clown.
He and his wife Dorothy were running a small drug store in Willow Lake in 1957 when that town celebrated its 75th birthday. He rebuilt a Model T for the occasion. When townspeople heard what he was doing, they brought parts from their garages and backyards.
Yes, that was a simpler time when all clowns were wholesome and good and you could still find a Model T rim when you needed one.
"We wanted something that would make people laugh so we bolted a post on the back of the car with a saddle," Don told us. "Then we had the wheels welded off center so it would bounce up and down as it went down the street." A man dressed like a woman and rode on the saddle.
The car was a big hit so the Crouses drove it in other parades. They were invited to the National Legionnaires Parade in Denver in 1960. Men dressed like women were prohibited but the Willow Lake clowns did so anyway and no one objected.
Soon friends and family joined the Crouse clown act. With Don and Dorothy at the forefront, they entertained at parades in Kranzburg, Watertown and other towns in Glacial Lakes country.
You couldn't watch them without wanting to paint a smile on your own face, don a funny shirt and jump aboard the Model T.
Helping people relax and laugh must rank among the highest of callings. Nobody did it better — or more selflessly — than Don Crouse. We can only imagine the smiles when he arrived at the Pearly Gates.