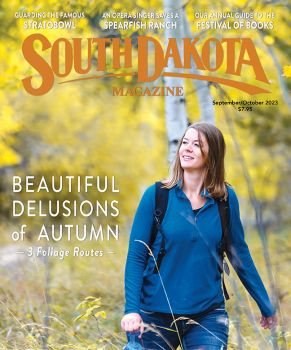 Subscriptions to South Dakota Magazine make great gifts!
Subscribe today — 1 year (6 issues) is just $29!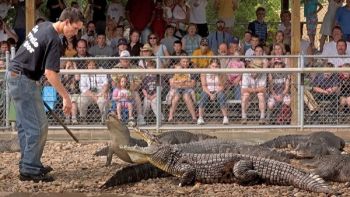 Rapid City Reptiles
Jul 31, 2013
From the moment you crest the hill on Highway 16 six miles south of Rapid City and glimpse the 60-foot high, black plexiglass dome encased by an aluminum grid in the valley below, you sense the exotic.
It may be the unusual reptiles, birds and plants inside the futuristic dome that entice people off the prairie and into the tropics, but it is excellent customer service, plain and simple, that keeps visitors to Reptile Gardens satisfied.
Earl Brockelsby, the man who built one of South Dakota 's best-known businesses, never met Walt Disney, but the two entrepreneurs shared the same philosophy on how to run a successful tourist attraction, according to Earl's son, John Brockelsby.
Being greeted with a genuine smile from each employee they encounter, finding the spotless restrooms cleaned each and every hour like clockwork, or getting every question answered, no matter how far afield from the subject of reptiles, is not exotic, but it helps explain the success of Reptile Gardens, said Brockelsby, public relations director. He and his cousin, Joe Maierhauser, president and CEO of Reptile Gardens, are two of the second-generation family members active in the business.
"Our whole philosophy parallels what the Disney company uses," Brockelsby said. "We emphasize, again and again, that the most important asset we have is our employees and how they treat our visitors. We don't just give good customer service, we want to exceed our customers' expectations at every turn along the way." Next to friendliness in the Reptile Gardens bible is cleanliness. "We try to keep the place immaculate," Brockelsby said. Of course, it is people's fascination with reptiles, not clean restrooms, which created Reptile Gardens.
That love-hate relationship, an attraction coupled with revulsion, is something Earl Brockelsby always understood, his son said. The elder Brockelsby, who passed away in 1993, knew from the very beginning that people would pay money to see things that terrified them. "People want to see the biggest and the baddest," Brockelsby said. "And that's true of reptiles, too."
In 1935, Kadoka-born Earl Brockelsby was 19 and working at a Rapid City attraction called "Hidden City." It no longer exists, but it may have been some sort of naturally occurring geological formation that just happened to resemble a man-made brick wall. Whether or not tourists were thrilled with Hidden City, they were invariably impressed when Earl ended the tour by removing his cowboy hat to reveal a rattlesnake coiled on top of his head.
The next year, Earl attracted customers to his rock and mineral souvenir stand by pretending to have his partner photograph him handling a rattlesnake. By 1937, he decided to concentrate on snakes and opened Black Hills Reptile Gardens in an 18-foot by 24-foot building on Skyline Drive.
On opening day, May 19, 1937, Reptile Gardens took in $3.85. Admission was 10 cents for adults and 5 cents for children. In 1938 he grossed $26 during opening week. That's a far cry from today's revenues. For the 2013 summer season, adult tickets are $16.00; $14.50 for seniors; children 5-12 are $11.00; four and under are free. The admission fee comes with a free season pass, good April through October. "There are days now when we take in more in one day than we did in a full year back then," John Brockelsby said. Of those who visit, 50 percent are either repeat customers or came because it was highly recommended by someone they know. "We're very fortunate that local people are big supporters of Reptile Gardens," Brockelsby said.
"He did some very, very bizarre things. He did stuff with snakes that one of our employees today would be fired on the spot for doing."
Success is also based on uniqueness. While Florida is known for several reptile attractions, Reptile Gardens is the only attraction of its kind in the Midwest. "One of the things we have to keep in mind is that we have to be different than zoos. We have to offer things they can't, which is where our animal shows come in," he said.
Earl Brockelsby was self-taught on the subject of reptiles, but the staff he assembled has impressive credentials. Reptile Gardens curators are some of the nation's foremost experts in reptiles, respected within the zoological community, John Brockelsby said. "We've been around so long and our reputation is such that we regularly have animals of ours on loan to zoos like Brookfield Zoo in Chicago, maybe the Bronx Zoo, maybe the San Diego Zoo," he said.
Reptile Gardens has found a unique niche in the tourist industry, falling somewhere between family entertainment and science education. Kids can experience the concept of extinction first-hand by petting Quazi and Tank, a pair of giant Aldabra tortoises, and by a visit to Methuselah's Playground, an area which honors the Gardens' most famous denizen with a bronze sculpture of the giant Galapagos tortoise. Bewitched Village, originally a trained animal show, is now a Wild West-style ghost town, with gemstone and arrowhead sluicing, blacklight 3D safari and goofy photo opportunities. An underground viewing bubble gives visitors a close look at the social, playful world of Prairie Dog Town.
Hundreds of orchids, bromeliads, caladiums and other exotic plants adorn the Sky Dome, initially constructed in 1964. Tropical rainforest exhibits are commonplace in zoos today, but back then it was the first of its kind in America. This is also where you'll find the snakes, amphibians, crocs and bugs. Tortuga Falls is another lush and tranquil spot, graced in summertime by the call of Darwin the kookaburra, an Australian bird.
Then, of course, there are the animal shows, which originated with Earl Brockelsby. An early promotional postcard, entitled "Man Bites Rattlesnake," pictures Brockelsby holding a rattlesnake next to his open mouth. "He did some very, very bizarre things. He did stuff with snakes that one of our employees today would be fired on the spot for doing," his son said, shaking his head. "What he always told me is 'I just always knew that they weren't going to bite me.' He felt he had a 'simpatico' with them. Whether he did or not I don't know, but he never did get bitten. He never had a poisonous snake bite."
In another bit of early-day hucksterism, Brockelsby dipped a common prairie rattlesnake in red dye, billing it as an exotic "Red Rattler." His son laughs at the memory but is quick to point out that none of the species on display today is anything but genuine — as genuine as the fond memories of 76 years' worth of visitors, many of whom rank their trip to Reptile Gardens as a highlight of their Black Hills summer vacation.
Editor's Note: This story is revised from the July/August 1993 issue of South Dakota Magazine. To order a copy or to subscribe, call 800-456-5117.