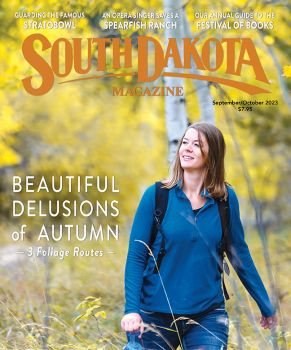 Subscriptions to South Dakota Magazine make great gifts!
Subscribe today — 1 year (6 issues) is just $29!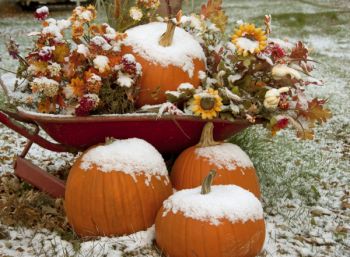 Celebrating with Martha & Roger
Oct 18, 2013
By Roger Holtzmann


Martha Stewart publishes a magazine modestly called Martha Stewart Living. It's about country living, or rather, about what country living would be like if you (a) had tons of money like Martha and (b) lived in the center of a vast circle of antique stores, curio shops, old farms, garage sales and flea markets, all manned by incredible idiots who were willing to give you great deals on frighteningly charming stuff.
Martha thoughtfully provides readers with a calendar each issue so they know what she is doing every day. From that we know, for instance, that her primary task on October 28th will be carving pumpkins for Halloween.
That might seem a bit excessive, but in all fairness, there's more to it than you think. A lot more. First of all, Martha doesn't just restrict herself to pumpkins. "Use any gourd that speaks to you," she says. Perfectly good advice, for sure, but if gourds are speaking to you at home, I don't think I'd mention it to the neighbors.
Don't go attacking your pumpkin with a butcher knife, either, or they'll look like some "clumsy primate" carved them, says Martha. If you can't produce a Jack-O-Lantern that looks like it was carved by a primate with $160 to spend on a set of proper pumpkin carving knives it might be better to forego this traditional decoration altogether.
It may already be too late for you to have a Martha-esque Halloween, but you can possibly salvage Thanksgiving if you start now. Planning ahead is the key: I am sure you'll agree that leaving such an important holiday to chance, or heaven forbid, to that-is-how-we've-always-done-it, is just asking for trouble.
For instance, by November 5, you should switch your turkey's diet to golden corn to make it tender. Remember, not blue corn, not green corn, and especially not that red stuff. It has to be golden.
What's that? You just wait and buy a turkey at the grocery store when they are on special?
Goodness Gracious, why don't you just serve a ham?
Don't tell me …
Very well. Eat whatever you must, but you're certainly getting off on the wrong foot.
Spend most of November planning your table settings and decorations. Call in sick if you have to. As Martha says, a proper table "guides guests effortlessly through the meal." You know yourself how aggravating it is when you get lost in the middle of dinner. So take care, or risk losing Uncle Edgar in sweet potato gulch.
Many families have special sets of silverware and dishes they use on holidays. Mysteriously, though they only come out of the cupboard twice a year, there are always pieces missing. This usually means someone gets stuck with a plain old fork or regular plate. You will be glad to know Martha says that's okay, so long as you don't mix pieces from different eras.
You do know what era your flatware's from, don't you?
Like many of you, I have managed to become nearly comatose from eating at Thanksgivings past using only three basic utensils. So you can imagine my distress when Martha pointed out that a full place setting consists of 25 utensils. That's seven knives, ten forks and eight spoons. This could drastically impact your seating arrangements. That table you thought could seat eight probably can only handle two people, once you line up all those forks. It's a good thing you started planning early. There's still time to buy a new table. Or two.
Remember, make your guests feel like you really thought about the table. Martha says that can be accomplished by using an Aubusson tapestry from your antique textile collection as a tablecloth, along with hand-loomed linen napkins.
Oh my. You don't own any Aubusson tapestries?
No, a sheet will not work.
Listen, let's just forget Thanksgiving. Maybe there's still time to plan a decent Christmas.
For next year, of course.